Column #21 Uganda
October 1, 1996
Column 21
Uganda
About an hour ago, by candle-light, and with a half-dozen wart hogs grunting their approval only yards off the oche, I took out a 109 here in western Uganda at the Mweya Lodge on the Kazinga peninsula in Queen Elizabeth National Park. In consideration of the conditions, I decided to pack it in for the night.
It's now about 1:00 a.m. and the power is still out. The one and only telephone line has been down for two days. There's no hot water. And, just a toss from my banda (hut) a hippo is chomping grass as I write. Such is life in this remarkably beautiful land that Winston Churchill called the "Pearl of the Nile." Such is life in Uganda…
My journey began a week ago. My first stop was Entebbe, scene of the legendary airport raid in 1976 when the Israelis rescued a group of hostages from the clutches of the mad dictator, Idi Amin. I took a shot, but struck out, at the Victoria Hotel (situated at the edge of Lake Victoria, source of the mighty Nile River). There's a pool table. Pizza. Mosquitoes. But, no darts.
So I headed to Bwindi in the far southwest of the country. After a two-hour flight in turbulent thermal air, a three-hour drive along a terribly pot-holed dirt road and another three-hour trek into the misty Impenetrable Forest, I found myself face-to-face with a family of endangered mountain gorillas. Unfortunately, they seemed to be more interested in eating crickets than playing it.
So, I packed up again and moved to the very far northeastern corner of the country, to the isolated, tranquil, and scenically spectacular Kidepo Valley National Park. This is lion, cheetah, and leopard country and the Chief Warden, Anjelo Ajoka, took me on the game drive of a lifetime. But still, no darts…
The fact is that darts does exist in Uganda. It thrives. It's well organized and extremely competitive with a countrywide system of leagues and teams. Within the limits of their meager budget, the Uganda Darts Association (UDA) does its best to send its national team to international competitions.
But, the place to throw darts in Uganda is not in the bush. The place to get a game — and a damn good game at that — is at the Rhino Pub off the lobby of the Kampala Sheraton. The set up is excellent. A mug of Nile beer is just 1,800 Ugandan shillings (about $1.65). And, the resident band (Waka Waka) is alone worth a visit. It was here that I met up with (and was beaten up by) Fanta Lillian, a sharp shooting member of the Ugandan national women's team. The best I could manage was two out of six games of '01.
Damn, this woman was good! And aggressive — with 150 remaining in our final game she took a bead on the double bull. Don't ask me why. She nailed here first two darts though and only a wire spoiled a spectacular, albeit unconventional, finish.
All of this is no more than my way of explaining why I am now sitting in the middle of nowhere, during the shank of the evening, nervously watching a beady-eyed hippo chew up the lawn outside my window. Having been beaten to a pulp in a civilized venue, having been trashed by somebody named after a poor-selling soft drink, I figured I needed time to reflect.
The way I look at it, as talented as I may be when it comes to taking out the double when nobody is watching, when it comes to serious competition my game needs a lot of work. I need to find an edge.
As accurate as any of us might be when we're thunking our own board, practicing against only ourselves, when the chips are down, when an opponent of some experience is also at the line, all of our games need a little work.
Yes, the way I see it, if this hippo doesn't eat me, when I get home, that next time I'm in a tough match needing just one more dart to close, and my opponent's at the line staring down a game shot, what I've gotta do is create a distraction to get myself one more trip to the line.
So, what I'm gonna do (STOP GRUNTING!) is unzip by bag and release some of these warthogs into the bar.
From the field,
Dartoid
The following two tabs change content below.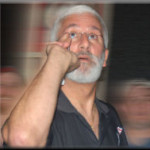 Author of the column that since 1995 has been featured by Bull's Eye News, the American Darts Organization's (ADO) Double Eagle and numerous other darts publications and websites around the globe.