Column #20 Seoul, Korea
September 1, 1996
Column 20
Seoul, Korea
The last time I was in Seoul I made the mistake of getting talked off the oche and over to the pool table by a little hustler named Lee Min Kyu. I still haven't figured out how much I lost!
This time I played it carefully. I stayed as far away as possible from the site of my last disaster (O'Kims at the Westin Hotel — 87 Sokong-dong, Chung-ku) and headed to the popular Itaewon area of the city instead. But I got hustled again, this time by two ladies named Kimmy and Choi!
Itaewon is the place to go in Seoul. If you want a replica of anything this is where to find it. A Rolex watch. A Louis Vuitton handbag. A Mont Blanc pen. You can buy bootleg compact discs (that are as good as the real thing) for $2 a piece. I bought 25 of them…
Itaewon also just happens to be loaded with clubs. Large ones, like the Hollywood Club (the scene of my second Korean disaster) or the Nashville or the Cowboy (all situated on the main drag, more or less across the street from the Hamilton Hotel) are hang outs for many of the personnel from the nearby Yongsan military base. At all of them darts is very much a focal point.
Smaller clubs line the side streets near the Burger King and wind their way up a crooked back alley called Hooker Hill. Darts is definitely not the focal point here!
The damn thing is that I didn't really plan to throw darts when I walked in the neon-framed door of the Hollywood. A friend of mine, Jak Severson, and I had been casually furniture shopping in the area. The heat was near the century mark so we stopped for a quick beer. But, as so often happens, one of the five dart boards on the side wall started calling my name…
The set up is terrific. League play is serious in Korea. The Hollywood hosts a blind draw twice weekly and fifty or more shooters regularly show up. So we decided to toss a few…
As if on cue, it was at precisely this moment that the quite attractive Kimmy and Choi showed up. In perfect English (an extremely rare find in Korea) they asked if we wanted to play partners. They asked if we'd buy them a drink. Seemed reasonable enough. So we tossed a few more.
An hour passed…
One drink led to another. Then a third. Then four…
Time and again, Kimmy and Choi chucked my Hammerheads into the wall. Far too late, Jak and I realized there must be better (and less expensive) ways to spend our time. So back into the heat we ventured — to purchase furniture for our wives. It was not until much, much later that we learned what had actually transpired.
As it turns out, the Hollywood Club, and many others like it, are staples of the Korean nightlife. Called "conversation" or "hostess" bars they employ women (particularly sexy, English speaking women) for the express purpose of keeping foreign morons like Jak and myself in their establishments far longer than they might have originally planned. There's nothing lewd or crude here. The drinks lead to absolutely nothing more than an empty wallet.
For our part, Kimmy and Choi turned a quick stop for a beer into a bad round of darts and a $75 bar tab…
…and established, quite unequivocally, that my little buddy Lee Min Kyu ain't the only hustler in town!
From the Field,
Dartoid
The following two tabs change content below.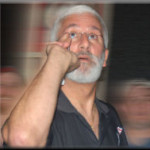 Author of the column that since 1995 has been featured by Bull's Eye News, the American Darts Organization's (ADO) Double Eagle and numerous other darts publications and websites around the globe.