Column #HR340 Beware of false prophets
Tuesday, April 26, 2022
Column HR340
Beware of false prophets
In 1986, the Old Dart Coach was covering the Embassy World Professional under the pen name of Howie Reed, a name which would become disgraced in society both polite and non-polite…
'Twas the ODC's first exposure to London's tabloids and being lazy, as he sometimes has been known to be, his column about the 1986 Embassy became a patchwork of player's quotes, just player's quotes.  As darts converged on Scotland las week, thanks to Bill Specht one of those quotes was revived…
Jockey Wilson, the Great Scott, was asked if he brought his wife.  "No, I left her at home… I brought a rubber dog… no, don't print that!"  (Then, from the crowd came "It's a sheep.")  "Yes, that's right," said Jocky, "it's a sheep."
Nary a sheep was spotted Thursday night in the Premier League party crowd as the Scotts came to cheer for Gary Anderson and Peter Wright.  A pint or two possibly.
Anderson showed his 2022 PL form, losing 6-2 to Jonny Clayton.  Peter Wright, vowing not to change darts during a match, used the gold to eke out a 6-5 win over Joe Cullen.  Wright averaged 103.22 with no winning leg over 14 darts after the first in 18.
In golf there's "move day" – Aberdeen was that as the bottom four in the standings faced the top four.  The top four prevailed with leader Michael van Gerwen beating Gerwyn Price 6-3 and James Wade a 6-5 victor over cellar dweller Michael Smith.
Jonny Clayton amid repeated boos and whistles prevailed over Peter Wright (6-5) where Wright's gold darts deserted him.  If not for missed doubles in leg 1 (tops) and 4 (24), Wright could have been leading 5-nil instead of 3-2 up.  The d12 haunted Wright again in leg 8 as Clayton drew level at 4.  But for those three missed opportunities Wright would have won 6-1.
MvG built a 3-1 lead where he and James Wade had 12 missed doubles. From that point on it was clean as a baby's backside – van Gerwen 6-3.
The final was a high scoring affair with Clayton (103.4) and van Gerwen (102.76).  Each held serve thru 4 (2-2) when Clayton survived a break after MvG missed 3 from 20 in the 4th.  MvG would open a 2-leg lead when he broke using 6 darts from 265 (171= 94 then 18, d19, d19) after Clayton missed the bull followed by a 13-darter following a missed d12 by Clayton from 98.
Clayton evened things (4-4) in 14 and 15.  MvG regained the lead (5-4) in 14 after Clayton missed the bull from 72. The bull remained unattainable when MvG missed a match dart inviting Clayton to take 84, which he did in 11 darts (T20, d12) forcing a 11th leg.  Throwing first, Clayton's first 9 had van Gerwen buried (82-300) which Clayton erased with (25, 17, d20).
Clayton's win was marred by booing and whistling during the final when van Gerwen was the appointed villain.  Jonny Clayton spoke out saying, "They pay silly money, don't they want to watch the best darts possible.  The whistling is ridiculous at the end." Clayton should remember what Michael Corleone said: "it's the life we chose."
Also from the land of "Sheepherders carrying rubber boots making for nervous sheep" the Scottish Open played out…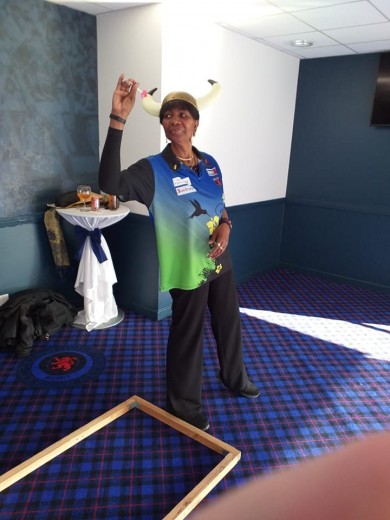 Honoring the late Andy Foreman, The Queen, Deta Headman, posted a photo of her wearing a Viking head piece with horns.  The text read, "Feeling hot, hot, hot and horny."  The ODC, being a gentleman, would never comment on the latter, but she was "en fuego" coming from behind at 1-3 to win her 6th Scottish Open title 5-4 over Jo Clements.
This coming weekend promises the best women's field in ages as the PDC holds four qualifiers for their Betfred World Matchplay July 24th in Blackpool.  With Lisa Ashton, Fallon Sherrock, Mikuru Suzuki, Trina Gulliver, Aileen de Graaf and Corinne Hammond it's an all-star weekend viewable on PDC-TV.
Missing will be WDF #1 Deta Headman and World Champion Beau Greaves.  The Legend, Russ Lopez, with his new Bottelsen signature darts, reports that Ms. Greaves' representative said "no" to her playing but, "maybe next year."
The WDF has banned #3 Anastasia Dobromyslova although she still appears in their Order of Merit.  She'll be absent this weekend.  Via a friend comes that she is "… "still taking some time out away from darts as she not in the right mental state to play at the moment with all that has been going on."
The only conclusion is the WDF executive have no conscience or no moral sense.  Hope they're proud of themselves.
The ODC does have a conscience, just a scintilla.  It takes 50 scintillas to equal one iota which is the size required to fill a flea's backside with room left for an elephant looking to sex.  The ODC may have misstated that like Ben Sande, played by Nicolas Cage in Leaving Las Vegas, the PDC turned their back on Vegas.   A source close to the PDC, not authorized to speak on their behalf, indicates that Las Vegas left the PDC in regard to the US Dart Masters.
The fact is that the PDC relishes Las Vegas.  The town turned their back on the PDC and other moderate sized events.  The big issue is that labor costs have skyrocketed.
Las Vegas required the PDC to hire local union members for most production and labor positions even though the PDC has a strong traveling team around the world that performs these jobs.  The PDC would have had to hire local people (as duplicates) to stand around to satisfy the Vegas laws.  It's called "featherbedding" – which is good for nothing including the government where it rules.  The double labor cost of Las Vegas killed them.  Hard to believe that New York is more labor friendly.
April 25th should be celebrated by all as the birth of the Eric Bristow who's now giving the Lord all he can handle in heaven.
Another player from the Golden Era Mike Gregory passed on recently.  Most spoke fondly of Mike as a good guy and a great player as the 2-time News of the World winner and 1992-93 UK Masters champ. Those two UK Masters were the product of the World Dart Players Association which morphed into the PDC.  After the '93 event the BDO banned those players.  Mike Gregory and Chrissy Johns jumped ship returning to the BDO.
They jumped either out of loyalty or some promise of future reward.  Never were heard from again.  With dart organizations loyalty is a one way street and a verbal promise is not worth the paper it's written on.
Beware of false prophets, which come to you in sheep's clothing, but inwardly are ravenous wolves.
Stay thirsty my friends.
The following two tabs change content below.

The one and only Howie Reed (the Old Dart Coach) goes back decades with the legends of our sport - he knows where the skeletons are buried. Just ask any of the ADO and WDF old-timers! His widely popular column, Toeing the Oche, is a must-read.

Latest posts by Howie Reed (see all)