Column #593 They called him "Supermon" – and he was!
Friday, October 30, 2020
Column 593
They called him "Supermon" – and he was!
He was a super darts player. He was a super dancer. He was a super husband and father.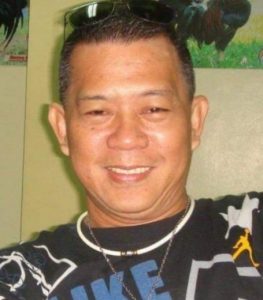 And he was a super friend.
Sadly, Raymon "Mon" Sabalboro succumbed to coronavirus complications on September 26. He was 61.
It was Steve Dorotheo who many years ago introduced me to Mon. We hit it off immediately. A couple/few times a year, every time I found myself in the Philippines, we would get together, usually with Steve, Errol Magtubo and the late Allan Buenacosa. Sometimes also with the late Chito Torres and Andrew Arieta. Often we'd gather at Amber Golden Plate (now a full-on restaurant), owned by Frida Morelos (who now owns Amber's Best Restaurant and Ihaw-Ihaw in a new location.
Mon was a professional dancer in the 1980s and leader of the PBA's Ginebra San Miguel Dance Troupe. When we'd hit the bars, he'd inevitably end up on the dance floor. His polished moves always drew the attention of the ladies. They all wanted a turn for a dance. Mon was happy to oblige.
He could sing too. One of his favorite haunts was a small joint called Justine's. We'd go there for (more) drinks after darts and he'd often end up performing with the small band. He dragged me up there for embarrassment a time or two.
Mon helped me many times with business. He came with me to meet with the vice mayor (who kept us waiting outside his office for three hours – not that this is considered abnormal in the Philippines). He joined me for a half-day meeting with the director of the Manila Zoo.
He once even helped me set a meeting with Manny Pacquiao and came with me to the Senate. After the meeting, our plan was to take Pacquiao to Andrew Arieta's office to throw darts (Arieta is the CFO for the Philippines Senate and was for many years the head of the Darts Council of the Philippines). Of course, Arieta had a board on his wall. Of course, Pacquaio was unavailable. So, we settled for a couple of pens with Pacquiao's name on them and threw darts by ourselves.
Over the years, few have left the mark on darts in the Philippines the way Mon did. Perhaps Freddy Deen. Or Ricky Villaneuva. Mon was good – great (he won the Philippine Masters in 1999 and for many years was a member of the Philippine National Team). But unlike Deen or Villaneuva and other Pinoy greats like Jun de la Cruz, Jake Ubaldo, Darren Liwanag, Leo "King Leo" Gonzalez, Joel Singsong, Caesar and "Boy" Eribal, Cayetano "Tanny" Gonzalez, Ike Borja, Luis Bustamante, Egay Alejandro, Renato Mauricio, Paeng Musiko, Gene Shoaf, Rich Herrera, Mel Ponce and SO many more Mon's influence extended far beyond his skill at the line.
He inspired a new generation.
Mon was instrumental in forming the Philippine Bullshooter soft-tip team (now Team One Philippines – TOP) which he also captained. It was Mon who recruited Lourence "The Gunner Ilagan, Rinald "The Highlander" Briones, Angelyn "The Advantage" Detablan and Analiza "An-An" Awitan, among others. His teams won several world titles plus men's and women's singles in Japan, Korea, Hong Kong, France, Malaysia, Taiwan, Macau, China and the United States in both soft and steel.
I'LL NEVER FORGET THE NIGHT WE WERE INTRODUCED…
Thanks to Manila traffic, which is arguably the worst in the world, I arrived late at Amber – just as the Luck of the Draw was getting under way. I was promptly introduced to the members of the National Team – Dixie Ybanez, Celso "Boy" Parfan, Joseph Domanis, Robert Reyes, Jan-Jan Hinojales and Baby Villanueva. I was handed the first of several San Miguels and sent off to the boards to meet my partner in the Draw, Edwin Dalusong.
Dalusong and I were quickly dispatched. But I must be honest. Even though my partner was, technically, legally blind and even though he had no arms or legs and had to sort of scoot his body and head to the line on a skate board, it was I who let our team down.
Okay. Okay. Part of that paragraph above is bullshit. I don't know where it came from.
Dalusong was great. He'd throw 140. I'd throw an eleven. He'd throw a ton. I'd drop my beer on the floor. The truth is we got whooped two straight entirely because I sucked. I saw Dalusong only once more during the evening. He was in the Men's Room smashing his head against the wall. So, I stole his skateboard.
I found my way through the crowd and sticky air to the right side of the bar to watch Mon who was also going down to defeat.
Another San Miguel mysteriously found its way into my hand as we wandered off to shoot 9-ball on the other side of the pub. We matched up. Tied at three and with the stick in my hand (is this proper pool lingo?) I was looking at just the eight and nine balls remaining on the felt. I carefully lined up the shot. Took a deep breath. Stroked. And BAM, I rammed the 9 ball straight into the corner pocket! Afterwards, Mon told me he thought I could be pretty good someday if I learned the rules.
I was given more beer and introduced by Dorotheo to Chito Torres. Torres collected darts paraphernalia – old darts, shirts, tournament programs and the like. I found it curious that Torres had with him several scrapbooks crammed with part of his collection of flights. I wondered if he always travelled with his scrapbooks.
Torres told me he has thousands of flights. I can't attest to this. All I can confirm is that he has the most complete collection of flights featuring naked women I have ever seen. Perhaps this is why he carries his scrapbooks with him late at night?
As the evening wore down and as the San Miguel stock began to run dry, I was guided to a board to take on, one at a time, Dorotheo (who way back in 1980 was on the traveling team with, among others, New York's Frances Llanes when the Philippines competed at the Pacific Cup in Australia), my new friend and ex-professional dancer and 9-ball guru Mon and Parfan (winner of the 2001 Philippine National Open Singles Championship, the 2002 Philippine Masters, and at the time current #1-ranked men's darter in the archipelago). Whew. That's a long sentence.
How the HELL do I get myself into this shit?
First up was Dorotheo. I got by him. I was feeling good. Capable. Confident…
Next up was Parfan, the Filipino Top Dog at the time. He sported a ponytail, but they call him "Boy." Didn't make sense.
The game: 501. Best of seven. Or maybe it was five? Maybe it was nine? San Miguel's a pretty nice brew…
I jumped off fast on Parfan. I took the score down quick and closed first, though not in remarkable fashion. Feelin' good.
I notched up the second game with a come-from-behind 110-close. Feelin' BETTER than good! I was gonna kick this "boy's" ass! I could feel eyes turning to watch.
Truth be known, I don't exactly know what happened next. Parfan (who it turns out, had recently followed a perfect nine-darter with a ten-darter in National Team qualifying competition) turned his darts into overdrive and smoked me like I was a spindly Narra tree on the side of Mt. Pinatubo. I never saw another opportunity to close.
And then, as surely as he did in pool, Mon tore me up in cricket. And I KNOW the rules of cricket! He was kind in victory though. He bought me another beer, gave me a fancy darts case and introduced me to a couple of the bar's pretty "Guest Relations Officers." They reminded me of Torres' flight collection.
It wasn't until the next morning that I realized something wasn't right. Don't get me wrong: I woke up feelin' out of sorts but chalked it up to the effects of a dozen free San Miguels. I popped a couple of Alka-Seltzers before making my way to breakfast. But I still couldn't shake the feeling.
I was sittin' in this Malaysian restaurant in front of some spicy rice entrée, sippin' mango juice and flippin' through a brochure I'd picked up the day before at the US Embassy when it struck me exactly what was wrong.
Maintain a low profile at all times, the brochure warned. Beware of unknown individuals who try to befriend you. Tourists frequenting lower quality nightclubs are particularly vulnerable. Criminals have administered drugs proffered in drinks to unwitting visitors to facilitate robbery and assault.
My darts!
The realization that my most precious possessions were not IN my possession immediately shoved my hangover aside.
Some bastard stole my darts!
A waitress appeared at my table-side. You have telephone call, she said. Please go to registration.
Huh? Me? Really?
I walked across the restaurant to the hotel lobby and approached the girl at the front desk. My name's Seigel. I have a call?
Yes sir. She smiled as she handed me the receiver.
Hello? This is Paul Seigel.
Dartoid! It's Steve.
Steve?
Steve Dorotheo. From last night. You left your darts in my car.
Really? I didn't even realize they were missing.
THEN THERE WAS THE TIME MON AND I WENT TO BORACAY ISLAND…
About 200 miles south of Manila, this dumbbell-shaped island – only four miles long and just a half mile wide at its narrowest point – has been named among the world's best tropical resorts by numerous top travel publications, including Harper's, the BMW Tropical Beach Handbook, England's TV Quick and Australia's Sun Herald. But I wasn't here to bake in the sun or snorkel among the reefs. I'm came to throw darts with Mon.
It may be cliché but Boracay is an island paradise. The water is shallow, warm, and a crystal blue-green that glows orange at sunset. The coral sand is powdery white, like confection sugar, so it doesn't send you tiptoeing from its scorch, since powder doesn't retain the heat. Lush coconut palms lean toward the tide. Their fronds rustle in the soft breeze as small waves lap gently against the shore. I think of Survivor but am reminded more of the scene in Jurassic Park – the one where the little girl is attacked by baby raptures while playing in the sand (served the little British kid right!). Boracay is that beautiful, that remote, and that idyllic, except…
…framed in the middle of this exotic shoreline is an entirely different world. More than 350 beach resorts, restaurants and native fast-food stalls, bars, discos, dive shops, tattoo parlors and curio stands cater from sunrise until the wee hours of the next morning to the whims of the half-million local and international tourists who make their way here each year. At nighttime, as throngs of tourists stroll in the sand along a narrow strip between the shoreline and the clubs, the pulsating light and sound shows mix oddly with the shine of the moon and the lapping of the waves. It's a strange mixture, but an enticing one, sort of a cross between Makati's Burgos Street at night and Cape Cod's Provincetown in the summertime.
The place to go – the ONLY place that sports a board on all of Boracay – is called Pier One-Beachcomber. It's one of six Pier One restaurants and bars in the Philippines. All of them are co-owned by Christopher "Doods" Cansana. He's a bigwig at some computer company, which explains why he can afford to own seven bars. He's a darts fanatic, which explains why he's willing to take up money-making table space to put up boards in several of them.
I settled in at a rustic thatched-roof beach resort called the Seawind, selected solely because of its proximity to Pier One. The bar is just a ten-minute shuffle through the sand. I made the shuffle three nights running to meet up with Mon…
Suffice it to say I didn't fare well. On one hand I could count the legs I won.
The first game I won (with a 60-close, but that required a 19 after my first dart landed errantly in the number one pie – tops to close) was against a hot-looking and equally hot-shooting girl in the bar. Then, I lost two straight. My eyes weren't on the board.
Next up: Mon (I had to coax him off the dance floor). He destroyed me in the first leg, leaving me with 244 points on the board. I fought back. I scored heavy and pulled a 109-finish out of my ass to even it up. But sadly, as expected, two minutes later Mon completed his tap dance on my face. He pirouetted, curtseyed politely and fluttered to the men's room.
Later, the bar girl and I teamed up to take on Mon in cricket, two against one – an impossible match to lose. Mon closed the 20 and chalked up 40 points. From the same place I found the 109 earlier, I closed the 20 AND the nineteens and eighteens. My partner and I took the first leg easily after that. But then somehow, some way, Mon found the darts to out-power us in the second leg, demoralizing us, I suppose, because my partner and I opted to call the match a tie, rather than risk the humiliation of a second defeat.
Mon and I wound up the first night shooting pool and becoming personal friends with San Miguel. I headed back along the beach, weaving as opposed to shuffling, to the Seawind and crashed until four o'clock the next afternoon.
For the next two nights Pier One became my home in Boracay. I got to know the local hotshot, a Filipino named Glenn Mariano, against whom I managed to hold my own. I learned to play a game native to the islands called sungka where you transfer dozens of little shells in and out of small pocket-like indentations in a long wooden board. I tried my hand at a card game called tongits. Presumably, there is a way to win at both these games. But all I mastered was the art of looking mystified and buying another round of drinks.
There are many places I have traveled to throw darts that I wouldn't recommend. But Boracay is different. It's a one-of-a-kind paradise, charming as a paradise can be and, at least, from the vantage point of an approaching banka boat, every bit as pristine as this exotic part of the world was the day Ferdinand Magellan sailed in to claim the Spice Islands for Spain over half a century ago.
Sadly, for Magellan, the natives killed him.
Thanks to the hospitality of Doods Cansana, I survived – and thanks to the company of my friend Mon Sabalboro I had a wonderful time at the boards.
AND THEN, AMONG SO MANY MEMORIES, THERE WAS THE 2009 SHANGHAI INTERNATIONAL DARTS OPEN…
For the past almost 40 years, I've traveled and written about darts and darts tournaments in some 70 countries. I've attended and written from the Professional Darts Corporation's (PDC) world championship. But never, not ever, have I witnessed quite the production I found myself a part of in Shanghai.
It was San Francisco's Rob Heckman who told me about the tournament. We were standing outside the tournament hall at the National Darts Association's (NDA) Las Vegas Team Darts Tournament, minding our own business, when a dozen of the girls from the Riviera's Crazy Girls Topless Revue sauntered by. Having no alternative (and only to be polite), Heckman and I engaged them in conversation. One witticism led to another and the next thing I knew I'd dug a hole all the way to China, just like I tried to dig once as a six-year-old kid.
And wouldn't you know it, there to greet me at Shanghai's Pudong Airport was a little guy with a Fu Manchu moustache holding all the plates of spinach and beets I refused to eat as a child – and which my mother sent to starving kids.
The tournament was held at a superb venue – the 4-star Shanghai Xuhui District`s Sports Hotel. Players from more than ten countries – even Mongolia – were joined by an ample contingent from the West including John Part, Gary Mawson, Rob Heckman, Chris White, David Fatum, Stacy Bromberg, Cleveland's Marlise Kiel and her father Bernie from Ireland, England's Rachel Dixon and even former two-times Scottish Open Champion, Rab Fotherington. Scott Kirchner and John Kuczynski were scheduled to attend but, experienced world travelers that they are, seemed unaware that visas are required to enter China. Rumor has it that in Kuczynski's case, he was also physically unable to leave his house because the doors were blocked by the thousands of stuffed animals he collected for his annual Toys for Tots holiday fundraiser.
The hotel sported classy four-color banners and the streetlights were plastered for blocks with promotional event posters.
Security was tight – the tournament hall and even the practice room were periodically swept for security purposes and police were ever-present at the entrance to the tournament hall to check the credentials of the players and keep non-players out. Perhaps someone knew of the dangers that lurked…
The first incident occurred when fireman David Fatum walked into a light fixture outside of the entrance to the hotel and had to be taken to the hospital emergency room. The second incident found Rachel Dixon in the same emergency room after she began acting even weirder than most women and more or less blacked out. She was diagnosed with diabetes after she returned home. The last incident occurred when Chris White's nose began to bleed for no apparent reason while he was sipping a beer in the hotel lobby. It was later learned that after letting a 6-1 lead slip into a stunning 8-7 loss against Hong Kong's Lam Ting Chi Royden in the final eight, White simply punched himself in the face.
The tournament was worth every cent of the $100 entry fee – and this is only partly because the beer was FREE!
It was an extraordinarily well-run "to the exact second" affair that began with two days of round robin (501 – best of five legs) competition against seven randomly drawn opponents followed by a knockout among the top 64 and a staged final (emceed by Heckman) during an elegant banquet on the final evening – complete with giant dancing dragons, dancing girls in skimpy attire, a string quartet, a huge sculpture made of butter, cannons, glittering confetti, a dozen television cameras, and award presentations by political dignitaries and even Wu Minxia, China's two-time Olympic gold medal winner in synchronized diving (2004 and 2008).
But none of this is why I found the experience so incredible, so unforgettable. For me, the experience was made so because of Mon.
Except for me, the westerners did well. Although I was well inside the cut after the first day – I even took Rab Fotherington to the wire, losing 3-2 in the tiebreaker – I went down in flames (only by a hair though, thanks to Mon) during the second qualifying round.
My downfall was David Fatum's fault (well okay, that's a lie). While we were in the elevator heading to start the second day of preliminaries Fatum asked me how I felt. I said I was a little nervous – that I was right on the edge of the cut but faced a tough round-robin bracket. I know you don't need me to tell you this, he offered, but take it easy the first match – don't put any extra pressure on yourself. Play steady and safe by easing your darts into the twenty. Worry about the triple later. Get the first win under your belt.
Of course, I ignored all this, focused on the triple 20, promptly filling up the triple one and five – and lost 4-1. The leg I did win was thanks only to a special rule – that being if a match went to the six-minute mark it was to be decided by a throw to the bull. I had the time limit called on me twice during the tournament and won both legs which suggests that, under Chinese rules, the crappier I throw the higher my rate of success.
Later during the second qualifying round I faced Mon. I needed three legs to make the cut…
Somehow, I took two legs. Well, "somehow" is a misrepresentation. There was a reason, and it wasn't the quality of my darts. I have never told this to anyone…
In the aftermath, Mon and I had the first and only, and extremely heated, argument since we met. What occurred was wrong but for me it was one of the most special moments of our near 20-year friendship.
And let me be crystal clear: had I not taken the two legs Mon (he knew this) and not John Part would have entered the knockout as the top seed.
So, what happened?
In short, by missing the triple 20 so slightly and filling up the triple one and five Mon threw me two legs. It was so subtle that I didn't even realize it until the match ended. I asked him what distracted him in the middle. He just smiled – and then it registered. I was mortified.
What the fuck, Mon – you can't be doing that!
His reply: That's what friends do for friends.
Wrong as it was I will never in my life forget it. And we damn well talked it out – and found some rationalization in that what Mon did cost him an easier path in the knockout and by my not making the cut nobody more deserving was deprived of a spot. He knew he couldn't give me a third leg.
In the end, favorites John Part (with a flurry of bull finishing) and Stacy Bromberg (who only lost ONE LEG during the entire competition) took home the $15,000 and $5,000 winner's checks.
Fatum, Heckman, Mawson, and White all made it to the final sixteen or beyond. Marlise Kiel finished in the top eight among the ladies.
The big story was the performance of the seven players (six men and one lady) from the Philippines, many of whom Mon had discovered and recruited. After the two qualifying rounds an astonishing FIVE of six Filipino men – good old "Boy" Parfan, Laurence Ilagan, Ronald Briones, Robert Calupit and Mon – were seeded in the top EIGHT for the final 64-man knockout. The remaining entrant, Christian Perez, was seeded fourteenth.
By the end of the tournament, ALL SIX of the male members of the Filipino team finished in the final sixteen, four finished in the top eight, and of the final four places three went to the Filipinos. Parfan and Ilagan fell short in the semi-finals and Perez lost to Part in the final. And diminutive Analiza Awitan (another Mon recruit) scored a top four finish for the ladies.
This was just more of the same at the time for the Filipinos. Ilagan was a semi-finalist in the 36th Winmau World Masters – and won the five million-peso Pacman International Tournament in General Santos City. Briones captured the 2009 French, Korean, Malaysian and Singapore Open titles. Perez appeared at the PDC's Ladbrokes.com World Championship – impressing everyone while averaging 94.5 to get by Per Laursen in preliminary round play only to fall to Robert Thornton 3-1 in the first round. Awitan was the reigning Korean Malaysian Open women's single's champion. And remember Angelyn Deteblan? Two times she won the China apital One Open, and the Mayalsia Open.
PHILIPPINE PRESS HEADLINE
Upon Mon's passing, a headline in the Philippine press announced: "Local Darts World Mourns National Champ Ramon Sabalboro Following Untimely Death" – but the headline missed the mark. By a longshot.
Mon had friends all over the world. I suspect no one who ever met him did not become a friend. Condolences poured in…
…but a post from Scott Kirchner captures my feelings as well as any.
RIP my friend. In all my travels I never met a nicer man than you. You will be missed buddy. Love and peace be with you.
Yes, they called him "Supermon" – and he was!
From the Field, and with the saddest of hearts,
Dartoid
The following two tabs change content below.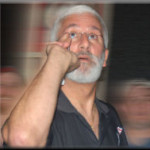 Author of the column that since 1995 has been featured by Bull's Eye News, the American Darts Organization's (ADO) Double Eagle and numerous other darts publications and websites around the globe.