Column #575 The difference between the CDC (and PDC) and the ADO
Thursday, August 1, 2019
Column 575
The difference between the CDC (and PDC) and the ADO
You may remember the day when (thanks to the late Charles Schulz, whose words I've embellished a bit) Charlie Brown, Lucy and Linus were relaxing on the side of a hill looking at cloud formations in the sky…
Lucy said to the boys:
"Aren't the clouds beautiful? They look like big balls of cotton. I could just lie here all day and watch them drift by. If you use your imagination, you can see all sorts of wonderful things in the cloud formations. What do you think you see, Linus?"
Linus looked to the left, far off, and said: "Well, over there those clouds remind me of the Canary Islands. I can see palm trees and parrots with feathers all blue and red and florescent green. Over there I see what appears to be a profile of the famous poet, Thomas Aikens. I can see his beard and I think he's holding a pencil and a pad of paper. And over there to the right I see the Apostle Paul. I see his robe and his belt buckle and his floppy sandals." Linus went on and on.
"Uh huh," Lucy interrupted, "that's very good. What do you see in the clouds, Charlie Brown?"
Charlie, of course, got that sort of twisted look on his face, hemmed and hawed for a moment and, finally, said, "Well, I was going to say a duckie and a horsie, but I think I've changed my mind."
The point?
If you don't look you won't see. If you aren't innovative… if you can't imagine, lack vision, don't consider the spectacular possibilities out there you will never achieve big things.
This is the fundamental difference between the CDC (and PDC) and the ADO.
From the Field,
Dartoid
The following two tabs change content below.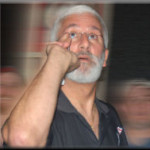 Author of the column that since 1995 has been featured by Bull's Eye News, the American Darts Organization's (ADO) Double Eagle and numerous other darts publications and websites around the globe.