Column #535 An Open Letter to Barry Hearn – about the Philippines
Wednesday, April 26, 2017
Column 535
An Open Letter to Barry Hearn – about the Philippines
Dear Mr. Hearn…
There was exciting and disappointing news in the PDC's recent press release. It was exciting to learn that Brazil and Latvia will "be making their debut" at the World Cup in June. It was disappointing to learn that Norway and the Philippines "will not compete."
I know nothing about the decision regarding Norway. I've never even been there. All I know is that it is freezing there in winter and they kill whales.
But I have been to the Philippines many times, know the players and their deep commitment to professionalism   When the Filipinos attend a tournament it is all business. They don't drink and carouse. They keep a strict curfew. They usually stay at a special hotel – to stay focused and get the rest they require to perform their best. They approach the oche prepared and with respect for their opponent and the sport. Always.
Many will recall that at the last World Cup the Philippines team defeated the American team and performed credibly against the Dutch. Gilbert Ulang represented the Philippines at Ally Pally.
I am aware of rumors swirling about the PDC action – not just as to, supposedly, why the decision to exclude them was reached but with regard to the way it was conveyed. In the Philippines they learned about the decision by press release, after they had begun to conduct qualifiers for the World Cup and World Championships (as prescribed by Quorum International). No one from the PDC had the courtesy to contact the Philippines directly.
I can't imagine that you are aware of what has transpired.
I am appealing to you to look into the situation and correct it.
Word on the street is that Ulang is suspected of throwing his preliminary match against England's Kevin Simms at Ally Pally last December. Respectively, the players were 3,000 to 1 and 2,500 to 1 shots to win the tournament. There were no illusions.
Simms was up one set in the race to two.   At two legs each and with Simms sitting on 18, looking at 109 Ulang threw at the triple 20 and hit a single. He stepped off the line in a sort of daze. He stepped back to the line and threw at the 20 again instead of an odd triple. Any professional, certainly Ulang, will admit he threw a dumb dart.
People throw dumb darts sometimes, even at the highest level. I have seen Phil Taylor do it. Gary Anderson. Michael van Gerwen. We are all aware of far worse – activities that have legitimately warranted action being taken against a player.
Rumor continues that a large better filed a complaint, that the match was fixed. It seems unusual. It deserved investigation. No argument there. Darts needs to be above reproach. But does it really take nearly five months to review?
What many do not know is that Ulang was sick, very sick. Arriving two days before his match to a frigid London, he was unable to adjust to both the time difference and cold weather. This was unknown to all except to his manager, Julio Santos. It's not an excuse, just a fact.
Yet, as some have been known to do, Ulang did not withdraw.   He played the best he was able given the circumstances. He lost on a simple blunder. There was nothing devious or untoward.
I understand that after the complaint was lodged Ulang and Santos were questioned by the PDC, their phones looked at, and all seemed fine. Again, this was five months ago.
The Philippines moved on, they held their qualifiers for this year's World Cup and World Championship…
And then they learned via press release that they were out of both tournaments.
They contacted the PDC and were told they were under investigation.
Again, can you possibly be aware of all of this, Mr. Hearn?
It all seems as unreasonable as when Ricky Villanueva was disqualified on a technicality from stage play at the 2004 Desert Classic. He showed up a few minutes late (but still nearly two hours ahead of time) for his match against Steve Coote. He was told to go packing. This effectively ended his dream and he's rarely been seen around darts since.
And not that it matters (it was before your time), perhaps take into account that in the early 1990s the World Darts Council (WDC) asked the Philippines Dart Council (PDC) to change their name so that what was to become could be called the Professional Darts Corporation (PDC).
The Philippines acted immediately. This is why the Philippines' governing body is today called the Darts Council of the Philippines (DCP)…
…and the PDC is the PDC.
The recent mysterious PDC action against the Philippines has crushed many Pinoy dreams.
Please, Mr. Hearn will you look into this and reverse the decision? The charges are unfounded. The PDC action is unfair.
From the Field,
Dartoid
The following two tabs change content below.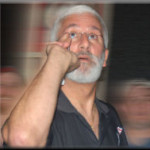 Author of the column that since 1995 has been featured by Bull's Eye News, the American Darts Organization's (ADO) Double Eagle and numerous other darts publications and websites around the globe.