Column #486 Ah, the stupidity!
Tuesday, April 14, 2015
Column 486
Ah, the stupidity!
I thought I'd heard it all when in 2011 an off-duty cop, Dayle Long, was charged with murder after he allegedly shot a "friend" he was playing darts with at a bar in Murrieta, California. According to press at the time here's how it went down…
An altercation allegedly broke out after the police officer told one of the friends 'I'm better at darts then you are.' 'My buddy says, 'Aw, you suck at darts.'  (The man) says, 'That's why I'm a cop.  I can do whatever I want to do.'  (The buddy) asks, 'Really, you can do anything?'  The police office then pulled out his gun (the buddy claimed) and after the group repeatedly asked him to put it away he 'pops three rounds into my friend.'
In January 2014, Long was sentenced 40 years to life in prison.
Then a month ago, it was reported that a Norwegian citizen shot a friend, also Norwegian, during an argument while playing darts in a restaurant, Lek Switzerland, at the Cha-am beach resort in Thailand.
And then, just a week ago, a Berwyn, Pennsylvania man reportedly stabbed his neighbor several times with a dart.
This is crazy-ass shit.
But so is Butt Darts.  Crazier yet, there are two distinctly different versions.  The first, a bar game that supposedly was sweeping the nation a few years back, involves "dropping as many quarters as possible out of one's rear end into a shot glass placed on the floor."  Honest.  The second, recently featured on the new MTV game show, Broke A$$ Game Show, requires the contestant to hit a dartboard (anywhere on the board counts for $25) "with your bum strapped inside a cyclical cement mixer that turns around and around… and around."
But then it really gets nuts…
Just a couple of weeks back the President of the United States was photographed tossing a few darts at a popular watering hole in Atlanta, Manuel's Tavern.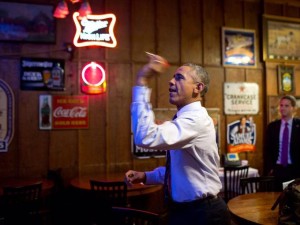 Rather than recognizing the opportunity to promote the game we all love, Facebook's Dart Discussion Group lit up with… ridicule, and worse.  My guess is he shoots to the left.  Probably a lot of 1s.  Somewhere around his approval rating.  Joke.  Failure.  There's nothing 'unpatriotic' or 'un-American about speaking the truth regarding the president.  Freedom of speech is as an American a right as we still have and by golly if the president sucks, we should by all means say it as Americans.  Darts sacrilege.  The US voted in a Nigerian Muslim Commie Terrorist as president.  Ethiopian.  Somalian.  Sorry, I forgot which country he's supposed to be from.  He cohorts with terriers.  Yorkshire Terriers – or another kind?  I wish I was a Kenyan like the President – I'd be able to run a marathon in 2 hours – 3 minutes.  Pretty soon he will have people beheaded in the town square.  One time Obama came to my house to take my guns and force me to get gay married – I turned off the lights and acted like no one was home.  Probably cheats.  Well, hopefully he doesn't turn this place into a commie/socialist country… because all the dart pay outs will be split equally between all entrants… that would suck… I would probably quit throwing.  Or… it's winner take all… you don't win for winning, rather your finishing place is your lottery number. They draw a random number at the end of the night, that person/team wins the pot – everyone has equal chance to win the money.  Then I'll have to start paying entry fees for players that can't afford it.  You have to practice for those who are too lazy to practice for themselves, too.  Need to throw a dart at HIM.  I was referring to our dumbass leader attempting something else he isn't good at.  Hopefully Obama won't change our money to show the Prophet Muhammad.  Beheading is covered under Obamacare.  But, is re-attachment?  He killed Osama with his bare hands.
Gotta tell you, everything above makes yesterday's 'big dart news' – an (alleged) dalliance by Michael van Gerwen – seem insignificant.
Except to his wife.
From the Field,
Dartoid
The following two tabs change content below.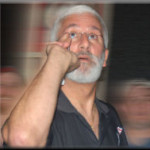 Author of the column that since 1995 has been featured by Bull's Eye News, the American Darts Organization's (ADO) Double Eagle and numerous other darts publications and websites around the globe.