Column #458 Taylor, Panuncialman, and Eccles: three controversies, three opinions.
Saturday, March 1, 2014
Column 458
Taylor, Panuncialman, and Eccles: three controversies, three opinions.
The controversies…
Sixteen times world champion, Phil Taylor, has dumped his nearly two decades-long sponsor, Unicorn, for a five-year, £3 million (almost $5 million) deal with Target.  "It's not all about money…" said Taylor, after comparing the switch to changing mobile phone contracts and declaring, after a few-week health and exercise sabbatical in Portugal, "I feel better now than I've ever felt in my life.  I'm absolutely buzzing."
Then, with his new "Target-designed" darts, he was treated to a buzz-saw whitewash – the worst defeat of his career – by current world champion, Michael van Gerwen, at this year's Premier League opener in Liverpool.  Taylor was subsequently defeated twice more in Premier League play before dispatching Simon Whitlock 7-3 in Glasgow.  Taylor is currently ranked ninth in the table of ten, just above the only player he's managed to beat.
In fairness, Taylor did toss two perfect games with his new darts at the Coral UK Open but this is a testament to Taylor's latent prowess, not his "redesigned" darts, which are little more than Unicorn Phase 5 copies.  Taylor won more than $4.5 million using the Phase 5s – so if you want to buy a dart with a record of success go to Unicorn, not Target.
Steve Panuncialman (whose name is even more difficult to spell than "Kuczynski"), creator of the popular Dart Talk podcast and the new Player's Challenge Series (one of the best ideas that's come down the pike in years – a no-entry fee, winner-take-all promotional tournament designed to raise the visibility and popularity of darts in the United States by showcasing the top players) has attracted his own buzz-saw as a result of his decision to disqualify four of the top players being showcased – Larry Butler, Scott Wollaston, Ray Carver, and Danny Baggish – for not turning in match results in a "timely manner."
The definition of "timely manner," which seems to be at the root of the controversy, appears to run the gamut, depending on one's perspective, from somewhere between "within 48 hours of the completion of a match" and "before a match is played."
Tony Eccles, long-time British Darts Organization (BDO) and Professional Darts Corporation (PDC) player (who reached the last 16 of the 2008 PDC world championship) has been accused of multiple rapes and indecent assault on a schoolgirl.  The charges, now approximately a year old,  have been brought by a single woman, now in her 30s, and are alleged to have occurred 18 years ago.
Darts forum and social network posters around the world have their hatchets out, "comparing" Eccles to Jelle Klassen (who admitted what he did in advance of his court date and was convicted for texting photos of his willy to a 15-year-old mentally-challenged kid) and, well, someone else who was found guilty of fondling a couple of girls in a motor home, but whose name I have promised not to mention until England wins more than one gold medal at a Winter Olympics, so probably you'll never know.
Eccles, who denies everything, goes to court in June.
The opinions…
There is a world of difference between being "presumed innocent until found guilty" and innocence and guilt.  One can believe whatever they wish about a friend or drinking buddy, celebrity or enemy – but unless an accused admits their guilt (which Klassen did – so there is no "comparison") they are neither innocent nor guilty until evidence is presented and judgment is rendered by a court.
There is also a world of difference between texting your manhood or fondling and rape (so, again, "comparisons" are absurd).
It is common for a juvenile to wait years before disclosing a violation such as that of which Eccles is accused.  With the exception of murder, what Eccles is accused of is as despicable as it gets – protecting the accuser is standard and understandable.
Of course, all of this can be debated…
What cannot be debated is that, whatever actually happened or didn't happen and whatever the legal outcome, two lives have been changed forever and the sport of darts has been tarnished, again.
(For the record and for the good of the sport let me emphatically state:  there is no truth to the rumor that I was touched in a private place by Scott Wollaston.)  Or maybe there is.
Speaking of Wollaston, and others, my view is unequivocal regarding Panuncialman's decision to disqualify four players from his Player's Championship Challenge.
I appreciate the need for rules and enforcement (that many rules are not uniformly enforced by leagues and tournament directors is one of the many reasons darts struggles for respect).
But when a rule is vague, which it seems clear the rule for "timely reporting" of results was in this case it, flexibility should rule.  Panuncialman's concept is so outstanding and offers so much to the growth of darts in America that to enforce a vague rule and knock out of the tournament four of the best players – players people want to see – can only jeopardize the future of the Player's Championship Series.
The players should be reinstated.
Then there is Phil Taylor and his multi-million dollar and probably end-of-career deal…
Darts is Taylor's job so it's impossible to condemn him – which was my initial reaction – for cutting the best deal possible.  But Taylor has said "it's not all about the money" and that, let me put this delicately, is fucking bullshit.
My ass, it isn't about the money.  Five million dollars is a boatload.  So more power to The Power, right?
Fair enough, but don't treat us like chumps.  Don't tell us it ain't all about the money.
Don't belittle loyalty by comparing the switch to a couple-year contract with a cell phone company.
And don't slap Unicorn again by claiming a sudden close personal friendship with Target's managing director, Garry Plummer.
"We just hit it off as if I'd known him all my life…" Taylor has said, "…it's like we're really good friends."  Well, Mr. Power, there are some who will attest that what Plummer exudes in charm he lacks in loyalty.  He'll do a "deal," smile, shake your hand and then cast you off when the "deal" no longer suits him.  Just ask around.  Beware.
Taylor signed with Unicorn about the same time Eccles' accuser alleges she was assaulted – a long time ago.  Since 1996, Richard and Ed Lowey have been good to Taylor, and loyal.
Sure, business is business…
Perhaps there was some sort of falling out.  Considering Taylor's age and the puncture of his once Tyson-like invincibility, possibly Unicorn just didn't think the kind of money Taylor wanted was a sound business investment.
If the latter was the case Unicorn was right.
Target's range of Taylor-branded darts are priced from approximately $10 to $125.  To break even – only even – on their five-year investment in Taylor, Target will need to sell 500,000 sets of the darts (at the low-end price) or about 100,000 sets at the high-end.  These are facts.
And nobody invests to just break even.
Covering this investment, let alone achieving any sort of respectable return, must assume that Taylor performs using the darts – and he ain't.  Moreover, while perhaps not in words, in facial expression and body language at the line he doesn't seem to care.
Taylor's got his $5 million deal, for now.  No doubt he'll start throwing amazing darts again.
But still, I must ask: at what price loyalty?  Apparently, for Taylor, that figure is $5 million.
After the Taylor-Target partnership was announced, Unicorn "wish(ed) him well."  After Taylor managed to finally win a Premier League match Ed Lowey tweeted "…well done Phil – good to see."
That's class – and darts needs more of it.
From the field,
Dartoid
The following two tabs change content below.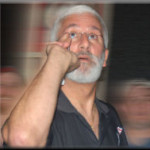 Author of the column that since 1995 has been featured by Bull's Eye News, the American Darts Organization's (ADO) Double Eagle and numerous other darts publications and websites around the globe.