Column #452 Darts. Booze. Broads. And the Blues.
As one of my blues harp classmates, Richard Verrochi, put it, "I came to Clarksdale to do a deal with the Devil and found out the Devil was Jon Gindick – and he wasn't dealin'."
Gindick, as most of you dart people will not know, is one of the premier blues harmonica instructors in the world. He runs a "jam camp" in Clarksdale, Mississippi – the heart of the blues – three times a year. Joined by several of the best bluesmen and women around (Hash Brown, T.J. Clay, Cheryl Arena, Brian Purdy and Richard Sleigh) and supported by master musician and composer Ralph Carter and others – the cast helps teach, train and mold advanced bluesmen and budding amateurs alike.
Several steps below the latter would describe me, although after a few beers I can blow a decent rendition of Mary had a Little Lamb. After a week in the Delta I have found that I suck at more than just darts. But I had a plan…
If you read the first installment of this series (Darts in the Delta) you'll be familiar with Robert Johnson. As a young man, living on a plantation in rural Mississippi, Johnson was considered to be competent with his harmonica but mediocre with his guitar. He was told to go to a crossroad near the plantation where he might meet someone who could help.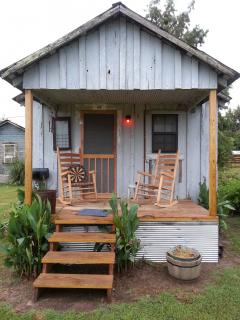 Johnson found his way to the desolate dirt junction of Highway 61 and Highway 49 near Clarksdale. There he was met by a man (the Devil) from whom, in exchange for his soul, he was accorded mastery of his instrument – enabling him to create the blues for which he became famous.
This all happened something like 90 years ago (I'm serious – some guy recorded the whole deal on an iphone). The rest is history…
In 1986, Johnson was inducted into the Rock and Roll Hall of Fame at the very first induction ceremony. In 1990, Spin magazine rated him 1st in its Guitar Gods listing. In 2008, Rolling Stone magazine ranked him 5th on their list of the 100 Greatest Guitarists of All Time. Not bad for someone who lived to just 27 years of age and recorded only 29 tracks. Johnson died in 1938.
So, naturally, as I headed south from Memphis with my darts and a board in tow my first stop was the crossroads. I was going to do a deal too…
The dirt road junction is now paved. There's a convenience store, a donut shop and a barbeque joint called Abe's. There's a big sign commemorating the Johnson/Devil legend. But there's no damn Devil. Well, except for Gindick…
Gindick's blues camp is headquartered at the Shack Up Inn on the site of the old Hopson plantation just a few miles outside of Clarksdale and about ten miles the other side of the broken down town of Tutwiler (where at the edge of an open field the legendary Sonny Boy Williamson is laid to rest under the shade of an old oak tree). According to the 2000 Census, 34 percent of Tutwiler homes had a female householder with no husband present. The per capita income was $7,177. There's a reason people down this way sing the blues.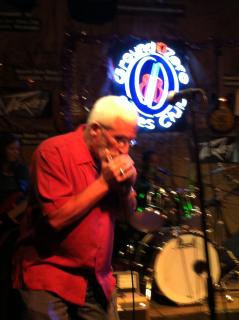 Virtually unchanged from when it was a working plantation, the Shack Up Inn property is dotted with authentic sharecropper shacks (not slave shacks) with corrugated tin roofs and Mississippi cypress walls (but with modern conveniences like bathrooms, refrigerators and air conditioning), the original cotton gin and seed houses and other outbuildings.
Just outside the main building covered in rust is one of the first mechanized cotton pickers, manufactured by International Harvester in the 1930s.
So, just as it has been for the likes of Tom Waits, Pinetop Perkins, Elvis Costello, Robert Plant, Big Jack Johnson, Super Chikan, Charlie Musselwhite, Robert Plant, John Mayall and Ike Turner, to name just a few – and the many who pass through each year on their own blues pilgrimage – the Shack Up Inn became my home away from home for the past week. It's wonderful.
Of course, there are rules, just as there are in fine establishments everywhere.
For example, you might ask: Does the Shack Up offer discounts? The answer: "call Priceline and ask big fat swollen William Shatner." Are tour busses allowed? "No, not without prior approval… and we won't approve it." Do the roofs leak? "Only if it rains." Is there room service? "Call the Peabody in Memphis." Phone and fax service? "Call a Comfort Inn anywhere." Is there beer? "We got all you can stand."
So this is where I have been, along with about 30 other blues enthusiasts from around the world – a doctor from Argentina, lawyer from Georgia, restaurateur from Phoenix, advertising executive from Australia, engineer from Texas. All professionals, most with white hair, and every last one of them can vouch that the answer to the "Is there beer?" question is 100% correct, or at least was before we arrived.
Each day from early morning until late afternoon we were put through the ropes – how to properly hold the harmonica and breathe, about single notes and safe notes, tone, embouchure, articulation, bending, vibrato, rhythm, tongue blocking, phrasing, amplification and much more. I even learned how to take my harp apart (I'll have to go back to find out how to put it back together).
Is was evident from the start that my classmate was wrong: Gindick is no Devil; he's a perfectionist who stresses the importance of a proper foundation…
Early-on in my darts "career" I met a player from Texas named Dave "Buddha" Fasnacht who convinced me to switch from a three finger to a four finger grip – and for the better part of the next several months my game was crap. I couldn't hit the wall. It's no different in blues harp. Just as grip, stance, follow through, math and more are essential to advancing to the next level in darts (whatever your level) it's the same in the harmonica world. You have to understand and perfect the basics or you'll never attain your potential. The first thing I learned was that I was holding my harp backwards and upside down. Now I can make sounds.
Some afternoons and evenings we jammed. They had a toaster from the 1920s, loaves of Wonder Bread and some Smuckers. Fantastic. Wait! Got mixed up there. This is what you'll find at Yazoo Pass, the fanciest restaurant in downtown Clarksdale. I hit Yazoo Pass each morning for breakfast and highly recommend it. Also, Abe's at the crossroads has the best barbecue I've ever woofed. It was so good that I brought some home on my shirt.
Also while in town (and in Tutwiler too) I searched for a darts bar. Sadly, there is no such animal. I was surprised. One of the things we were taught was the "12-bar blues progression" (so I was hopeful) but it turns out the bars – all dozen of them – that Gindick and the coaches were talking about had something to do with music. In the end though, learning the 12-bar progression pretty much saved my life.
When I say we jammed I mean that each day we formed lines and, one at a time, wailed what we had learned through a microphone called a Green Bullet. I'd say this was intimidating, and it was, but in hindsight it was essential preparation for what was possibly the most frightening experience of my life. On Thursday evening we all headed to a juke joint called Ground Zero to perform on stage…
Ground Zero is Morgan Freeman's club and one of the most famous blues joints in the world. Backed by a band, each of us performed about a 60-second cameo on stage. Our little routines were to be streamed live.
Standing in line waiting my turn I was reminded of a time when I was five years old. I swam competitively through college but this was my very first race – at a YMCA pool in Lima, Ohio. When the gun when off – I didn't know there was a gun – I started to cry, jumped off the starting block and ran into the locker room.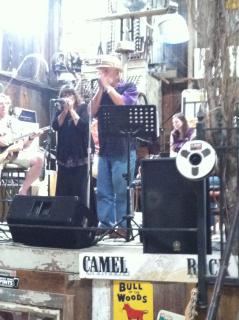 I never completely overcame pre-race nervousness. Even today, the same is true in darts. Before a match – even just league – I seem to spend more time in the men's room than at a practice board. But after the first few handfuls I'm into my stroke.
Maybe it's natural. Stage fright.
As the line advanced at Ground Zero I was fortunate that the men's room was to my immediate left. During the approximate 15 minutes that I waited my turn I must have made a dozen trips. I suppose to some degree I was comforted that many of my classmates were doing the same thing.
And then I was on stage. Gindick was announcing my name. The band was playing. And I completely forgot what I had planned – but remembered the 12-bar blues progression and something called the I-IV-V and my safe notes. So this is what I did. I think I went through the progression four or five times and after the first few notes my fear evaporated. I stopped thinking. I got my mojo working, as they say.
I am pretty sure that to the unknowledgeable observer I didn't sound bad. Unfortunately there is no such thing as an " unknowledgeable observer" in a place like Ground Zero.
But I got through it. It felt great to face the boogie-man and meet the challenge. So, with no dartboard in sight, I headed to something I was familiar and completely comfortable with – the bar for a beer and then the pool table. One of my classmates, Hal Vandiver, was shooting 8-ball with one of the coaches, Brian Purdy. They were good and I'm pretty sure I could have taken either of them (but I once thought the same thing about Robert Heckman and he wiped the table with me at a bar called the Green Dragon at the first Shanghai International Darts Open in 2009). He may have taken all my money too but I couldn't remember much the next morning.
Something I learned this week was that darts players and bluesmen have a lot in common. We live in bars. T-shirts are formal wear. Hats look good. Beer helps. It's best to just blow your riffs or throw your game – over thinking is the enemy. And it ain't easy to make a living!
The last day at the Shack Up we had to perform again. Some went with fantastic renditions of "bluesified" versions of standbys like "Fly Me to the Moon" and the Beatle's "Love Me Do". Like the dummy I am, I wrote a little ditty called "Darts, Booze, Broads and the Blues."
They call me Crazy Dartoid
I'm 38
You as stupid as a donkey
If you believe that shit
They call me Crazy Dartoid
That's my name
I throw them darts at the board
That's my game
I toss 'em in the morning
Toss 'em late at night
Sometime the beer runs out
Just ain't fucking right
Don't cost much money
Except for the booze
But when I finish a 6-pack
I feel good and loose
I ain't exactly a pro
But I practice like crazy
So I'm pretty good (and have the green)
To attract purdy ladies
They call me Crazy Dartoid
That's my name
Darts. Booze. Purdy women.
Them's my games.
My wife – she ain't so sure about the darts
Says I need somethin' else to do
That's why I standin' here
Screwin' up the blues for you!
Yeah, they call me Crazy Dartoid
That's my name
Darts. Booze. Broads. And now the Blues.
Them's my games.
I bombed. Only thanks to the band – particularly Ralph Carter – and one of the coaches, Cheryl Arena, who backed me up, did I not make a complete fool of myself. Or maybe I did.
But no matter. Just as I felt the first time I picked up a dart and hit something I was actually aiming at I am hooked.
Not long ago, a travel writer named Margie Goldsmith gave Gindick's jam camp a go and wrote a feature for American Airlines' monthly magazine. In part, she wrote, " I cannot think of anything more frightening than playing music in a club, except maybe a tax audit because of a business deduction for blues camp. When I tell Gindick how terrified I am, he says that fear is natural, I just need courage, and I should let the music come from inside my body. I have no idea if the sound will come from inside me or from some divine intervention, but when I get up on stage and see the band members smiling and encouraging me, I am no longer afraid. I bring my harp to the microphone, inhale, and I am suddenly in another world."
Just like darts.
The music's in me. It just ain't a perfect game.
From the field,
Dartoid
The following two tabs change content below.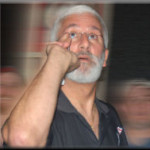 Author of the column that since 1995 has been featured by Bull's Eye News, the American Darts Organization's (ADO) Double Eagle and numerous other darts publications and websites around the globe.