Column #437 Jelle Klaasen and Larry the Lobster
Sunday, September 1, 2012
Column 437
Jelle Klaasen and Larry the Lobster
When in 2011 New York Congressman Anthony Weiner was forced to resign after denying and denying and finally admitting that he sent an actual photograph of his last name to a multiple women, all of America – even those who didn't receive the image – exclaimed in a collective gasp, "what a dick!"
Now, it's a darts community's member, Jelle Klaasen's, that's in the limelight. And the press grabbed hold immediately.
It was different in 2001 when, after the incident was kept hidden for two years, we were greeted one morning with the shocking news that then nine-times world darts champion, Phil "The Power" Taylor, was convicted of "fondling" and "groping" a couple of 23-year-old girls. At the time, the question inquiring darters all over the world were asking was, "just what is the difference between an arse and a bum and which one exactly was Taylor thinking with the night he got himself in such a mess?"
As Mike Tyson put it in Hangover, "…we all do dumb shit when we're fucked up." Darts players have pulled their pants down when they should have kept their pants on and peed in trash cans – and the Darts Regulation Authority has acted accordingly. Taylor let himself be put in a bad position after an exhibition. But grab bits he wasn't invited to grab? I never bought the claims and still don't.
This time it's different, much different. It ain't mooning. It ain't public peeing. It ain't a couple lyin' floosies angling for a free payday. It's worse, much worse. Reportedly the girl who Dutch star Klaasen graced with text messages and photos of his manhood was an underage 15-year-old – in a mental institution.
It was so different just a few years back in 2006 when as a 100-1 outsider Klaasen defeated Mervyn King and Shaun Greatbatch en route to the final of the BDO world championship which he won 7 sets to 5 over Raymond van Barneveld to become the youngest ever world champion at just 21 years of age.
He was on the top of the world. Now in the court of public opinion he's at the bottom with Larry the Lobster.
Here are translations of messages Klaasen is alleged to have sent to the young girl:
Show me something nice.
Take a pic of you in your bikini, show that it fits really tightly…
Don't show anybody these pictures ok?
(I had to) look out where I grabbed you in the pool.
Apparently he made a personal appeal to the mother of the 15-year-old to withdraw the complaint so that that he wouldn't "have to spend a year in jail."
Klaasen has owned up. He offered the following comments at a popular darts discussion forum:
I would like to apologize to everyone who enters! I made a mistake and I'm too far gone and I'm sorry. I also want my side of the story because until now I've been not able to tell what happened. I have my story today already done to the police during interrogation.
I knew this girl indeed in a while, and she has made contact with me for months. I'm so stupid to go into here, and that I should not have. I am deeply ashamed and bale it very much that I have been so stupid, but unfortunately I cannot turn back. I will accept all the consequences of this situation arise and endure my punishment if this matter goes to the OM and I are actually going to be convicted.
I am sorry that immediately draw conclusions without a judgment has been, and without that I am condemned. Today I heard the police and the file will now continue to the PPS. The prosecution will then decide within days whether I'm going to be prosecuted. When I face persecution will my punishment and I hereby resign because I absolutely regret that I'm too far gone.
I have also indicated to the family that I've made a mistake here and regret. I've heard that this girl had some problems, but I am not aware of was that they lived in an institution and that the psychological problems were so great. I'm just available for comment to the media. I'm currently broken and need time to do things in a row and put my error handling.
It's a strange new world that we live in. It's not the same as when I was the age of the young girl involved… in 1965. There weren't computers – hell, there weren't even fax machines. There was no email, text messaging, Facebook or Twitter. Neil Armstrong was still alive and hadn't yet walked on the moon. The Old Dart Coach was 59.
But had there been today's technology and had some hot 27-year-old babe sent me a naked photo when I was a 15-year-old boy, I can pretty much guarantee that my old man wouldn't have filed a lawsuit. Probably he'd have shook my hand and asked for a copy. Times were different. Standards were different.
Of course, mothers were the same. Mothers never change. Mine would have slapped me silly and, had the roles been reversed – had I sent a photo of my willy to some underage girl – my mother would have hacked it off.
Not that I would have thought to do such a thing as Klaasen admits to doing. Who would but a misguided kid or Members of Congress?
As it turns out the answer is… lots of people.
Yes, we live in a different times…
It's estimated that almost one third of kids between the age of 12 and young adults the age of 27 have sent revealing photos themselves to members of the opposite sex. Approximately a quarter of these people have then forwarded the photos on to others. The age of consent isn't the same elsewhere as it is in America. In France it's 15. In Germany and Italy it's 14. In Spain it's just 13.
Yes, times are different. What's acceptable or not has changed. This is the new world that kids Klaasen's age live in. What he did, it seems, is pretty much no different these days than mooning or peeing in public was once upon a time or, in the case of some darts players, yesterday. They are all dumb things.
The difference – the critical difference – in this case is that the dumb thing Klaasen did involved a girl with limited mental capacity. Whether he was aware of this or not it is what it is.
Young Klaasen will have to pay the price.
His darts career may be over.
But his political career may be just beginning.
From the Field,
Dartoid
The following two tabs change content below.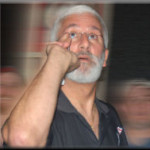 Author of the column that since 1995 has been featured by Bull's Eye News, the American Darts Organization's (ADO) Double Eagle and numerous other darts publications and websites around the globe.