Column #411 The Diary of an Unhealthy Dart Throwing Slug. Week Nine of Nine.
Monday, April 4, 2011
Column 411
The Diary of an Unhealthy Dart Throwing Slug. Week Nine of Nine.
March 28, 2011
People often ask me which darts column, from among all those I have written during the past 15 years, was the most popular (or at least the most widely read). Far be it from me to suggest that any of them are popular, at least among members of the female species.
Probably the most widely read was the series, starting with The MMDL – Arrogant, Ignorant, or just Misunderstood? (Column 270) I wrote in 2006 about the Minuteman Dart League. However it wasn't what one might call popular, at least with the then league board. In 2008, I published Is Darts Sexy Enough for American Television? (Column 318). It was FAR from popular among the ladies but for days Dartoid's World was slammed with hits – and even posters at now basically defunct Website That Shall Not Be Named debated the subject for weeks. If I were to accept that one of my columns was actually popular it would have to be the short one I wrote, called Bombay (Column 63), about a little boy who helped me find a game in India one day in 1998.
So it surprises me that this current series seems to have struck a cord. Perhaps it's because the typical darts smoking and drinking environment is the antithesis of "conducive" to good health. Maybe there are other unhealthy dart throwing slugs out there who can relate. Who knows…
But almost every day since beginning this series in early February I have received emails – words of encouragement, bets that I'll fail ("We'll just see if you can stay on your diet at the COOP!") or bits of information such as the following which was forwarded to me just today, explaining why the Whole Health Plan is bunk.
"Organic food may seem healthier because it's not sprayed with pesticides or other chemicals that can or may in time cause health problems. But it is filled with parasites because it is naturally grown and given nothing to kill them off. Parasites are way different than eating bugs; bugs digest while parasites eat you from the inside without you knowing."
So I contacted my friend and Whole Heath Plan mentor, Paul Berry, aka Reverend Raw. Here's his response: "We've been eating fruits and veggies and their parasites for 65 million years. I think our bodies have evolved to handle any such parasites. But the synthetic pesticides and fertilizers are unnatural and proven toxic to our systems."
So there.
I'm staying on the plan… although I may take a break at the COOP!
March 29, 2011
I'm back in the air again, flying with my darts to Bethesda and into my final week of not drinking beer, eating Domino's for dinner and snacking on Hostess Twinkies!
No Twinkies! My favorite! America's favorite.
American's eat 500 million Twinkies a year.
It's rumored that a Twinkie has a shelf-life somewhere between that of the cellophane wrapper it comes in and plutonium. According to Hostess if you put one in a microwave it will explode into a mush of sticky chemical powder in exactly 45 seconds (I am dying to try this).
Sometime back a guy named Steve Ettlinger spent months studying Twinkies and wrote a book. He interviewed industrial bakers and chemical engineers. What he found was that while there are recognizable ingredients like flour, sugar, eggs and salt in the little cakes there is also some bad-ass shit. For example, Twinkies contain a chemical called calcium sulfate, which is the "food-grade equivalent of plaster of Paris." They contain corn dextrin which acts as a sort of thickener to hold the cakes together but which in another life is the glue on the flaps of envelopes. They include cellulose gum and Polysorbate 60 which are also used in shampoo and rocket fuel. In the end, Ettlinger concluded that Twinkies' ingredients "are more closely linked to rocks and petroleum than any of the four food groups."
And that's the problem.
Want to know why I am on this Whole Health Plan?
Twinkies, that's why (although I'd love one right now).
March 31, 2011
Just two more days to go and I will have completed the nine-week Whole Health Plan. My goal was to lose 53 pounds. I revised that to 25 pounds. It's been quite a while since I've weighed in. I'll do that at the Final Hour. I'm feeling good, my clothes are fitting loose, but my darts still suck…
Last night I practiced at Union Jacks mega-bar (4915 Saint Elmo Avenue) in Bethesda, Maryland. They have three boards and they are all crap – hard as rocks (or calcium sulfate) and beat to hell. I think I fielded as many bounce outs as Americans ate Twinkies last year. So I gave up and went to my hotel to watch American Idol. Casey Abrams is my pick to win. Haley Reinhart is my choice for a Double Out.
April 1, 2011
Today was amazing. I practiced for a ten minutes and threw six consecutive maximums, even more than some pathological bloke from Houston – who "threw five 180s" without any witnesses (my dog was with me). I learned that the Professional Darts Corporation (PDC) will be returning to American soil this summer to host a massive $1 million tournament in Boston. I learned from Patrick Chaplin that darts was alive and well during the Roman Empire – Julius Caesar's last words to his doubles partner Brutus (who went on to become Ohio State's mascot) were "EIGHTY-TWO Brutus!" Speaking of "alive and well," I learned that retired PDC Master of Ceremonies, Phil Jones, is exactly that – and dancing in an all-male revue in Las Vegas. It was announced Target Darts signed Elizabeth Taylor. And Haley said YES!
April 3, 2011
I have completed the nine-week introductory component of the Whole Health Plan. Although I didn't reach my goal I did drop 16 pounds. I did this by following only the dietary portion of the plan. I didn't exercise. I didn't cut off any body parts to make it to goal at the finish line. As I see it this is all pretty good news.
The even better news is that I am finished writing this crap series.
The bad news is that I begin the exercise portion of the plan in the morning. Jogging. Biking. Swimming. Darts! It must be done. I gotta do what I gotta do to get into fightin' shape for the COOP. So… bring lots of money, Scooby!
Now I'm gonna have an orange – an Orange Crush. And a PIZZA!
And I'm eatin' a frickin' Twinkie too.
From the Field,
Dartoid
The following two tabs change content below.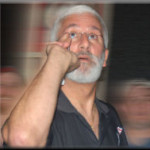 Author of the column that since 1995 has been featured by Bull's Eye News, the American Darts Organization's (ADO) Double Eagle and numerous other darts publications and websites around the globe.