Column #382 One year ago, this December, in darts…
Tuesday, December 1, 2009
Column 382
One year ago, this December, in darts…
What a year 2008 was in the world of darts!
And what a month December was!
In all begins in January with John Part's third world championship over 9-year-old, Kirk Shepherd. Part buys Canada a Navy with his winnings (Shepherd buys a conker). When Wayne Mardle is awarded the final spot in the Premier League he buys a bucket of Kentucky Fried Chicken. Mark Webster beats Simon Whitlock at Lakeside to win the "other" world championship while Trina Gulliver's bid for her eighth world title at Lakeside is cut short by Anastasia Dobromyslova who, ironically, Gulliver had predicted in her book published the day the tournament began, would "someday be world tennis champion."
In February, Stacy Bromberg is honored with her twelfth consecutive American Darts Organization title (and career fourteenth) and "Big Daddy" Darin Young scores his first. In the darts literary world, Justin Irwin publishes his book Murder on the Dartboard, arguably, according to the New York Literary Guild, "the most entertaining book about darts to enter the market since Maya Angelou's I Know Why the Caged Bird Sings in 1969." MGM purchases the movie rights and announces that Irwin will be played by Rowan Atkinson.
March sees Phil Taylor silence all doubters as he wins just about everything, including the "International Bad Haircut Spectacular."
In April, Bulls Eye News renames itself to just BEN after its editor, Jay Tomlinson's, son and my golden retriever, introduces a brand "new look" featuring nearly naked women, and brings back Tony Payne's popular series, Thermonuclear Cricket, first penned in 1849. Danica Patrick wins the Indy Japan 300 to become the first woman ever to win an IndyCar race. Sensing opportunity, Tomlinson announces that Patrick will appear as the centerfold in the May issue.
Phil Taylor wins the Premier League in May. Darin Young then picks up a check for a tenth of what Taylor won, prevailing in an 8-7 nail biter over Brad Wethington in the final of the inaugural North American Darts Championship (open only to Americans). The anticipated and somewhat controversial Legends of Darts League kicks off at Circus Tavern with Bob Anderson, Eric Bristow, Keith Deller, Peter Evison, Bobby George, Cliff Lazarenko, John Lowe, Dave Whitcombe, and some 104-year-old crippled dude from Crowborough, East Sussex, competing.
The big news in June is recorded at the Blue Square UK Open by American Gary Mawson (who makes his way past Raymond van Barneveld… who squeaked past Phil Taylor, who earlier in the tournament became the first player to record more than one perfect game on television) to set up a tasty final against James Wade. Despite a strong start and early lead, Mawson sees victory slip away.
In July, darts takes a back seat, as it always does, to the International Federation of Competitive Eating (IFCOE) Nathan's July Fourth Hot Dog Eating Contest, which during the PDC's Las Vegas Desert Classic, is won by San Jose's Joey Chestnut. In front of a crowd of 25,000 and an ESPN television audience of nearly two million, the hotdog-eating phenomenon woofs fifty-nine franks to repeat as world champion in what is considered an upset over six-time champion, Takera "Tsunami" Kobayshi. Sensing opportunity, Tommy Cox begins negotiations with the IFCOE to have the competition moved to the Mandalay Bay to be held in conjunction with the next Desert Classic final. Stan James Sportsbook reacts to the news by making Peter Manley the prohibitive favorite.
In August, in Stamford, Connecticut, Brad Wethington defeats Jimmy Widmayer to claim his first National 501 Championship, Christina Medina defeats perennial and defending champion, Stacy Bromberg, for her first National 501 Championship, and Dan Lauby Jr. defeats Robert Ham, Jr. to win the 2008 National Youth Championship. The League of Legends continues with events in Reading, Bridlington, and Stoke which result in the whittling from the field of John Lowe, Eric Bristow, Bobby George, and Dave Whitcombe and lead to the finals at Circus Tavern. In the semis Bob Anderson knocks out Peter Evison and Keith Deller defeats Cliff Lazarenko to set up an Anderson-Deller final, which Anderson wins ten legs to four. The Limestone Cowboy graciously accepts the £15,000 winner's check, hops on his horse, gallops to Herrods, and blows it all on a gold belt buckle the size of a Toyota.
Controversy rages in September in the United Kingdom as a ladies darts team calls "foul" when it is banned by officials from the Cheslyn Hay Women's League because, allegedly, one of its sharp-shooting members, Melanie Partlow, is found to have once been a married forklift operator named Mick. In a stunning upset, Felix McBrearty – ranked 352 by the Professional Darts Corporation (PDC) defeats Kevin McDine, Colin Osborne, Michael van Gerwin, Andy Hamilton, Colin Lloyd, and Chris Mason to win the PDC Professional Players Championship at the Ireland Open Classic. Californians and best buddies, Rob Heckman and Chris White, win the Medalist Grand Masters Doubles Title and Heckman wins the Grand Masters Singles Cricket title over David Fatum.
The darts news in October is out of this world. In an incredible but mysterious discovery on the scientific front that dominates front page news for days, astronomers at the Mauna Kea Observatory in Hawaii photograph a "powerful object floating just over the surface of the moon." The mystery is solved when the object is identified as "some bloke from Stoke-on-Trent." High resolution satellite photographs published in several Fleet Street tabloids appear to show a "kind of bald fellow behind the wheel of a Bentley."
Although considered impossible, the news in November is even nuttier. When a carefully calculated and very generous bailout check for 14 cents shows up in the postbox of the British Darts Organization's (BDO) Supreme Commander, Olly Croft, he returns it to the United States Treasury with a scathing note, to wit: "THE BDO IS NOT FOR SALE! IT IS A PRICELESS ASS!" Millions of darts fans across the world, including the majority of the BDO's player members, do not notice the spelling error (that the letters "E" and "T" are missing at the end of the second sentence of Croft's missive), assuming instead that he was describing himself.
December begins with Dutchman Co Stompe winning the German Darts Championship over Phil Taylor and Martin Adams taking the World Masters title over Scott Waites (while Francis Hosenselaar defeats Anastasia Dobromyslova for the ladies title). Gary Anderson spoils Waites' hopes again later in the month by winning the Zuiderduin Masters.
But the big news – the only news really, except in the Bizarro World of Olly Croft – is the impending start of the Professional Darts Corporation (PDC) Ladbrokes.com 2009 World Darts Championship at Alexandra Palace…
On December 6, the final eight players – Dennis Smith, John McGowan, Brendan Dolan, Mark Stephenson, Steve Grubb, Nick Fullwell, and Mark Barnard – earn their tournament places at the Professional Dart Players Association (PDPA) qualifiers. North Americans' Isen Veljic, Johnny Kuczynski (who reached the final sixteen in 2006), and Gary Mawson see their hopes dashed – with Veljic coming closest, leading 4-2 over Grubb but seeing it slip away 5-4.
On December 20, the first SHOCKER of the tournament sees last year's champion and three times world champion, John Part, crash and burn to Philadelphia's Bill Davis in straight sets, 3-0. Spain's Carlos Rodriguez survives a battle with Roland Scholten. Warren French muddles through an uninspiring contest with Japan's Akihiro Nagakawa. Robert Thronton beats Wayne Jones. And Co Stompe continues his winning ways by dispatching Andy Jenkins.
December 21 sees Phil Taylor advance easily over Steve Grubb while Michael van Gerwen overcomes American Darin Young. Dennis Smith defeats Terry Jenkins. China's Shi Yonysheng dispatches Austria's Hannes Schiner to advance through their preliminary round. Kevin Painter gets by Matt Clark in a sudden death thriller. Dennis Priestley and Barrie Bates whitewash Warren French and Felix McBrearty respectively. Alan Tabern wins easily over Steve Beaton. Kevin McDine knocks out an unusually subdued Alex Roy. And America's David Fatum gets past his preliminary round match against Shane O'Conner, 6-4.
On December 22 – using the darts that won him his world championship against Phil Taylor and his perfect game in the Premier League – Raymond van Barneveld averages 105 to defeat Mark Stephenson. Remco van Eijden stops Anastasia Dobromyslova and South Africa's Charles Losper takes out Guyana's Sudesh Fitzgerald in preliminary contests. Mark Walsh stops Jamie Caven in a tight battle. Mark Dudbridge beats Nick Fulwell, Wes Newton defeats Denmark's Per Lawsen, and Denis Ovens whitewashes Steve Maish. Andy Hamilton averages 102 to knock out Michael Barnard. Austria's Mensur Suljovic shocks Peter Manley. And Wayne Mardle reels off straight sets to end the dream for America's David Fatum.
On December 23, Jelle Klaasen blanks Colin Lloyd 3-0 while 67-year-old John Magowan and Mervyn King do the same to Chris Mason and China's Shi Yongsheng. Adrian Lewis beats Australia's Russell Stewart. And Finland's Marko Kantele plays well to stop up-and-comer, Laurence Ilagan, from the Philippines in preliminary round play.
The day before Christmas sees last year's finalist, Kirk Shepherd, exit the tournament at the hands of Jan van der Rassel in a tight encounter. Tony Ayres beats Andy Smith. Paul Nicholson averages big to whitewash Adrian Gray. Tony Eccles wins over Remco van Eijden. Ronnie Baxter and Colin Osborne defeat Marko Kantele and Charles Losper. And James Wade and Vincent van der Voort knock out Brendan Dolan and Hungary's Nanador Beezeg in straight sets.
The tournament breaks for Christmas, a holiday which (as it was explained to me at Hebrew Day School) commemorates the extraordinary life and accomplishments of Mexico's famous bantamweight boxer, Jesús "Little Poison" Pimentel.
Speaking of the sweet science, on Boxing Day the PDC hosts an unusual contest called "Boy on Boy" featuring Oxfordshire's darts phenomenon, Dave "Boy" Green (who for some reason didn't qualify for the world championships) and Cambridgeshire's long-retired welterweight boxing great, Dave "Boy" Green, in a three round bout. More than 4,000 fans cram into Alexandra Palace for the Tommy Cox/Don King production and are not disappointed when the man from Oxfordshire is stopped early by a right cross thrown by Nicola Moriarty while making his way to the ring.
When the arena is rearranged and competition resumes on December 27, Wayne Mardle gets by Roberts Thornton 4-3 to make the final sixteen. Phil Taylor whitewashes Michael van Gerwen to join Mardle as Mark Dudbridge does the same against Mensur Suljovic. In other contests, Dennis Smith, Co Stompe, and Kevin Painter advance to the top sixteen over Kevin McDine, Alan Tabern, and Carlos Rodriguez.
The next day sees Mervyn King (over Mark Walsh), Raymond van Barneveld (over Wes Newton), Jelle Klassan (over Jan van der Rassel), Andy Hamilton (over Tony Ayres), and Ronnie Baxter (over Denis Ovens) book their spots in the sweet sixteen – while Barrie Bates ends the American Dream by dispatching Bill Davis 4-2.
On December 29, it is Phil Taylor and Barrie Bates who are the first to advance to the quarter finals. Bates walks over Mark Dudbridge 4-0 while Taylor stops Kevin Painter 4-1 after dropping the first set. Paul Nicolson beats Adrian Lewis in a tiebreaker, Dennis Priestley ends John MaGowan's run, Vincent van der Voort stops Colin Osborne, and James Wade gets by Tony Eccles – to move the foursome into the last sixteen.
On December 30, Raymond van Barneveld survives a last leg sudden death encounter with Ronnie Baxter to squeak into the quarter finals while Paul Nicholson comes back from two sets down to overcome Dennis Priestley. Co Stompe and James Wade whitewash Wayne Mardle and Vincent van der Voort to take their positions in the Elite Eight as Mervin King and Jelle Klassen join the group with 4-1 victories over Dennis Smith and Andy Hamilton.
As the tournament breaks for New Year's Eve – an odd practice, since darts players are known to be strict teetotalers – four tasty quarter finals matches are the talk of darts fans around the globe: Phil Taylor vs. Co Stompe, Mervyn King vs. Barrie Bates, Raymond van Barneveld vs. Jelle Klaasen, and Paul Nicholson vs. James Wade.
But you WON'T learn the results here – and you WON'T learn who won the tournament here – because this is the LAST installment of this series on darts in 2008. And I ain't never, ever, EVER going to get myself into this crap again! If you desperately want to know how it all turned out go to Dartoid's World columns 343, 344, and 345.
In America, in a typically quiet darts month, Shawn Brenneman tops Larry Butler twice at the Great Lakes Challenge while two ladies with names that are difficult to spell, Sharon Riojas and Trish Grzesik, score wins. Andrea Taylor wins twice at the Holiday Classic in Dallas while Rob Heckman comes up short in both finals – to Jason Dutton in 501 and the always quiet and unassuming David Fatum in cricket. Brad Wethington, Weston Fink, Diana Rutherford, and Margaret Hemsath win at the Winter Classic in Caseyville, Illinois, and Jonathan Cronin, Payton Moxley, Sarah Thomas, and Krista Heinz take home the money at the Savannah Charities Tourney in, well, Savannah.
This, folks, was the way it was in the world of darts in 2008.
In other year-end news, unrelated to darts (and also reality) and as reported by humorist Dave Barry (to whom I am indebted for many of the ideas I have ripped off during the writing of this series)…
"The National Bureau of Declaring Things That Make You Go 'Duh' declares that the United States has been in recession since December of 2007. The bureau also points out that, according to its statistical analysis, 'for some time now, bears have been going to the bathroom in the woods.'"
"Congress reaches a multibillion-dollar bailout deal with the 'Increasingly Small Three Automakers' whereby 'the companies will continue to provide jobs, medical care and pension benefits, but will cease producing actual cars.'"
"Federal authorities arrest Democratic Governor Rod 'Rod' Blagojevich after wiretaps reveal that he was… okay, that he was being the governor of Illinois. Everybody is very, very shocked. Meanwhile, the recount in the extremely tight Minnesota Senate race between Norm Coleman and Al Franken is thrown into disarray with the discovery that more than 13,000 of the ballots were cast by residents of Palm Beach County, Florida."
"But it is the economy that remains the dominant issue, with retailers reporting weak holiday sales as many shoppers pass up pricier gifts such as jewelry and big-screen televisions in favor of toilet paper and jerky. The president's Council of Economic Advisors warns that the current recession 'could spiral into a full-blown depression,' leaving the United States with 'no viable alternative but to declare war on Japan.'"
And so, just as most years begin on January 1 (except in Australia – where they begin the day before and then mysteriously, as the rest of the world awakens, become the day after) 2008 ends on December 31 (except, again, in Australia – where it ended the day before, I think).
And so, too, now ends this silly-ass series (that I should have had the good sense never to start in the first place).
Thanks for reading.
And (Surprise! Surprise!) CONGRATULATIONS to Dave "Boy" Green on winning the PDC world championship even though he wasn't entered.
From the Field,
Dartoid
The following two tabs change content below.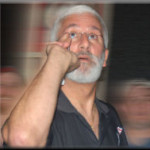 Author of the column that since 1995 has been featured by Bull's Eye News, the American Darts Organization's (ADO) Double Eagle and numerous other darts publications and websites around the globe.