Column #375 Johnny Kuczynski deserves our support – and so do the KIDS!
Monday, September 14, 2009
Column 375
Johnny Kuczynski deserves our support – and so do the KIDS!
On December 5th at Andrew's Saloon in Sheppton, Pennsylvania (931 Center Street) Johnny Kuczynski – ranked by the American Darts Organization (ADO) the top darts player in the United States for four years straight from 2002 through 2005, United States cricket champion in 2006, and the American who advanced the farthest in the 2006 World Series of Darts and the Professional Darts Corporation's (PDC) world championship the same year – is doing something special.
He deserves our support.
And so do the kids.
For the second year running Kuczynski is hosting his Toys for Tots tournament – a day of soft-tip darts with one purpose besides fun – to benefit less fortunate children in the area where he grew up, started and runs a business, and honed his skills at the oche.
Darts has given Kuczynski the chance to travel the world. He's beaten the best and he's been defeated by the best – but through it all he's always represented our country with class, always been willing to help others – especially children – and never forgotten his roots.
"I know the economy is horrible," acknowledges Kuczynski, "but a $10 toy, or donation is not that much when you think of the happiness it will bring for a child who otherwise would wake up on Christmas morning to find nothing under the tree."
At his quickly organized first tournament last year Kuczynski collected $1,500 worth of toys. This year's goal is $5,000 in what he is billing as his 2nd annual tournament. Of course, this suggests that there will be third fundraiser next year – but don't wait!
Helping Kuczynski help children is easy, even if you can't make the tournament.
All you have to do is buy a $10 toy and send it to 800 Green Mountain Road, Zion Grove, Pennsylvania 17985. Alternatively, you can make your way to Sheppton on December 5th and shoot the tournament. The entry fee is $10 and one toy. The tournament will be a draw and no professionals will be drawn together – so everybody has a shot at the money (which will include $300 added by Andrew's Saloon).
Ray Carver, Darin Young, Scott Kirchner, and Laser Darts have already anted up.
Join them…
Join me – and my wife. We have just mailed a toy to Kuczynski. (So has my dog, Bentley. He insisted that we add a rawhide bone to the box because "dogs deserve presents too… and also McDonald's cheeseburgers.")
For more information and to help make the holidays special for a less fortunate child click here: Johnny "K's" Blog.
From the Field,
Dartoid
The following two tabs change content below.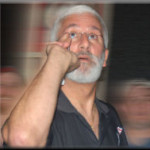 Author of the column that since 1995 has been featured by Bull's Eye News, the American Darts Organization's (ADO) Double Eagle and numerous other darts publications and websites around the globe.