Column #373 One year ago, this September, in darts…
Thursday, August 27, 2009
Column 373
One year ago, this September, in darts…
Controversy rages this month in the United Kingdom as a ladies darts team calls "foul" when it is banned by officials from the Cheslyn Hay Women's League because, allegedly, one of its sharp-shooting members, Melanie Partlow, is found to have once been a married forklift operator named Mick.
Meanwhile, Oxford University scientists discover that "going veggie could be bad for your brain" claiming that "those on a meat-free diet are six times more likely to suffer brain shrinkage". Rumors abound that several of the scientists are also Cheslyn Hay Women's League officials.
In a stunning upset, Felix McBrearty – ranked 352 by the Professional Darts Corporation (PDC) defeats Kevin McDine, Colin Osborne, Michael van Gerwin, Andy Hamilton, Colin Lloyd, and Chris Mason to win the PDC Professional Players Championship at the Ireland Open Classic.
Californians Rob Heckman and Chris White win the Medalist Grand Masters Doubles Title and Heckman wins the Grand Masters Singles Cricket title over David Fatum.
At the Windy City Open Players Championship Colin Lloyd tops Wayne Mardle to take the £5,000 winner's check. American Ray Carver advances to the top eight by blanking Kevin McDine but falls short against Mark Walsh. Larry Butler and Fred Kruger make it to the top sixteen but are dispatched by Wes Newton and Denis Ovens respectively.
At mid-month the PDC confirms that Darin Young will be invited to participate in the Grand Slam of Darts and that Young and Bill Davis will be America's entries in the first round of the World Championship beginning December 19. David Fatum is invited to participate in the Preliminary Round and, as is his way, has nothing at all to say about it.
Sarah Palin shoots a moose.
Holland's Mareno Michaels and Russia's Irina Armstrong are victorious at the French Open while Daniel van Mourik, also from Holland, wins the youth singles.
And at month's end Phil Taylor repeats as the Emperor's Palace South African Masters champion with a 5-2 victory over John Part.
At the Oil City Shootout in Casper, Wyoming Mike Brewer, Steve Brown, Terra Poplstein, and Debbie Rowe are winners. Bill Davis wins twice (over Darin Young and Jimmy Widmayer) at the Washington Area Open while Marilyn Popp and Marcia Loche divide the honors. Gary Mawson and Isen Veljic split at the Lake Erie Classic as do Kay Hoover and Lee Knispel for the ladies. William Burt, Michael Ramey, Helen Taylor, and Trish Jones win at the Tall City Classic in Midland, Texas. Chuck Pankow and Vickie Taylor each score a double at the Battle of Stones River in Smyrna, Tennessee. Colin Lloyd and Canada's Robin Curry take cricket honors at the Windy City Open while Stacy Bromberg wins the women's 501. Bromberg then wins twice at the Louisiana Classic in Shreveport while Scott Wallaston and Steve Brown split. Sarah Thomas wins twice at the Shooters One Day Shoot in Savannah, Georgia and Chad Amory and Brian Lamberti split for the men. At the Colorado Open in Denver, Andrea Taylor tops the field twice and Joe Chaney and Rob Heckman win the men's events. Finally, at the Maui Waui in New Milford, New Jersey Jimmy Widmayer is unbeatable and Theresa Regan and Marcia Loche win 501 and cricket respectively for the ladies.
In other news…
A court in Thailand rules that Prime Minister, Samak Sundaravej, must resign because he violated the constitution by hosting a television cooking show. One of his recipes was pigs legs in Coca-Cola.
Speaking of recipes, for the first time in decades (so security can be updated) Colonel Sander's secret recipe of eleven herbs and spices, written on a "yellowing sheet of paper" is removed from safekeeping at Kentucky Fried Chicken's corporate headquarters. It then mysteriously disappears only to be found later under a mattress in Wayne Mardle's home.
And speaking of obsessive-compulsive eating disorders, a Fond du Lac, Wisconsin man, Don Gorske, claims he has eaten 23,000 Big Macs since May 17, 1972 – more than even Steve Brown.
In politics, keen political observer, Dave Barry, reports that the Republican National Convention "gets off to a tentative start in St. Paul, Minnesota when President Bush and Vice President Cheney are unable to attend, partly because of Hurricane Gustav, and partly because organizers told them the convention was in Atlanta. The mood improves when Sarah Palin dazzles the crowd with her winning smile, detailed knowledge of what is on the teleprompter, and a spot-on imitation of Tina Fey."
The economy continues to tumble. The federal government takes over Freddie Mac and Fannie Mae after they are caught selling crack to children.
Finally, in BREAKING NEWS on the final day of the month, an investigative journalist for England's respected Telegraph newspaper sets to rest the controversy surrounding the Cheslyn Hay Women's League. In a stunning exposé Ian Thorpe reports that while Melanie Partlow was in fact once a man, she was not named Mick and was not even British. She is actually an American – a former marine no less – from some rural town in the State of Washington and her name is Erik McVay.
From the Field,
Dartoid
The following two tabs change content below.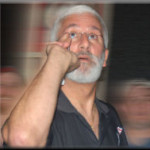 Author of the column that since 1995 has been featured by Bull's Eye News, the American Darts Organization's (ADO) Double Eagle and numerous other darts publications and websites around the globe.