Column #342 One year ago, this month, in darts…
Thursday, January 1, 2009
Column 342
One year ago, this month, in darts…
As years often do, 2008 began on the first of January…
…except in Australia where it began the day before and then mysteriously, as the rest of the world awakened, became the day after.
I know this makes no sense but it's the way it was – it's the way it always is – but for Canadian John Part it made no difference. "Who cares what day it is, eh?" said the newest and now three times darts world champion as he boarded a taxi outside Ally Pally to begin the long journey home. "I've got a check worth 200,000 loonies in my pocket."
Part deplaned nine hours later at Toronto Pearson International Airport and before a cheering throng of supporters, including some in thongs, enthusiastically announced plans to buy Canada a navy.
Meanwhile, nine-year-old sensation, Kirk Shepherd, whose dash towards destiny – so reminiscent of Keith Deller's spectacular run (and victory) against Eric Bristow in 1983 – was squashed by Part. Shepherd promptly announced plans to buy the new Harry Potter book and Ray Kellock's winning nut (a "32fer") from the October World Conker Championship in Ashton.
Of course last year's finalists also figured prominently in the news. Thirteen times world champion Phil Taylor, who was dispatched by Wayne Mardle in quarter final play, immediately began preparing for this year's competition by checking into a clinic to have his eyes, three toes, spleen and throwing arm replaced. Last year's champion, Raymond van Barneveld, who was defeated by Kevin Painter in the third round, returned to Holland and purchased ear plugs so he couldn't hear himself whine about having been too knackered from exhibitions to throw good darts.
Then something amazing happened…
As the "other" word championship got underway at Lakeside, Professional Darts Corporation (PDC) Chairman Barry Hearn shocked the world by banning from PDC tournament play the very individuals whose courage gave birth to the organization. As darts fans everywhere began to slam the Big Boss' decision in postings at darts website forums, the individual closest to Hearn, his mum, had this to say, "He was such a good lad. Really, I don't understand it. I hope he doesn't ban me from Sunday dinner."
John Part was awarded a place in the Premier league and announced plans, if he won, to buy Greenland. Wayne Mardle was then awarded the eighth and final spot and when asked what plans he had for his winnings said, "Blimey – I think I'll buy me some Kentucky Fried Chicken."
At the Lakeside British Darts Organization (BDO) world championship at Lakeside plumbing apprentice Mark Webster emerged victorious after a thrilling 7-5 battle with Simon Whitlock. Trina Gulliver's bid for her eighth world title was cut short by Anastasia Dobromyslova who, ironically, Gulliver had predicted in her book published the day the tournament began, would "someday be world tennis champion."
Meanwhile across the pond at the Quaker City English Dart League's Pennsylvania Open Las Vegas' Stacy Bromberg won pretty much everything, causing many to wonder how the hell the BDO decides which eight women in the world to invite to its ladies' world championship. BDO Chairman Olly Croft responded to criticism of his selection process and hinted at next year's line up, saying, "Stay tuned, mates. I'm in negotiations with the Nicolas."
Finally, in important news unrelated to darts, scientists in France (home to the highest per capita number of cell phone users in the world) warned that "excessive mobile use will turn you into a weenie," in response to which pretty much everybody in Britain exclaimed…
"CRIKEY, that proves it! Napoleon did invent the cell phone!"
HAPPY NEW YEAR and WELCOME to 2009, another 593 words of keen Dartoid's World insight and the beginning of many months more.
From the Field,
Dartoid
The following two tabs change content below.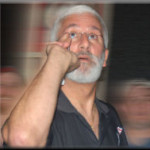 Author of the column that since 1995 has been featured by Bull's Eye News, the American Darts Organization's (ADO) Double Eagle and numerous other darts publications and websites around the globe.