Column #325 $40,000 will buy a lot of hot dogs
Friday, July 4, 2008
Column 325
$40,000 will buy a lot of hot dogs
They said he couldn't do it again but he proved them wrong.
Today, before a cheering crowd of thousands and a nationally televised audience Californian Joey Chestnut crammed sixty-four hot dogs into his face in ten minutes, plus one minute of "overtime," to defeat six times champion Takeru Kobayashi, the most recognizable non-athlete in the world, and eighteen other gluttons, to hoist the coveted mustard belt for the second year running in Nathan's 93rd annual competition.
I'll never understand how this contest manages such press – particularly while real athletes are pounding the sisal here in Las Vegas. But it happens every year during the Desert Classic. Perhaps this is the reason the Mandalay Bay doesn't serve hot dogs during the tournament?
I suppose the big news from the July 4 second round of this year's Desert Classic must be that Alan Tabern – the man Larry Butler just couldn't get the best of yesterday – knocked reigning champion and five times world champion, Raymond van Barneveld, out of the tournament by a score of 8-4. In tomorrow's quarter finals Tabern will face Peter Manley who fought back from a 4-1 deficit to dispatch Adrian Lewis.
Others moving into the quarter finals include Roland Scholten (who will face Mervyn King), Phil Taylor (who will be challenged by Adrian Gray) and James Wade (who will see Andy Hamilton). To advance, Scholten saw off Terry Jenkins (8-6), Taylor took out Dennis Priestley (averaging 103.67), Gray walked past Sam Rooney, Wade dispatched Mark Walsh and Hamilton squeaked out an 8-7 win over Jelle Klaasen.
This of course means one name is missing. Mervyn King had to beat someone to make it to the quarters and unfortunately that someone was American Darin Young – but the Philadelphian sure as hell didn't disappoint the (dwindling) hometown crowd.
At the end of the day King just brought too much power to the table. Big Daddy jumped to a 2-1 advantage but saw King string three legs together (including a 114 and a 116 finish). A twelve-darter in the face of successive maximums saw the Philadelphian pull back to within one. King then reeled off two more back-to-back 180s, for four in row, and was quickly, at least seemingly, in control of the match 6-4.
The thing is Young didn't quite see it that way. Just as quickly Big Daddy evened the match at six with legs of fifteen and eleven.
Unfortunately for the American, at least on this day, King had a gear remaining and he shifted into it in the next two legs. In minutes King notched a fourteen and thirteen-darter to advance to his showdown tomorrow with Dutchman Roland Scholten.
And with this the North American contingent saw their last hope dashed.
Some like Joe Slivan, Roger Carter and Chris White came SO close to making it through the qualifiers. Shawn Brenneman made it through but went down in flames in the first stage round. Bill Davis, Gerry Convery and Larry Butler fought the good fight but the good fight wasn't quite good enough.
The quarter finals are tomorrow and Desert Classic VII wraps up on Sunday with both the semi-finals and finals.
Phil Taylor looks certain to reclaim the title and take home the $40,000 championship prize. That will buy a lot of hot dogs.
From the Field,
Dartoid
The following two tabs change content below.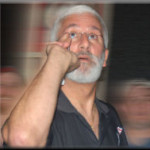 Author of the column that since 1995 has been featured by Bull's Eye News, the American Darts Organization's (ADO) Double Eagle and numerous other darts publications and websites around the globe.