Column #303 An "Interview" with Dave 'Boy' Green
September 1, 2007
Column 303
An "Interview" with Dave 'Boy' Green
It was the following two paragraphs from my daily series on the Professional Darts Corporation's (PDC) first Las Vegas Player's Championship and annual Desert Classic that got me threatened:
In a result unprecedented in darting history, indeed in the history of all sport, thirteen times world champion Phil Taylor today won the Professional Darts Corporation's (PDC) Las Vegas Player's Championship without being present.
Reached at his home for comment, Dave 'Boy' Green, in his typically understated way, had this to say: "Taylor seems like a nice enough bloke but, honestly, what's he really accomplished? Sure, he's won a few titles but he's never played me. I'd whoop him senseless.
My private mail message alert beeped and there it was: an unhappy little note from the Boy himself…
"You crossed the line where I am concerned," he penned, "and I will not tolerate being the subject of slanderous comments on any website or darts forum. I have a hell of a lot of respect for Phil Taylor and certainly will not put up with you misquoting me about any dart player let alone one I respect. I have sought legal advice before because of comments made about me that are slanderous and certainly will not think twice in doing so in your case should anything like what you wrote about me come to my attention in the future." (The emphasis is mine.)
For the record, I did not hear from the Power.
I dashed off a response immediately. I apologized for any unintended offence. I explained that I was only fooling around and that I doubted anyone with a mental capacity greater then a grape actually believed he really spoke the words I in jest put into his mouth.
Then I had an idea. A couple of days later I sent the Boy another message. To make amends, I offered to interview him for this column and give him the right of final sign-off on every word.
On July 26 we struck a deal: "Just wanted to say that I am happy to go ahead with the interview you proposed, email me the details," the Boy replied to my offer.
"Let me know if you receive this," I responded on July on July 28, "and I'll follow up with the first interview question. I see this going back and forth for a week or so as an e-mail thing, editing here and there as we go. I'll throw you some tough questions that may piss you off, but that's not the intention. We'll just cover all the bullshit, try to get some humor into it, and let you address the bullshit. And I'll also throw you some basic questions so that you can tell the real story of who you are and what you hope for in your darts career. It'll go where it goes. As promised – nothing will be published until you're 100% agreed to it and sign off."
The Boy responded the very next day. "Received the email, you can send me the first interview question."
So, I drafted the following to get us started and popped it off straight away:
Well, here it is – the interview you've been waiting for. No, it's not the promised one-on-one with the Nostradamus of Darts, the famous Mr. Rat. Hopefully that will still come, someday. But it's close – it's an up-close-and-personal dialog with the player many, fairly or not, think is a rat.
Yes, we're talking about the infamous Dave 'Boy' Green.
Called 'He who Can Not be Named' by webmasters around the globe, Green has somehow managed to become a legend in his own time. Banned from numerous darts web forums and rumored to have threatened lawsuits for slander against six different people, Green has stormed the darting world with everything but his darts, so far.
As one of the threatened, I thought that I'd offer the controversial darter a chance to set the record straight. My hope is that this act of good will fair me well as his solicitor studies the law, determines that liable, not slander, is what Green should be threatening, and prepares to relieve me of all my worldly possessions.
So here it goes…
DARTOID: Let me start off by saying what a great honor is to have this opportunity. As a big fight fan, particularly of the welterweights, I followed your career in the late 1970s and early 1980s. I thought you had Carlos Palomino in Los Angeles in 1977. You were right there until Sugar Ray Leonard dropped you in the fourth in Maryland in 1980. No embarrassment there. Leonard once reflected on your boxing career saying, "Dave was a brave fighting man who never gave less than one hundred per cent whenever he put the gloves on. He is a warm human being who does tremendous work for charity, and I'm thrilled he has made such a success in business." So Dave, considering all this past success and the accolades you once enjoyed, what do you think has gone wrong so far with quest for similar fame in the sport of darts? Why do so many people call you a weenie?
A couple of days passed with no reply from the Boy. So I sent him another message. I wanted to be sure he was still on board for the interview and that I hadn't pissed him off again. "Are you still out there? Did you receive the stuff from yesterday?"
He replied the next day. "I will respond to your interview question when I have had a chance to think about my response and have more time…"
But he didn't respond…
Repeatedly over the next weeks I attempted to re-establish contact to no avail. Finally, I posted the following message at one of the few English-speaking websites, actually the only one of which I am aware (Gary Simpson's http://www.3inabed.com), that has not banned him.
"I have sent a couple of e-mails in the past week or so and haven't heard back. You agreed to an interview (with my guarantee that you could sign off on the final version, before the column was published). But you seem to have disappeared after receiving the introduction and first question. The column is scheduled to post on September 1. Please let me know what's up. If you've decided not to participate that is fine. But please do let me know."
I did not hear from the Boy until the Eleventh Hour, just a couple of days before this column was to post. Therefore the "interview" could not proceed in the usual way.
However, it can proceed…
Below are verbatim quotes from the Boy lifted from his personal darts website at http://www.daveboygreen.com and from postings he has made in reply to questions from others at various darts-related forums. I have taken the liberty of creating (or re-phrasing) the questions after the fact to give the "interview" flow.
Again, every single word comes from the Boy himself. Only minor punctuation and grammatical corrections have been made. (I am guessing the Boy didn't actually attend any of the Oxford colleges.)
DARTOID: So Dave, tell me about your darts career, how you got started, your aspirations, and what the connection is with the old boxer of the same name…
BOY: I started playing darts when I was nearly fourteen years old. I remember buying my first set of darts with the money I had earned from doing a paper round only for my mum to make me take them back to the shop I bought them from for a refund as she thought it was a dangerous game.
The next day I bought another set and kept them hidden, practicing in the garage until she found them, only they were used so she let me keep them.
I started off practicing a little after school and didn't really take darts seriously until the family moved to Belgium where I used to go and play snooker in a local club until they stopped letting me on the snooker tables. So I used to have a drink and play darts instead. A couple of English lads who lived there watched me play one evening and invited me to play for a pub team so as not to embarrass myself I started to practise more.
One weekend they invited me to a local competition in Antwerp which was the Antwerp Open. I remember walking in to the venue and seeing players like Dennis Priestley and Keith Deller practicing as well as hundreds of other players (not at all what I was expecting). Straight away the nerves started going as I played my first round match.
I lost my match 3-1 but was enjoying myself so much I didn't care and spent the rest of the day asking players to sign my shirt.
It was the Antwerp Open that made me fall in love with the game. Since then I have moved back to England and played in the Oxford and District Dart League where I earned my nickname Dave 'Boy' Green because some players deemed me to have the aggression and cockiness of a boxer, and there was a boxer by the name of Dave 'Boy' Green.
My aim this year is to spend the next couple of months practicing my game. At the moment I am playing for three to four hours a day. Then come September I aim to play every competition I can in the months before the world championship play offs.
I believe that I have what it takes to become a top thirty-two ranked dart player and the determination to make it.
DARTOID: So what do you consider your best moment in darts so far?
BOY: Winning the Oxford Friday Night League Singles without losing a leg of darts – start to finish.
DARTOID: I gather that's a really big deal? You must practice a lot!
BOY: A couple of practise games I play before tournaments are 100 darts at the twenties. I throw 100 darts at the twenty scoring three points for the treble, two for the double and one for the single. This helps me focus on the treble and helps in adjusting darts within the twenty section. Practicing on one target is easier to adjust and focus, I find.
I also have a practise game for finishing where I start on sixty-one, throw three darts at it as a finish, once I achieve that score I then try sixty-two, then sixty-three, etc.
To help with my concentration and focus in tournaments I always only concentrate on myself while practicing, ignore everyone else's throwing, and also try to practise on at least five or six of the boards available.
I find that a slow approach to the oche before throwing can help stop sloppy first darts and if a bad dart is thrown then I tend to step back from the oche, take a deep breath and approach the oche again. This also helps my composure.
I used to play on four teams a week in different parts of Oxfordshire but stopped playing league darts to concentrate on tournaments. One of the main reasons for doing this is because the standard of league darts local to me is nowhere near what I need to be playing against on a regular basis.
I find it more help to myself practicing alone before tournaments instead of using league games as a warm up for tournaments.
DARTOID: So I understand you eventually joined the Professional Darts Players' Association (PDPA) and threw the PDC circuit. Obviously you thought you were ready for the big time? What made you think that?
BOY: I played Super League in Oxford seven or eight years ago, won numerous opens and money comps in Oxford including one at Cowley Community Centre (CCC) where I destroyed most of the county players, then beat Joe Palmer in the final. Two weeks after that I won a second comp at CCC beating four county players and also won the pairs the same day with Percy Brain… It was not so long ago that I defeated one of the current top Oxfordshire county players, Nick Cobb.
Ask any player who really knows me, they will all say the same, I have ability but my attitude is not liked…
Also (moving ahead a bit) I did lose in the first game in the Oxford Open, 3-2 to Andy Keen, a player who has won the Malta open four years in a row so I am told. Where is the shame in that? I even had three darts to beat Andy and he was lucky on the day that I missed but that's darts, despite the shite state of the venue and the boards I played well and all I can say is take a good look at who also went out in the first round!! I don't see those players getting slagged off… but then again it's typical of Oxfordshire, always getting on outsider's backs. I've proved time and time again that I can more than hold my own against the best in Oxford and have nothing to prove to anyone.
DARTOID: So you joined the PDC circuit. How long did you hang in there, how did you fare, and (if it is true) why did you leave?
BOY: The only win I had in the PDC was 3-1 in sets against Lee White in the Newport PDPA players championship in November last year. I came close to beating Mark Pooke, had a cracking game against Peter Allen where I was 3-0 down and fought back to 3-3 losing 5-3. I had a dart at double ten to beat Jamie Caven in one of the Budweiser UK Opens hitting two treble eighteens and hitting the wire on double ten for a 128 finish. There are loads of other games I could mention. Outside the PDC I've had wins in the Yorkshire Classic and was a semi-finalist in the Yorkshire Classic Youth Tournament in 1998.
To be honest, I never put the tournaments in to be able to break the top 200 in the PDC. One thing I will say is that I have noticed… there is a sponsor in place for Mark Pooke, well, I played Mark (as already mentioned) in the second round in the PDC Players Championship in November last year. After going two sets to nil down and one leg away from a 3-0 defeat I managed to come back at Mark and level at 2-2 in sets. I then had seven darts at double nine to win the match and missed giving the match to Mark who I am sure will be honest enough to say that I played excellent darts and had an awesome finishing game to get me back into the game but after the hard work was done I messed up.
I hit three 100-plus finishes, all of which was to stay in the match. That is a quality I have always had and shows some of the ability I have to be able to come back in the way I did with hitting the finishes I did when needed.
I should have won that game but didn't. I have learned a lot from that match and most of all have realized that I am a fighter on and off the board which is a quality that will in time make me a champion.
DARTOID: Let me try to understand this. On the one hand you're claiming to have the talent and determination to be one of the best in the world but on the other hand you're saying league wasn't up to your standards so you left, joined the PPDA and PDC, played for fifteen months, won one match, and then quit…
BOY: Unfortunately just after joining the PDPA I had a few problems, one of which was a re-occurrence of an injury to the tendons in my throwing hand which put me out for a few months. I only played in four or five PDC tournaments in the fifteen months I was a member and didn't do as well as I had hoped to do.
After a couple of problems between myself and the PDPA I decided to part company with them and will be playing within the British Darts Organization (BDO) in the near future. At the moment I am just playing opens to get the tournament practise which is working well for me.
DARTOID: Okay. You hurt your hand. You had some sort of disagreement with the PDPA. You admit you're kind of cocky. Does it really surprise you that you've become a lightening rod for so many people? Why do you think you get so much grief? Why have so many darts Internet forums banned you? Are there people out there who are genuinely impressed with your game?
BOY: This is what Chris Mason had to say about me on the Superstars of Darts forum (www.superstarsofdarts.com): "After meeting Dave 'Boy' Green and spending a bit of time in his company and watching him play I can comment on what I found. In practise he seemed a very capable player and has a nice throw. I think his confidence is slightly superior to his ability and due to this he has said a few things that have upset people. I think this then tends to put him under too much pressure in matches."
DARTOID: But many others really, really slag you off. I've read comment on a forty-two dart leg you supposedly threw at a tournament in July. You call yourself a professional but honestly – how many times have you seen one of the PDC's top players take forty-two darts to finish a leg?
BOY: Get your facts straight for one – I threw thirty-nine darts in that leg, eighteen of them at double one and I seem to remember the following legs I won with ease for a 3-1 win.
Any player who says that they have never played a leg of darts where they just couldn't find the double is talking crap. It happens to us all but I showed character to put that leg out of my mind and blitz the next two legs and win. Funny that was not mentioned!! I had one very scrappy leg… in which I had six visits (eighteen darts) at double one and just couldn't hit it. The other two legs in that match I won with ease even finishing fifty-four with two doubles the following leg after missing the double one, then was beaten by Ian Jones with every leg inside fifteen darts. Funny (people) fail to mention that or my performance on the Saturday!!
(Certain people) have this on going problem with me. All I can say is God help (them) if (they) ever face me in a tournament. I will tear (them) to bits!!
DARTOID: Well, one of those people is someone called Cyber Ninja. Given the opportunity – such as this – is there anything you'd like to say directly to him?
BOY: Obviously all the attention I get from forums is a problem for you. All I can say is keep going and keep slagging me off, there will come a day when we meet on the dartboard. Your mouth will be firmly shut and the shite you speak will make you look a mug. You know fuck all about me, where I play, what I earn or how I earn money in darts and you most of all have absolutely no right to that information. All I can say is that if you had any bollox and really did believe that you could wipe the floor with me you would have turned up at the Midlands tournaments. But then again you are all mouth. At least I have the bottle to speak my mind to others to their face and am always willing to prove myself on the dartboard.
DARTOID: Okay, okay… I'm glad my name's not Cyber Ninja (although it doesn't sound to me like he's the only one who is all mouth). So what's next? What tournaments do you have coming up? I understand that you made about $150 while throwing the PDC circuit. How do you see earning a living at darts going forward?
BOY: I can't say what tournament I will play in next because I am not sure…
There are more ways to earn money in darts than in the PDC or BDO. There are loads of open tournaments constantly advertised up and down the country like the Coventry Open or the Midlands Open which were held a couple of (months) ago.
DARTOID: And your detractors… in the future how will you deal with the effects of pressure they seem to put on you (as per Chris Mason's speculation)?
BOY: First of all there is a difference between fans and people who get their kicks through slagging me off.
Why on earth should I make time for people who do not have a genuine interest in me as a dart player? Those who know me and do have an interest will soon tell you that I make time for those who are genuine in their interest in me.
I have always taken my time to help others in the game and spent my time answering questions from people who have an interest in the game and in me.
(But really) with arseholes making statements like the ones (some have) is it really surprising that I speak my mind?!
And that was that, I thought – my "interview with Dave 'Boy' Green…
BUT WAIT!!!! IT'S NOT!!!
As mentioned way above, SUDDENLY, just two days before this column was to post, almost a month to the day after I sent my first interview question to the Boy, a response was finally received.
So here, a bit out of context but still an ample frame for this "interview" with one of the most maligned and misunderstood darters in the world are the most current words of the Dave 'Boy' Green. He speaks to the genesis of his nickname, his supreme self-confidence, early progress, setbacks, and hopes for the future. (As above, only minor punctuation and grammar edits have been made.)
BOY: Sorry it has taken me a while to get back to you with the first questions answer, been a little busy of late but here goes…
Firstly Dartoid, I must say that although I have adopted the nickname Dave 'Boy' Green I am not the boxer. The nickname itself was given to me back in 2000 by several players who played within Oxfordshire after some banter between myself and other players. I have always had great belief in my ability and show a lot of aggression and am a very confident player – maybe I should have taken up boxing!!
It was a player named Jimmy Jukes who was the first of many players to call me Dave 'Boy' Green after an incident at the Super League finals night when he handed my pairs partner an envelope inviting him to play in a grand prix tournament. On asking my pairs partner what it was for I was quickly told by Jimmy that it didn't matter to me as I was not good enough to play in it. Of course me being me, I had to have my say and quickly told Jimmy exactly how good I was in a manner of speaking!!
The following day was the play offs for the Friday Night League Singles in Oxford. With four venues and only one winner advancing from each I took the opportunity to back up my words from the night before and won through to the semi finals without losing a single leg of darts on the night. The following Tuesday I had a league match and soon spotted Jimmy at the bar of the venue I was playing at. On ordering a drink I heard him as he was reading the paperwork for the Friday Night Singles finals night say, "Who's this Dave Green cunt?"
Straight away I pulled him on this and offered to play him for 200 pounds there and then. He managed to get an offer of a loan for the money but unfortunately the game was halted before the start and I was handed a warning for gambling on the premises.
This then brought us to Friday night again, the 11th August 2000, playing for the Cricketer's Arms in Cowley Oxford, one to nil up in my singles match. Jimmy enters the pub, asking me if he could have a word with me I promptly told him to wait until I had won my game. After doing so he handed me an envelope with Dave 'Boy' Green wrote on the front of it. On opening it I was stunned to see an invite to Jimmy's Grand Prix tournament, so shocked so that I tore it in two and threw it at his feet.
A week later was the Friday night league finals night which I played my semi final and won 2-0. Then lo and behold I had to play Jimmy in the final. If I am 100% honest and if those who saw the game are as well, I will say that I destroyed Jimmy and never gave him a dart at a winning double in any leg. It was a great night for me winning a tournament from start to finish without dropping a leg throughout but I have to say that without the anger and determination to get one over on Jimmy I would not have won as convincingly and without the bad blood between the two of us I wouldn't have the nickname Dave 'Boy' Green.
As far as my past and present playing days are concerned, I enjoyed a great spell of form in 2000/2001 picking up trophies for fun so to speak, then disaster hit as I severed the tendons in my throwing hand in a horrible accident and was unable to play for almost eighteen months. I started to teach myself to play right handed but it was never the same and in 2003 I began practicing properly again until I joined the PDPA in November 2005 where shortly after joining I suffered a set back with more hand problems which I am glad to say are all behind me now.
The problems I had knocked my confidence but after playing a few open tournaments I am well on the way back to winning ways. I am 100% committed to my practise which is going very well. I just have to take that form into tournaments. More recently I have played well but just been unlucky in defeat. Missing doubles for matches was one of my downfalls recently but with match practise I have sorted that one out.
So there you have it – my "interview" with Dave 'Boy' Green…
Dave – if you read this, I hope you find it to be fair. Best of luck on the circuit.
From the Field,
Dartoid
The following two tabs change content below.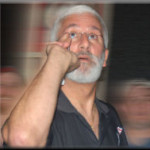 Author of the column that since 1995 has been featured by Bull's Eye News, the American Darts Organization's (ADO) Double Eagle and numerous other darts publications and websites around the globe.