Column #302 Hairspray!!!
August 1, 2007
Column 302
Hairspray!!!
I admit it – I don't know bloody 'el when it comes to movies and music, and I don't care. Give me the choice between goin' out on a Friday night to see a musical at the theater or grabbin' a six pack and watchin' the Thrilla in Manila for the hundredth time on ESPN Classic and I'm ON THE COUCH BABY!!
But I'll admit this too, and I ain't a damn bit embarrassed to say it – like every thirteen year old girl in the country, even though I don't have a clue what's goin' on, I am addicted to Dancing with the Stars, So you think you can Dance, and American Idol. I love talent shows. Always have. I don't think I ever missed The Ed Sullivan Show and in my book there was never anything better than Showtime at the Apollo.
So, when I heard that the old movie Hairspray was being reprised I began saving my money. You can buy a small car these days for the price of a bag of popcorn, but every marriage requires an extravagance now and then. So last Friday night my wife and I splurged – we headed to a packed-to-capacity theater to catch the premier of the new Hairspray, ordered TWO bags of popcorn, and had an absolutely fantastic time.
Based on John Waters' 1988 cult classic of the same name, Hairspray 2007 is a bundle family fun with an important message that builds to a crescendo and brings the house down. Not since 1978, when I went to see Animal House and the audience erupted in song and dance when The Isley Brothers performed Shout have I witnessed the reaction I did at the end of Hairspray.
It was expected too. Seriously, after two hours of watching John Travolta, who plays Edna Turnblad (originally played by the transvestite Devine), waddle around in a humongous rubber fat suit, there wasn't a soul in the theater who wasn't anticipating an appearance of good old Danny Zuko or Tony Maneo. When it came, and it did, sort of – after all, just how well can a guy boogie dressed up like a 300 pound woman – it was a show stopper!
What wasn't expected was the darts. More on this in a moment…
The story is about a group kids in 1962 Baltimore who are crazed about the Corny Collins Show, an American Bandstand-esque dance show (based on the old Buddy Dean Show). In segregated Baltimore black youth aren't allowed to participate in such shows, certainly not together with white kids. And it is only the pretty white kids who get a shot to dance in any case. Certainly a weight-challenged girl like Tracy Turnblad (played by newcomer Nikki Blonsky and originally played by Ricki Lake) never has a chance. And damn can she dance!
Once a month, in lieu of integration, Corny Collins (played by James Marsden) yields his show for a "Negro Day" broadcast where the black kids get to dance on camera. Motormouth Maybelle (played by Queen Latifah) spins the records and hosts dancers who have better moves than the white kids.
When one of the pretty white dancers needs to take a "nine month leave" and Tracy wins an audition for a spot on the show (and becomes an overnight celebrity), she quickly figures out that things are unfair and throws in with her black friends from after school detention (including the phenomenal talent, Elijah Kelley who plays Seaweed) and Motormouth Maybelle to "make every day Negro Day" and end segregation, at least on the Corny Collins Show.
There comes a scene at the black kids' hang out where they are informed by Motormouth Maybelle that Negro Day has been cancelled and planning begins to march on the television station. It's a serious moment, I suppose, a critical juncture in the flick, when Tracy and some of her friends decide to do what is right. It's also the moment I spotted the dartboard on the wall and yelled "Dartboard!" and it's the moment my wife punched me.
"You're yelling!" she whispered, kind of loud-like.
"But there's a dartboard – right there! In the movie! There's a guy throwing at it! See him in the red shirt! I think it's Bill Bell! It is! Look, right there!"
It's just something I do. If I'm watching a television show or a commercial or a DVD and I see a dartboard I just have to let her rip. "Dartboard!," I holler, and my wife looks at me all exasperated-like. I don't know why she keeps me.
Usually the dartboard I spy is hung at the wrong height or wedged next to a couch or stuffed in some absurd spot where nobody but a munchkin from the Wizard of Oz could comfortably take aim. For years, I have told my wife I could make millions as a consultant to Hollywood television and film producers, advising them on how to properly hang dartboards in their productions.
So I shut up and munched my expensive popcorn.
A few minutes later, I just couldn't help it. "Marylou," I whispered, "I think they've screwed up – I don't think there were bristle boards in Baltimore in 1962."
"Watch the movie," was her reply.
So I did. And I can't recommend Hairspray highly enough. I can't remember ever having a better time out without a set of darts in my hand.
But I couldn't get the dartboard out of my mind.
The next day I started making calls and sending out e-mails. Had the producers screwed up or was there really a darts scene in Baltimore forty-five years ago during John F. Kennedy's term in office?
I left messages for several old-timers who used to shoot in the area in the early 1970s. I contacted the heads of the Howard County Dart Association (Barbara Borowy), the Baltimore City English Dart League (Wayne Grob), and even Daren Parzow at the Washington Area Darts Association. I contacted George Silberzahn, author of How to Master the Sport of Darts, Dan Peek, author of To the Point – the Story Darts in America, and even England's Dr. of Darts, Patrick Chaplin.
The response ranged from (one of the old timers) "No way were there bristle boards, perhaps American boards, but not bristle" in Baltimore in 1962, to (from one of the league head honchos) "Well, I'm a tad young to have been an eye witness but there were lots of neighborhoods with bars on every corner in those days, so it's a good bet there were dartboards in some of them" to the following from Peek…
"The answer is yes, there could have been, and probably was, a British style dartboard in one or more bars in Baltimore in 1962. It would probably have been in a pub owned by a British or Irish expatriate or an American who had spent some time in the British Isles during World War II. In the larger American cities on the East Coast, pubs featuring British dartboards became increasingly common as the postwar years progressed. One of the earliest documented British darts pubs, a place named The Guardsman, was located on Lexington Avenue in New York and, according to a 1967 article in the Philadelphia Evening Bulletin, was founded in 1950 by an American soldier named Gormley who had learned his darts while serving as a liaison officer with the British Army during the War. Gormley's dartboard, the newspaper reported, 'was nailed up almost as early as his liquor license.' So it seems very likely that most large east coast cities in the USA had at least one pub or club where British darts were played."
So there you have it: I was either right or I was wrong.
Either way, Hairspray is a must see movie. The remake with the cast already mentioned and including Michelle Pfeiffer, Christopher Walken, Amanda Bynes, Brittany Snow, Jerry Stiller and Zac Efron is sensational in every respect, even better than the original (and Pia Zadora was in that one!).
I'll be gobsmacked if Travolta doesn't nab an Oscar nomination. I guarantee that you'll be dancing during the finale.
And bloody 'el, there's a frickin' dartboard, whether there should be or not, on the wall at Motormouth Maybelle's! And Bill Bell is takin' out the double.
You gotta see this flick!
From the Field,
Dartoid
The following two tabs change content below.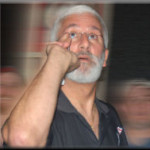 Author of the column that since 1995 has been featured by Bull's Eye News, the American Darts Organization's (ADO) Double Eagle and numerous other darts publications and websites around the globe.