Column #300 Part BRAWLS into the Semis. Mawson is AWESOME!
July 8, 2007
Column 300
Part BRAWLS into the Semis. Mawson is AWESOME!
Wouldn't you know that John Part would treat his fans to one of those matches that nearly causes you to pee your frickin' pants!
But damn it, that's what he did today in the first quarter final contest against Dennis Smith in the penultimate day of the sixth annual Professional Darts Corporation (PDC) Las Vegas Desert Classic.
The Maple Man popped off to a quick 2-0 lead but missed bull and could only shake his head as Smith closed double eighteen to edge back. Smith then struck heavy and finished a spectacular 170 to signal his intentions, shock the momentum into his direction, and even the contest.
Trouble with the double nine saw Part stutter further and fall behind 4-2.
But then, Part closed seventy-two and then double ten and suddenly the match was even again at four. The BRAWL was on! At the break it was tied at five.
Part returned from the break in the same form he was at the start and quickly jumped ahead again by two. But Smith struck back straight away and brought the match back to even at seven.
Part then edged ahead 8-7. Smith squeaked back to tie it at eight. Part held his throw again and moved up 9-8. Smith held his own throw and evened the match again at nine. And there they stood – the contest as close as it was the moment before they stepped to the oche almost ninety minutes before.
In the end, with the throw, Part prevailed by closing double four to advance – but was fortunate to have the chance as Smith had his own look at a double but wired it.
So Part became the first of the four players to book a spot in tomorrow's semi finals. "I think it's going to be a fantastic day of darts," he said with a broad smile. "I'm really, really happy I'm in it."
In the second match of the afternoon Peter Manley edged out Adrian Lewis 10-8 and as is becoming their custom words were exchanged in route. The battle of the Dutchmen, Roland Scholten and Raymond van Barneveld, followed but was really not much of a contest with Barneveld finishing work quickly 10-4.
Up last was American Gary "Awesome" Mawson and there isn't anyone anywhere – and that definitely includes Terry Jenkins – who can say that he didn't show his stuff. Mawson told me before the Player's dinner on Wednesday night that he was eyeing a move to Vegas – and that a big win in the Desert Classic would help his cause. It damn near came to be.
The darts went with the throw from the start until Mawson stuck the double first to break Jenkins in the seventh leg to move ahead 4-3. Mawson increased his advantage to 5-3 and seemed comfortable – but Jenkins suddenly turned on the steam, closing ninety-four and then ninety-six to even it up at the break.
After the break and a weak first handful by Jenkins, Mawson nabbed a maximum. But Jenkins struck back immediately with 177. In a moment he was ahead 6-5.
Suddenly Jenkins was ahead 8-5 and Mawson looked dazed. Somehow he'd let a 5-3 advantage flip to an 8-5 deficit. Five legs straight had gone to his opponent.
Mawson struck back. He finished 116 to narrow the gap to two legs – BUT Jenkins slammed in 180 and closed quick to pull within a leg of victory, 9-6.
Undaunted, Mawson offered up an eleven darter but it was too little too late as Jenkins won the next leg without giving the American a look at the double and advanced to the semi final round with a 10-7 win.
Wasting no time, the PDC's John McDonald, Rod Harrington, and Tommy Cox moved to the draw…
The first of the semi final pairing will see last year's Desert Classic champion and two time world champion, John Part face off against current world champion Raymond van Barneveld.
The second match will pit Peter Manley against Mawson vanquisher, Terry Jenkins.
Following this the finals will be played and, if I can arrange it, the winner will toe up in a grudge encounter for the championship of the Milky Way next weekend against none other than Dave 'Boy' Green.
From the Field,
Dartoid
The following two tabs change content below.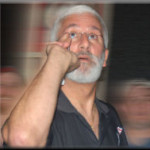 Author of the column that since 1995 has been featured by Bull's Eye News, the American Darts Organization's (ADO) Double Eagle and numerous other darts publications and websites around the globe.