Column #290 It was a Dark and Stormy Night
April 25, 2007
Column 290
It was a Dark and Stormy Night
Although some would say it was Peanuts cartoonist Charles Schultz who made it famous, it was Victorian novelist Edward Bulwer-Lytton who in 1830 first penned the phrase "It was a dark and stormy night" in the opening line of his novel Paul Clifford. Today the phrase is known as a "euphemism for a certain broad style of writing, characterized by a self-serious attempt at dramatic flair, the imitation of formulaic styles, an extravagantly florid style, redundancies, and run-on sentences," whatever that means.
But it also aptly describes that past twenty-four hours in Dartoid's World.
If you're a regular reader of this column and visitor to this website you may have noticed that there has been a change. After first developing the website with Australia's Kevin Berlyn and then a four-year partnership Philadelphia's Mike Broderick, last night Dartoid's World completed (well, almost) the next step in the evolution of what has become one of the most widely read columns and most frequented websites about darts in the world.
What the column and site have become surprises me, truly it does. And much of the credit goes to Broderick, someone I consider a close friend.
He is a leader in the promotion of our sport. He's smart and creative and a damn good shot. He took this website from an idea hatched between Berlyn and myself and turned it into all that it was, before yesterday. It's no accident that he was just re-elected vice president of the Quaker City English Dart League and was inducted this year into the National Darts Hall of Fame. It should come as no surprise that his son Alex is one of the best young shooters in the nation. Darts is simply in his blood.
I can't say enough about how much I appreciate all that Mike Broderick did to develop and improve the presentation of Dartoid's World.
But time moves on and now, with regret but optimism, so has Dartoid's World.
After much soul-searching and consideration of ideas presented to me in my travels I took the decision recently to upgrade the presentation of the website, to add numerous features and pizzazz. I hope that what you find is to your liking.
Not all is finished – there is much to come.
Indeed the intention was not to launch the new site quite yet. A few parts are not quite finished. The plan was for a seamless transition.
So you may notice a few of the unfinished bits.
If you were directed here from the old website you will know that the transition was not as smooth as was hoped. The decision to go live was made for us.
That's why it was a dark and stormy night.
I am proud however to now be associated with the one and only Mike Danford – known far and wide, notoriously in some parts of England, as the infamous DarterZ. Some time ago, Danford teamed with Roger Goswell, the brains behind the development of Phil Taylor's website, to form a website development company called XanaDartZ / PurePowerHost. In addition to Taylor's site, XanaDartz has created websites for Johnny Kuczynski, Ray Carver, Darin Young, Roger Carter, Alan Green, and Robbie Green, along with a long list of non-dart related sites.
And they are just getting started.
Our aim in taking Dartoid's World to the next level was not to dismiss anything that Mike Broderick worked so hard to create but rather to improve upon it. Much has been streamlined. Much more is happening – there's some music, some statistics…
But the basics are the same. Particularly the Double Out shots! They will never change, because closing the deal is absolutely vital in our sport.
Soon there will be an opportunity for you to comment on the columns, so you can tell me they suck.
Eventually more languages will be available for those readers in other countries. We're close on adding Arabic. We're even working on "female" but so far haven't found a company that has perfected this translation.
And there are some surprises.
I appreciate your stopping by and apologize for any inconvenience due to the imperfect transition. Stay tuned! The skies will brighten and the sun will shine again soon.
From the Field,
Dartoid
The following two tabs change content below.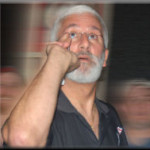 Author of the column that since 1995 has been featured by Bull's Eye News, the American Darts Organization's (ADO) Double Eagle and numerous other darts publications and websites around the globe.