Column #285 Want to Swap your Wife?
February 27, 2007
Column 285
Want to Swap your Wife?
When word leaked out in October, 2005 that England's Michael Davies – the bloke who brought us Who Wants to Be a Millionaire and Wife Swap – had just closed a deal to air the World Series of Darts, I thought, like, well, that's pretty amazing.
An eight-part series about darts on ESPN! Holy crap!
A million dollar payday! It was a potential life-changing dream come true for some average Joe.
It could have changed the face of the sport in America.
Had it all worked out as hoped, probably Davies would have made a few bucks. Possibly he did anyway – or at least saved a few by playing whatever role he did in the lightening fast decision to pull the series and hide it forever and all time. Or perhaps he did nothing and just let it die its own quick death.
Given hindsight, whatever Davies did or didn't do the demise of the World Series of Darts should come as no surprise. I'd have done the same thing.
I am as big a fan of the sport as there is but I have to admit that I only watched the first two episodes and I think I slept through one of them. This was not because I knew the outcome.
Why did I quit watching? Because I was BORED OUT OF MY FRICKIN' MIND!
No other reason.
Had the series focused (as it easily could have) on the qualifying events – the characters and personalities, the buzz around the country, the spectacular possibilities – it could have all been different.
I would have stuck with the show and I have no doubt the viewing audience would have grown each week.
The "up close and personal" segment they aired with Johnny Kuczynski was just superb – but the production gave short shrift to all the other American qualifiers and all those who attempted to qualify.
Win or lose, Americans want to see Americans. They want to see Americans take on the best and maybe beat the best. Americans love Rocky! And there were hundreds of potential giant-killers who competed in the qualifiers.
Darters risked missing the SUPER BOWL to compete in the Atlanta qualifier.
Darters fought one of the worst blizzards in recent history to make it to the New Jersey qualifier.
Tom Curtin (recovering from brain surgery!) made it to the final and WON one of the Massachusetts qualifiers.
Unknown Joe Cheney came all the way from Soddy-Daisy, Tennessee to shock the hair right off of Darin Young's head to win the qualifier in Washington, D.C.
There were SO many stories that could have captivated an audience…
But they were not told.
I submit to you, had the World Series of Darts spent the first five or six episodes on the qualifiers – the drama, excitement, jubilation, and heartbreak – darters across this country would be competing right now for a place on stage at the second World Series of Darts.
And a large audience would be getting ready to tune in to see if some American could pull off an upset the second time around and pocket the cool million bucks.
So it didn't work out.
But an ironic thing happened – darts got a boost in America anyway. There's energy around the sport right now that is new, fresh, and promising.
The Professional Darts Corporation (PDC) is preparing to host a series of professional events on American soil – in Connecticut, Nevada, Georgia, and Illinois – all with payouts far higher than this country has ever seen.
Darts is pretty much everywhere you look, from television to the movies. Perhaps you've noticed that even Target has adopted a sort of dartboard-looking logo?
Shortly after the World Series of Darts was announced there was a casting call for the series Queer Eye for the Straight Guy. Sometime soon the Fab Fairies will do a makeover of a beer swilling darts slob.
And then, just the other day, there was another casting call. This brings me back to the point of this column and, well, good old Michael Davies…
This time it is Davies' show Wife Swap that is on the prowl for a darting family to feature on the series.
Even though he let the World Series of Darts drift into oblivion, apparently Davies is still clued into the place the sport of darts has found in American culture. He's getting ready to take another shot.
I think, deep down, Davies has fallen in love with the sport of darts! Rumor has it that his staff has a dartboard on the wall just outside his New York office…
If you haven't seen Wife Swap I highly recommend it. It runs in primetime on ABC and in the words of the show's Casting Producer, Rachelle Mendez, the premise is simple. "Two moms from two very different families get the opportunity to swap lives for a week to experience what it's like to live a different lifestyle and to see what they can teach each other about their own lifestyle."
My wife and I have been fans of the show for some time now and have often talked about what it would be like to participate. The thing is I am certain my wife would NOT enjoy milking cows and shoveling manure on some farm in Idaho. And I know I would die if I had to live for a week with some woman that looked like Tyler Perry's Madea in Spandex. I just couldn't do it.
But I'm tantalized by this casting call, so much that I have recommended a family to the producers.
Wife Swap is looking for a family that is passionate about the sport and I'd be astonished if there is one anywhere in American better qualified than Darrell and Doreen Berry and their kids.
But I could be wrong. Perhaps your family has a shot. Or perhaps you'd just like to get rid of your wife for a week…
The qualifications are simple: both parents must live at home and you must have school-age children (ages 6-17). And again, you must be darts-mad.
There's an honorarium if your family is selected to tape an episode. There is a finder's for anyone who recommends a family that ends up appearing on the show.
If you're interested or know a family that might fit the bill just contact Rachelle Mendez at Rachelle.Mendez@rdfusa.com or 646-747-7948.
Don't forget tell her Dartoid sent you (have I mentioned the finder's fee?).
And don't forget to watch the show either. It's certain to be more entertaining than the World Series of Darts.
From the Field,
Dartoid
The following two tabs change content below.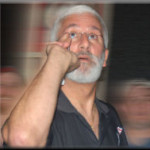 Author of the column that since 1995 has been featured by Bull's Eye News, the American Darts Organization's (ADO) Double Eagle and numerous other darts publications and websites around the globe.