Column #273 The 2007 World Series of Darts ?
September 21, 2006
Column 273
The 2007 World Series of Darts ?
Now ain't that the million dollar question. (Or, if you were unlucky and not born in red, white and blue knickers, the $100,000 question.)
If you follow the various darts website forums you'll already know that the prevailing opinion (almost 60% according to one poll) is that there will be no repeat of the event.
The reasons run the gamut…
Some say ESPN pulled the televised series because the ratings were lower than Katie Couric's.
Others counter that this is flat out false, noting that the ratings were actually better than Couric's, surmising that viewers "switched channels because Sid Waddell doesn't look as good in a blouse."
Still others have recently offered that is was a giant horde of crickets that killed the extravaganza.
Well my friends, this is all nuttier than the board of the Minute Man Dart League.
The first run at the World Series of Darts (WSOD) may not have captured the hoped for television ratings but that's hardly reason for the Professional Darts Corporation (PDC) to turn its back on the thing.
Too much good has already come of it. The fire is lit.
Just look at what happened at last weekend's Windy City Open. FIVE of the American WSOD qualifiers (Ray Carver, Darin Young, Jim Widmayer, Isen Veljic and Dave DePriest) made it to the last thirty-two (in a field that included Denis Ovens, Andy Jenkins, Terry Jenkins, John Part and Roland Scholten) and it was Carver and Young who took the stage for the final, with Carver taking the win.
FOUR Americans (John Kuczynski, Bill Davis, Veljic and Carver) will be in Newport in the United Kingdom next week attempting to qualify for the SkyBet World Grand Prix.
TWO Americans (Kuczynski and Davis) have already qualified to compete in the Ladbrokes.com World Darts Championship in December and – you heard it here first: watch for news soon concerning another American player.
Last, as these Americans (all testament to the momentum created by the first WSOD) head overseas, ONE other individual, just this week, traveled the other direction, from England to America. His name: Barry Hearn.
Yep, the Big Boss was in New York City this week for meetings with the other big boss, Michael Davies at Embassy Row, the producers of the WSOD.
So if you're among the majority of American darters who think the WSOD has come, fluttered, flopped and gone – think again and get in front of your practice board.
You're wrong.
From the Field,
Dartoid
The following two tabs change content below.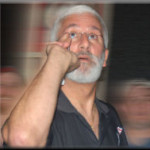 Author of the column that since 1995 has been featured by Bull's Eye News, the American Darts Organization's (ADO) Double Eagle and numerous other darts publications and websites around the globe.