Column #246 "Top Cat" Curtin Closes Curtain in Final Qualifier
April 22, 2006
Column 246
"Top Cat" Curtin Closes Curtain in Final Qualifier
He finished in the top eight in Windsor Locks on March 18 and in the top four in Marlborough on April 1 but today in Somerville he took no prisoners. Yes, as you have probably already heard, Townsend, Massachusetts' Tom Curtin – one of America's darting class acts and one of the Minute Man Dart League's finest – stepped to the line in the seventh leg of the final today against Lowville, New York's Dave Lambert, stared pressure straight in the eyes, and stroked a double eighteen finish that he is certain to remember forever, and in doing so closed the curtain on the World Series of Darts qualifying tournaments and booked the twelfth position on the Mohegan stage.
Only four spots remain, all to be determined on May 19 at Friday Night Madness. Rumor has it that nearly one hundred darters have already registered for this last shot at a million dollar payday – and that registration may be cut off early. I encourage you to book your spot absolutely as soon as possible.
It seems like only yesterday that the World Series of Darts (WSOD) was announced. And when it was announced there were many who doubted the details. So much has happened in the short time since the March to the Mohegan began to wend its way back and forth across America…
Darts in America has changed.
Lives have been changed.
For Isen Veljic, Roger Carter, Jim Widmayer, Jim Watkins, Dave DePriest, Joe Chaney, John Kuczynski, Tim Grossman, Joe Slivan, Ray Carver, Joe Efter and now the man they call Top Cat – the possibility, the extraordinary almost Rocky-like opportunity, to become an overnight millionaire is an every day, every hour reality about which the rest of us can only imagine. For these twelve American darts players it is real — the previously unheard of, unimaginable chance to actually pocket ONE MILLION BUCKS playing darts could happen, but whether it does or doesn't their lives have been touched forever.
To Widmayer and Carter good things have already come. Each has signed a sponsorship deal – Widmayer with Bottelsen and Carter with Dart World. It hasn't been since the glory days of Jerry Umberger, Larry Butler and Tony Payne – that the manufacturers have made this sort of investment. Yep, times they are a changin'. And they're changin' for the good.
For Jay Tomlinson and Mike Harris of Bull's Eye News today's qualifier marks the end, albeit but for one more trip to Connecticut, to a multi-cross-country journey totaling more than 50,000 car and air miles.
For someone from Madison, Alabama the WSOD is just a plain old money-making proposition. Click to the following link at E-bay if you need a couple of tickets for the final event: World Series Of Darts Tickets. The "Buy it Now" price is just $225!
And for Dartoid's World – today marks the last of my qualifier reports. I will of course, be following the WSOD until the final dart is thrown at the Mohegan (and finishing up the last few player profiles, all of which should appear next week), but this, my THIRTY-EIGHTH column on the event, will be the last formal report until Friday Night Madness gets underway.
Following Curtin and Lambert today in the top four were Bob Given and Mark Cronin. Finishing top eight were Jeff Russell, Peter Morrison, Matt Malone and Jim Cayer. Rounding out the top sixteen from among a huge field (and record WSOD registration) of 261 were Bob Adamson, Kevin Horan, Rofino Loyola, Sean Downs (who made the cross-country trip all the way from Colton, California), Mike Maguire, Steve Maguire, Mark Schlesinger and Arthur Mele.
Also in attendance but having their hopes dashed in relatively early rounds were Conrad Daniels, David Thibault, Bill Bell, Tim O'Gorman, Mitch Payton, Dayton Strawbridge, Tom Sawyer, Peter Morrison, Tim Russell and Dave Kelly.
As was the case in Marlborough and as expected, Tom Sammarco, Don Garnett and their Minute Man Dart League team did an outstanding job of organizing and running the qualifier. In the words of one observer, "Sammarco and his awesome crew ran a superbly well orchestrated event (at the) Good Time Emporium (which) proved to be a perfect venue for the last stop in this historic qualifying series, bringing darts and darters back to their roots – playing the game they love in a pub!"
It seems fitting with this final qualifier report to let Mike Harris of Bull's Eye News, one of my key moles throughout the WSOD qualifiers – and an outstanding writer (co-author with Frank Pratt of Fundartmentals) – take you inside the Good Time Emporium ("a truly cavernous sports complex, pool hall, arcade, and fun house pub…") to share the highlights of today's final WDOD qualifying tournament.
And if it isn't fitting, well the HELL with it. I'm tired of writing these damn things. So I'm turning my keyboard over to Harris anyway.
In the words of George Costanza (from Seinfeld, not the Minute Man Dart League Forum) "Now you listen to me: I want details and I want them right now. I don't have a job. I have no place to go. You're not 'in the mood': well you get in the mood!"
So here are the details from the twelfth WSOD qualifier.
SEEDS
Fourth seed, Bill Bell, fell in third round play to Pete Morrison, as did Tim O'Gorman, the number three seed, losing to Mark Cronin. David Thibault, the number two seed, then dashed his ticket to the Mohegan Sun, losing to Tom Curtin during top thirty-two play. The number one seeded player, Sean Downs, advanced all the way to the round of sixteen, but ultimately succumbed to Mat Malone in a four to one match.
QUARTER FINAL HIGHLIGHTS
Dave Lambert versus Jeff Russell
Russell, who'd been throwing stellar darts all afternoon, missed four shots at the double in game one, delivering a one to nil lead to Lambert – a blown opportunity that would soon haunt him. As if energized by his first game foible, Russell then sailed through the next three games, including a super 146 finish in game four, dispatched with an unorthodox triple nineteen, triple nineteen, double sixteen combination. Down three to one, Lambert continued to hang tough though and captured game five, capitalizing on yet another missed double by Russell, which would have closed him out. Empowered by having dodged the proverbial bullet, Lambert then cranked through game six in just sixteen darts, leaving Russell well behind at 142 and tying the match at three all. Game seven was well fought by both players, but with the momentum clearly swinging his way, Lambert finished the game in seventeen darts, including the only maximum thrown the entire match, finishing forty-nine while Russell addressed 74. Lambert advanced four to three while Russell suffered his third regional near miss.
Tommy Curtin versus Pete Morrison
Morrison fell in the quarter finals to Tom Curtin in a closer match than the score line suggests. Morrison got the start in the first leg and had eighty left when Curtin took ninety-seven out on his fifteenth dart. Morrison returned the favor in leg two taking sixty on his eighteenth dart after Curtin missed three darts at thirty-two. Curtin took the third leg against the darts on dart seventeen, when Morrison missed three darts at double ten. Curtin, now up two legs to one, took the fourth leg with the darts in eighteen and cleaned up the match in game five with a sixteen darter against the darts. Curtin on to the semi finals – four to one.
Mark Cronin versus Jim Cayer
Cronin and Cayer play out of the same bar and drove to the qualifier together. They both reached the quarter finals and found themselves on the same oche to see who would advance to the semi finals. Cronin took the first leg and Cayer leveled the match winning the second. Then Cronin turned up the heat winning the next three in a row to send Cayer home a couple of matches earlier than he wished. Even though these gents are good friends, one can only wonder about the conversation in that vehicle on the way home. Cronin to the semis four to one.
Bob Given versus Matt Malone
Given continued his exceptional play, defeating Malone handily, four to one. It had to be a disappointing loss for Malone, who earlier dispatched the number one seed, Sean Downs.
SEMI-FINALS
Tom Curtin versus Mark Cronin
Curtin and Cronin traded the first four games all with the darts keeping the score line two games to two. Curtin hit his in twenty and nineteen darts respectively while Cronin took games two and four in twenty-one and twenty darts. Cronin hit timely outs in his wins as Curtin missed three darts in game two and two darts in game four. With the start, Curtin took game five in sixteen darts with Cronin close behind on eighty-four. Then Curtin raised his game finishing against the darts taking out a beautiful 116 finish on his fifteenth dart. Cronin had only fifteen remaining and congratulated Curtin on a fine finish and four to two match.
Dave Lambert versus Bob Given
Despite capturing game one well ahead of Lambert, it would ultimately be the only mark in the win column Given would score in this match, as Lambert would win the next four. Game two went handily to Lambert, finishing fifty (single ten, tops), while Given lingered far behind at 216. In game three, Given had an opportunity to pull ahead again, but missed four darts at his out shots, allowing Lambert to claim game three and the lead. Lambert then handily dispatched game four, despite missing three darts at his outs, before finishing ten (double five) on the next turn, and still doing so well ahead of Given who was looking at 135. In game five Given had an opportunity to get back in the match, but was unable to close fifty-two before Lambert clocked out forty. Lambert advanced to the finals stage four to one while Given was, um… 'given' his ticket home.
FINAL
Tom Curtin versus Dave Lambert
Cheered on by an enthusiastic home town crowd, Curtin handily dispatched game one in seventeen darts, finishing sixty-five (single bull, tops) while Lambert struggled behind at 132. Undaunted, Lambert fired back and delivered his own seventeen dart victory in game two, narrowly missing a brilliant 140 finish (wiring the double twenty, leaving ten), which he quickly nailed on the next turn, Curtin far behind staring at 216. Games three and four, however, were all Curtin, replete with a 180 and sweet seventy-two (triple twelve, double eighteen) finish in game four. As if to say he was down but certainly not out, Lambert pounded back with a fifteen darter in game five finishing with a brilliant 104 out (triple eighteen, single ten, tops), which brought the match to three to two. Both players however, showed their nerves in a pivotal game six, each missing at least six darts for the win. Curtin reached out territory first, but was unable to close twenty over three turns, including a bust, wiring the double ten but hitting double fifteen. Lambert tied the match at three all when he finally found the mark first and closed the game on a double four. Again, as we've seen so often in these regional qualifiers, the final match would require a tie breaker.
Lambert won the coin toss for game seven, but lost the cork to Curtin, who opened the game with a solid ton start. Both players seemed to struggle a bit mid game, again evidencing the pressure of the moment. Following the darts, Curtin was first to reach ground zero though, bringing 130 down to a desirable thirty-six remainder, while Lambert reduced 148 to sixty. Curtin, capturing the moment, would not let this opportunity slip by, as he nailed the double eighteen on the first dart of his next turn, finishing the tie breaker in nineteen darts and booking his place at the Mohegan with a four to three win.
"Getting to the final was the hard part," commented Curtin afterwards. I wasn't nervous up there, but I didn't throw my best darts of the day. Neither did Dave, but I really gave him a chance in game six. After I hit the 140 to leave forty-one, I was thinking I should go nine, double sixteen. When I went to the line, I choked and threw a one for a double twenty out and missed two darts at the double leaving myself with ten. I was still thinking I should have gone nine, double sixteen when I came to the line again and missed three outside the double ten. Surprised to get another shot, I then busted hitting the double fifteen and thought I really blew it. I was disappointed in myself, but I thought if I won the bull I'd win the match, and that's what happened."
"I'm really excited," continued Curtin, "and thrilled to play on stage at the Mohegan Sun against the best players in the world in the first World Series of Darts. I think the event is great for the U.S., and I hope it will pump up the sport with the American public, similar to the status it has in England and Europe."
So there you have it! The WSOD qualifiers are over.
NEXT UP: the March to the Mohegan ARRIVES at the Mohegan for Friday Night Madness and the Main Event.
And there's already GOOD NEWS!
Despite rumors to the contrary, according to the WSOD insiders, the fantastic Unicorn Eclipse boards that have been used throughout the qualifiers, will remain the official dartboard for the tournament.
Also, and this is REALLY GREAT NEWS: all of them will be mounted EXACTLY 5'8" from the floor to the center of the bull. WOW! Imagine that!
STAY TUNED to Dartoid's World for the final player profiles – Kuczynski, Carver, Efter and Curtin – and for all the action from the Mohegan!
For further information about today's Somerville WSOD qualifier go to the Bull's Eye News (http://www.bullseyenews.com) and Professional Darts Corporation (http://www.planetdarts.tv/page/Welcome) websites.
From the Field,
Dartoid
The following two tabs change content below.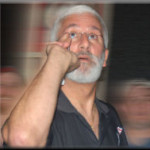 Author of the column that since 1995 has been featured by Bull's Eye News, the American Darts Organization's (ADO) Double Eagle and numerous other darts publications and websites around the globe.