Column #218 Paul Seigel
February 3, 2006
Column 218
Paul Seigel
If I had ten minutes on television I'd score the winning touchdown in the Super Bowl, hit the winning home run in the World Series, score the winning basket in the NBA finals, and knockout Mike Tyson. I'd spend the remaining nine glorious minutes wrestling the Miller Lite cat-fight babes.
— Paul Seigel
__________________________________________________________________________
Nickname: Dartoid
Date of Birth: August 27, 1953
Place of Birth: Lima, Ohio
Hometown: Oldsmar, Florida
Hobbies: Adventure travel, training golden retrievers, creative writing, and admiring breasts (though not necessarily in that order)
Movie: The Wizard of Oz
Television Show: Everybody Loves Raymond
Favorite Night on the Town: Dinner out with my wife
Meal: Spaghetti
Sports Team: Ohio State Buckeyes
Music: Motown
Book: The Kite Runner and the Life of Pi
Pet Peeve: Lazy people. People who lack ambition.
Worst Habit: The triple one!!
What Most People Don't Know About Me: I attended West Point
Weapon of Choice: Custom 23-gram Jeff Pickup specials
__________________________________________________________________________
I was born the son of a poor black share cropper. As you can imagine, growing up black in a white man's world wasn't easy. My opportunities were limited. For example, as much as I loved it… as much as I longed to make it my career… there was just no frickin' way I was gonna be able to make my living as a professional hockey player.
So I headed for a different oche…
My parents gave me a paper-wound board and a cheap set of darts many years ago for a Christmas present. I hung the board on the back of my bedroom door and threw constantly. I never threw at anything but the bull. I couldn't hit it way back then either.
It was a friend named Chris James on Cape Cod who got me seriously involved. Though I'd thrown casually for years, Chris introduced me to league play and then tournaments. Over the years, I have thrown for the Cape Code Dart League, Tidewater (Virginia Beach) Darters Association, Philadelphia's Old English Darts League, and a league in East Sussex, England. Now I throw for the Bay Area Darters in Tampa, Florida. Note that I use the word "throw" very liberally.
In real life, I raise money. I'm a fundraising consultant for not-for profit organizations that have international operations – mainly animal protection and children's welfare charities. I am looking for an assistant. If you're female and interested go to http://www.penthousemagazine.com and fill out the application. Don't forget to attach the photos.
I'm married to a wonderful woman, Marylou, and have a daughter, Jami. I have known my wife since high school. I thought she was perfect then. I think she's perfect now. Although she doesn't play darts, she does play wit de dart in de privacy of our bedroom. So I'll be keeping her.
Sometimes I amazed that she still keeps me. Honestly, I am in Manila as I write this and she is home sleeping on the couch with my dog near the basement. This is because it is raining and the sump pump is broken (because I have procrastinated getting it fixed). She has to head into the basement every hour or so and tip-toe through several inches of water to tweak it, or the basement will flood. She's been doing this for the past two days. Oh well, I guess I'll go out and throw darts…
I travel with my work and I always take my darts with me. I've played "blow darts" in the Amazon, thrown knives in Bombay, thrown 501 in a prison in Soweto, South Africa, and thrown on a board that I personally carried and nailed to a tree somewhere in Northern Congo. In Bangkok, I once won a bet with a bar owner in a club called Cosmos in Patpong. The prize was a couple of the girls. I settled for a few beers instead.
Surprisingly, there seems to be a great universality in customs. In pub darts, most anywhere in the world – and I've thrown in some 60 counties – play always begins with a toss for cork. Winner calls the game. Winner of the match keeps the board. To get on the board you write your initials on the chalkboard. Generally, again in pub play – and unless a bar girl is around – you chalk your own score, always conscious to do so before pulling your darts. The basic etiquette darters follow in America is much the same everywhere. What I find amazing is that, despite my inability to speak the same language sometimes, I am always able to communicate with my opponent, even about the finer points of play. If two people understand darts they can enjoy the game. The "language" of darts is the same everywhere.
I've managed to make it to a lot of tournaments around the country and the world and haven't won crap. I've been to most of the bigger ones (like Windy City, Witch City, Chesney, Virginia Beach Classic, Houston Open, and North American Open) and also many of the smaller ones. There are some that I haven't yet made it to which sound intriguing however: like White Mountain, which holds a pajama shoot one evening and Chuck and Stick's Chicken Coop Open, which is held in a forest near Joplin, Missouri. I've already booked to attend the Coop this year.
Without out a doubt Jerry Feather in Denver owned the most outstanding darts bar I have even seen, The Dartboard. A sad thing, it closed up a few years ago. It had twenty-six boards, if I recall correctly. It was once rated the "Best Darts Bar in the World" by the UK's Darts Player magazine. Of course, Di's in Chicago is quite the place. Joe Edward's Blueberry Hill in St. Louis is a Mecca.
The worst set-up I've ever seen? There is a board on the veranda at Queen Elizabeth Park in western Uganda. I remember worrying about the wart hogs that were wandering just behind the line as I was throwing one night. Later in the night I was awakened by a sound just outside the window of my hut. I took a peek and a hippo peeked back. I can't say, as I usually can, that I slept particularly well after this night at the line.
I've met a lot of great people during my time around the sport. Jess Nicoll, Tee Ruleman, Debbie Gordon, Kari Stevenson, and Tina DiGregorio come immediately to mind. One of my main goals in life is to get to know them all MUCH better. John Lowe, John Part, Steve Brown, Roger Carter, Phil Taylor, Paul Lim – there are so many great guys in darts. But I'd prefer they all keep their shirts on.
I wrote a column about politics throughout college and graduate school. I wrote for a weekly for a while when I got out of college. I wrote a feature for High Times – about some pretty good weed and a couple of cats. I once interviewed Linda Lovelace of Deep Throat fame. I started writing about the sport or darts – the camaraderie, the color, the fun – about a dozen years ago. Rick Osgood down in Houston got me started. It's hard to believe that this is my 218th column. The words still flow easily though and people now call all the time with topic ideas and bomb threats.
I never did, and as anybody who follows my writing already knows, I never do and probably never will make much sense. I strive to bring the game to life and, honestly, I do not mean to hurt people's feelings. Occasionally I have. For example, Eric Bristow doesn't like me because I once called him a prick. Sometimes the mix of humor and opinion has not set quite right with some people. For that I can only apologize and try harder.
Without question – without compare – the World Series of Darts (WSOD) is the most exciting, most meaningful for the future, news to hit the sport of darts in America, and perhaps the world, ever.
If the WSOD takes off at even a fraction the rate of acceleration of the World Series of Poker, little boys and girls across this land will be nailing dartboards to the backs of their bedroom doors faster than Chris Moneymaker can calculate his Texas Hold 'Em odds.
And that will change the face and the future of the sport. Period. Case closed.
I wouldn't miss the chance to be a part of it.
I'll be at Friday Night Madness. I know I have a twenty-darter in me somewhere.
The following two tabs change content below.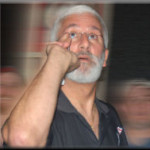 Author of the column that since 1995 has been featured by Bull's Eye News, the American Darts Organization's (ADO) Double Eagle and numerous other darts publications and websites around the globe.