Column #182 The Greatest Match That Never Was — is GONNA BE!!!
May 18, 2005
Column 182
The Greatest Match That Never Was — is GONNA BE!!!
If you're not a regular reader of this column or were not at the 2004 Professional Darts Corporation's (PDC) Las Vegas Desert Classic III Darts Tournament, you may not be aware of the INTERNATIONAL INCIDENT that occurred.
I won't rehash the details. It's to nobody's benefit to drone on about how Tournament Director Tommy Cox disqualified twelve-times Philippine National Champion Ricky Villanueva (now from Lubbock, Texas) before his stage match with England's Steve "Magic" Coote.
Although I disagreed with Cox when it happened, given hindsight I have to admit now that he made the proper decision. Villanueva was definitely wrong (as Cox explained to Reuters and the Associated Press) "…for showing up three days late, wearing Celine Dion's knickers on his head."
But all is well now. All is better than well.
That's because at 7:00 p.m. on Tuesday, June 28 at CD's Sports Lounge (3025 E. Desert Inn) in Las Vegas The Greatest Match That Never Was is finally going to happen.
Negotiations have just been completed.
For eight years running, America's Stacy Bromberg, along with the Southern Nevada Dart Association and benefactor (and former Georgia state darts champion) Joe "The Wiz" McElligott, have organized the "Score for Charity" shoot to benefit the Make-A-Wish Foundation.
It's a wonderful occasion for an important cause which all darters ought to be proud to support. Usually attended by hundreds of shooters, the event has raised tens of thousands of dollars to help bring smiles to the faces of children with terminal medical conditions.
This year, in addition to the Coote-Villanueva highlight, there will be one (and possibly two) other attractions, including the annual Blind Draw Double Elimination. Wagers will be taken on all of them. The PDC's Russ Bray will call the action while gargling little wads of sandpaper.
The first pairing of the evening will feature two-times world champion John "Darth Maple" Part and The Wiz against Paul Lim and Bromberg. Not long ago I asked someone how Part got his nickname. I was told "nobody has a frickin' clue." I asked someone the same question about McElligott. I was told about the time he "took a leak on the governor of Georgia's leg."
Next up will be the Greatest Match That Never Was. For fun and charity Coote and Villanueva will step to the line for a reprise, almost one year to the day, of the match both wanted but neither had the opportunity to play. For the kids, they will throw the best of three sets of 501, best of five legs per set. As the British say, "This one should be a real cracker." As the Americans say, "What the fuck's a 'cracker?'" As the Filipinos say, "Hoy! Ating simulan ang isang coup at isulat muli ang Konstitusyon!" (Hey! Let's start a coup and re-write the Constitution.)
So naturally, as any outstanding journalist would, I contacted Coote and Villanueva with a few questions so I could compile a sort of Tale of the Tape for the half-dozen people who actually read the crap I write.
Villanueva responded first, probably because, unlike like new daddy Coote, he doesn't have diaper duty at home. Now a business owner in Lubbock, Texas, Villanueva was born in Cagayande Oro City, Philippines. He's in his late 30s, married, and the father of two children — Paul Andre (10) and Steffi (3). His brew of choice is San Miguel. His mom is his hero. He throws 23-gram Harrow Vortex arrows.
Villanueva picked up his first set of darts in the middle 1980s. When he showed early promise, he was taken under the wing of one of the Philippines' darts legends, Estoy Densing. He credits a friend, Art Guerzon, with helping him hone his 501 game.
In addition to dominating darts in the Philippines, he's won the Singapore Open (1995) and, since bursting onto the American scene a little over a year ago, he's picked up an eye-opening 501 win at Blueberry Hill (2004), among others.
A bit of America has seeped into Villanueva's blood since he moseyed with his wife to Texas. He watches Survivor and Fear Factor. He lists Die Hard and Platoon among his favorite movies. He listens to the Rippingtons and Hall and Oates. His favorite sports team is the Yankees! He still prefers a good Filipino dinner though, his preferred fare being utak ng tupa na may saging (sheep brain with bananas).
Word has it that he is as deadly at pool and poker as he is at the line.
I asked Villanueva how he sized up his chances against Coote. In typical Filipino fashion he replied: Tinuruan ako magpakumbaba at hindi magyabang – pero sinasabi ko sa inyo dudurugin ko ang British na iyon! (I was taught to be humble and never talk big – but I'm going to destroy that Brit's little potato head).
Except for the changing diapers part, Coote is living every little British boy's dream. He photographs "Page 3 Girls" for the Sun tabloid.
No, only kidding (just like I was about Villanueva's remarks above). Coote puts out fires rather than start them. He's a fireman!
Coote hails from Bolton, a town in the north of England which, contrary to the opinion of most Americans, was not named after the singer. The place is famous though. Arthur Henry Rostron, Captain of the Carpathia, which went to the aid of the Titanic, was born here. Parts of Jeffery Archer's First Among Equals political thriller were shot in Bolton.
Coote's in his middle 30s, engaged, and has a son named Benjamin. He lists Budweiser Light as his favorite beer which suggests that either: 1) his wife-to-be thinks that 14-stone is fat or 2) he's a closet American.
He prefers Italian food. His favorite movie is Matrix. He's partial to Def Lepard, Queen, and U2. Coote lists cricketer Ian "Beefy" Botham and fallen soccer star Paul Gasgoine as his sporting heroes, even though nobody I've ever met would seriously call one of these activities a sport.
Coote has been throwing darts since the late 1980s. For several years before switching from the British Darts Organization (BDO) to the PDC in 2004, he was ranked among the top 10 in the world by the BDO. He's played in the Embassy five times, the World Masters four times (reaching the semi-finals in 2002), and won the German Open in 1999. His 20-gram Bristow darts got him to the top eight (where he lost to Phil Taylor) at last year's Desert Classic.
I asked Coote how he weighed his chances against Villanueva. He replied: "Actually, I quite fancy my chances. I've seen some tapes and while I hear that Villanueva is very passionate, that he throws from the heart, I can only assume that he suffers from some unclassifiable and particularly virulent form of cardiac disease."
So there you have it, the Tale of the Tape for the Greatest Match That Never Was!
As alluded to earlier, there is ONE OTHER EVENT that may find its way to the agenda on Tuesday, June 28.
There is space. There is time.
One party to the proposal is ready to GET IT ON.
So, Tommy Cox, waddaya say?
I'll even tell you your outs.
And if you beat me I'll get you a pair of Celine Dion's knickers.
From the Field,
Dartoid
The following two tabs change content below.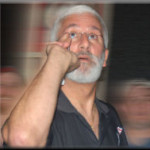 Author of the column that since 1995 has been featured by Bull's Eye News, the American Darts Organization's (ADO) Double Eagle and numerous other darts publications and websites around the globe.