Column #165 Good News… and Some Bad News
July 2, 2004
Column 165
Good News… and Some Bad News
The good news from the Las Vegas Desert Classic is that no unwritten rule was found to ban large bald-headed dudes from taking the stage. Accordingly, the last remaining American in the field of men was allowed to toe the line today in front of the packed arena and a throng of supporters from across the nation and the world. The bad news is…
…that Pennsylvania's sharp-shooting teddy bear, Darin Young, went down to Dagenham's Wayne "Hawaii 501" Mardle. As usual, and as was certainly the case on Wednesday when Young nipped England's Lionel Sams, Young scored big. It's just that this time around his doubles failed him. Except for an exciting 144 that brought the American partisans to their feet, Young just couldn't find the outs. In the end, Mardle pretty much coasted into the next round.
Today's quarter-final action kicks off at 10:00 a.m. with Canadian, John Part, up first against Ritchie Burnett. The three other matches, beginning at 11:15 a.m., 12:30 p.m. and 1:45 p.m., will see Ronnie Baxter toe-up against Mardle, Steve Coote face world champion Phil Taylor and Kevin Painter versus Dennis Smith. It's going to be one hell of a day of darts.
Unfortunately there's more bad news. For reasons nobody seems able to explain, the quarter, semi and final rounds of play will not be televised in real time as was the case last year. I am however, to understand that eventually (possibly over six or seven consecutive Sundays on Fox Sports Net) the tournament will be available to American viewers. When this will all begin is currently anybody's guess.
But there's also more good news. The Professional Darts Corporation (PDC) has made arrangements so anybody with a computer can log onto the Internet and follow the action via a live audio feed. Just go to http://www.planetdarts.tv/page/Welcome and to the right of the page click where it reads "Tell me more" under the red banner that says "Las Vegas Desert Classic III." When you get to the next page what you need to do is obvious.
One other option that should be a lot of fun is to follow the audio action with darts fans from Philadelphia. Computer guru there, Mike Broderick, has set things up so you can listen to the play-by-play and, also, hang out in a chat room, root for Part, and type in obscenities about the Brits. It should be a jolly good time. Just go to www.phillydarts.com, scroll down a couple of inches and click where it says "Chat and Watch the Score Board." I'll definitely see you there.
Finally, there is just a bit more good news which I was remiss by only mentioning in passing a couple of days ago. For the ladies, two Americans — Stacy Bromberg and Carolyn Mars — will face off in the semi-finals on Saturday for the opportunity to take on the winner of the other semi between England's Trina Gulliver and Canada's Gayl King (the first woman to compete against the men in the Skol World Championship).
Bromberg's looking for back-to-back titles, something that England's soon-to-be-husband, Peter Manley, was unable to accomplish, having been whitewashed in the top 16 by Kevin Painter. Mars motivation will be to earn the victory that escaped her in the finals two years ago to England's Deta Hedman.
So, there's a little bit of good and a little bit of not so good but no matter — it's gonna be another great day of darts! And on Saturday it will be the ladies who carry the flag forward for America!
See you at www.phillydarts.com!
From the Field,
Dartoid
The following two tabs change content below.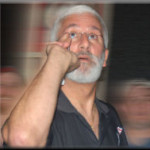 Author of the column that since 1995 has been featured by Bull's Eye News, the American Darts Organization's (ADO) Double Eagle and numerous other darts publications and websites around the globe.