Column #151 "Don't Know Much About H-I-S-T-O-R-Y…"
November 5, 2003
Column 151
"Don't Know Much About H-I-S-T-O-R-Y…"
Back in tenth grade I nearly flunked Western Civilization. This is because I thought the world began in the Wild West, somewhere among the buffalo on the other side of the Mississippi River. John Wayne was in charge.
I didn't care then and I sure as hell don't give a rat's ass now to know anything about what happened eons ago near the Tigress and Euphrates Rivers. This is especially so today — now that I've learned this confluence is somewhere near Bagdad. Yep, the world began in Iraq. George Bush has blown the "cradle of civilization" into smithereens.
Like Sam Cooke, I might not know much about history. But it does concern me that in a recent column I may have contributed — inadvertently I assure you — to a misrepresentation of an important historical event.
So let me correct the error right now…
It is simply NOT TRUE that the Pilgrims were transvestites.
Actually, it turns out that some of the information in my column "Philadelphia Moments" may not have been accurate.
Part of that story recounted a darts match contested almost thirty years ago between two international teams comprised of the greats of our sport at the time. England and America faced off in New York City. The Americans won. Afterwards, Philadelphia's Ray Fischer toed-the-line in a major money game against the legendary Alan Evan's and kicked his ass.
In the article I suggested that the England team was weak. I wrote that John Lowe, Eric Bristow, Bobby George, Leighton Rees and Jocky Wilson were not there.
Sounds accurate, but it wasn't.
As it has since been put to me: "John was still a total unknown and didn't even make his first major television appearance until the TV Times Pro-Am in December '75. Jocky didn't play county darts until 1976, the year he also first represented Scotland. Bobby was totally unheard of then and Eric was a 16-year old, who, like Jocky, wasn't destined to represent his county or national team for another two years."
England was represented by a very solid assemblage of their top shooters at the time, including Willie Etherington, Paul Gosling, Ken Brown, Cliff Inglis, Alan Glazier and Evans. AND, it turns out that Leighton Rees WAS there. The Americans beat a damn good team.
I wrote that Philadelphia's great Al Lippman was not among those shooting for the Americans and that Frank Ennis was. I have received information which suggests I had reality reversed: that Lippman was there (and "beat Inglis in straight legs") and Ennis wasn't.
Finally, I wrote that the final score of the match was 11-7. I am now told that the score was 9-6.
Suffice it to say I am embarrassed to know that I may have contributed to an historical record that is not entirely accurate.
I spoke with several people who were in attendance. But memories fade.
I uncovered a handful of written accounts, albeit very brief, of the event. Where accounts conflicted I went with the information I could corroborate.
On balance, I felt that the words I wrote were accurate.
But these are not excuses.
My responsibility is to get ALL of the facts right. I did not.
I apologize.
From the Field,
Dartoid
The following two tabs change content below.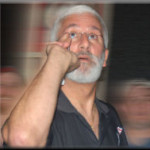 Author of the column that since 1995 has been featured by Bull's Eye News, the American Darts Organization's (ADO) Double Eagle and numerous other darts publications and websites around the globe.