Column #108 Cork, Ireland
August 1, 2001
Column 108
Cork, Ireland
I'm at a hotel called the Hayfield Manor ploppin' Alka Seltzer to recover from a couple of nights of darts and Beamish Stout here in Cork, Ireland which, for those of you who were dickin' around in third grade geography class, is a city somewhere in, well… Ireland. Last night at the Huntsman Pub I put the whup on a couple of the lads, Cairan and Tomaz Keogh, from Belgooly, a quaint little town in the hills just a few kilometers south of the city center.
Yep, I stomped these lads just as thoroughly as Larry Holmes did Gerry Cooney back in 1982. Thirteen rounds that one went before Mills Lane stopped the rout in a gesture of mercy to the baby-faced Irishman, perhaps the first legitimate great white heavyweight contender since Rocky Marciano. Like Holmes, lacking world-class talent, I take my wins wherever and whenever I can get 'em. I'm not the least bit embarrassed to admit that Cairan and Tomaz are just eight and ten years old. So what if they're only four feet tall? Why should I care? They have arms. They can see. They can walk back and forth to the board! Hell, I'd have taken out their sister, Grainne, too… but she is only three and a half.
The lads were gracious in defeat. I guess it's an Irish thing. Kids are raised with manners here. Damn, I'll bet these boys don't even own guns! Tomaz asked me to sign his official Professional Darts Council (PDC) autograph book. I quickly scrawled out "Dartoid" in between pages already signed by the likes of Phil Taylor, Rod Harrington and Crissy Howat. I asked Tomaz if he might also happen to have Crissy's phone number. "No sir," was his reply. Like I said, kids here are polite. Either that or Tomaz was keepin' the number for himself.
I have Phil Jones of the PDC to thank for hooking me up with the Keogh family, the kids and their parents Tom and Kathleen. Looking at a few days free in Ireland, I e-mailed Phil with a request for help. Suffice it to say, I was hesitant to appeal to the PDC. Some of the guys there have been a tad cold (like real beer ought to be, for Christ's sake!) ever since I suggested, a few columns back, that the NAODT be renamed the Royal North American Open. Tommy Cox was so upset that he's been wandering the moors in circles ever since. Drinkin' warm beer probably.
But Phil was helpful. He said he'd recently met a guy at the World Championships who was a "publican from Cork" and knew all about the darts scene there. So, I stuffed Tom Keogh's contact number into my bag along with a couple of cucumber and cheese sandwiches, in honor of Tommy, and headed off. I was goin' corkin' in Cork.
After Dublin and Belfast, Cork is Ireland's third most populous city. Since its founding by Saint Finbar sometime before time began, through the days of the nasty Viking sea-pirates, during the Anglo-Norman invasion, and up to the present day, the area has always served as a vital Irish seaport. The city began on an island in a swampy estuary of the River Lee and sort of expanded up the banks on either side. Today the river meanders through Cork in two channels, so you find yourself constantly crossing bridges trying to find your way back to your hotel at night, up and down the hilly streets, in the rain, after drinking too much at the pub. Well, at least I think I crossed a lot of bridges.
Unable to reach Keogh my first night free, I headed out on my own and into a bar called Fordes on the edge of town. I was immediately made to feel welcome and invited to join the shooters to hit the line for some 301. With Ireland's version of "Who Wants to Be a Millionaire" as ample distraction and while old songs of rebellion, such as "Pretty Woman" by Roy Orbison spun on the turntable in this "traditional" Irish pub, I managed to hold my own (and also a half dozen Beamish Stouts) with locals Martin and Dusty Vallely, Derek Sheehan, Sean Quilan and three guys whose last names were all O'Sullivan. I left at midnight to start crossing bridges. Soaked, I found my hotel an hour later.
I awoke to a ringing telephone and peered through groggy eyes at the digital clock beside the bed. "15:30" the display read. "Tree-turty," as the Irish say. "Huh?" I managed.
"Tom Keogh 'ere. Y'left a message fer me?" So I explained about Phil Jones. Asked if he might be willing to show me around the local darts scene.
After a brief conversation, none of which I can relate here because, like when I watched the movie The Commitments, I didn't understand a single thick-accented word he spoke, Tom finished up with seven vaguely familiar sounding syllables to confirm that all was a go for the evening. "Okie dokie," he said. "Cheerio." Now, I don't know about you, but when somebody of the male persuasion uses terms like "okie dokie" and "cheerio" in rapid succession, I worry.
I need not have. Put simply, Tom Keogh is one really big dude. Easily 6'5, 275 pounds — and a professional rugby player — Keogh is the spitting image, nose and all, of good ole Gerry Cooney. If there is a difference, other than that Cooney had hair, my guess is that Keogh would have introduced Larry Holmes to the cookoo bird inside five rounds. "So, y'wanna ed out fer a pint?" asked Keogh.
My reply? "Okie dokie!"
We headed first to his pub, the Huntsman, in Belgooly. A beautiful place dating back to the early 1900's, the Huntsman sports just one board. It's framed in a green tire-like thing, which seems to be the custom in these parts. The floor's hardwood so they roll out a rubber mat to catch bounceouts. On the wall to the right of the board is a framed photo of Keogh's son, Carian, in a traditional darts pose with Jamie Harvey, who shot an exhibition here. To the left is a small bar and further to the left is a cozy little room for drink and conversation. Best of all is that behind all of this, just to the rear and also above the establishment, is the Keogh residence. You betcha! Talk about living the life! They LIVE in a pub!
Despite the fact that I trashed their children at the line, Tom and Kathleen were kind enough to invite me to dinner. As we sat around their dining room table and as Tom explained the goings on within the two main leagues in the area, the Cork Darts Players Association and the Cork Darts Organization, I crayoned drawings with their daughter Grainne and, of course, admired her Barbie doll.
From Tom and Kathleen I learned more about this remarkable area of the world. Just off the shore of Kinsale, where Tom and I stopped later in the evening for a Guinness at the White Lady and the Spaniard, the Germans sunk the Lusitania in 1915, precipitating America's entry into World War I. Some fifty kilometers to the east, across the rich farmlands and rolling river valleys, is Cobh, probably the site of more poignant memories than any other in Ireland. It is from here that hundreds of thousands of hungry and penniless Irish men and women left to build a new life, especially in the famine years of 1844-48. It is also here, though it was called Queenstown at the time, that the Titanic made its last port of call.
Most interesting to me though was the knowledge that just a few minutes up the winding road from the Keogh home, set in the beautiful wooded countryside, is the village of Blarney, site of the famous Blarney Stone high up on the Blarney Castle battlements. Legend has it that those who kiss the Blarney Stone will be endowed with the gift of eloquence – or the "gift of bullshit," to quote the locals. I asked Tom if we could stop in Blarney to kiss the stone. "Ah, me boy, y'really don tink y'need the help now, do ye?" was his dry reply.
As luck would have it, I arrived in Cork on the very weekend that the All-Ireland Shoot was being held in Limerick. What this means – and it's why I consider my timing fortunate – is that all the better shots were battling it out about an hour's drive from Cork. More specifically, what this meant is, except for the guys at Fordes and Tom's kids, the only other person I had to get by to remain essentially undefeated was the big dude himself.
With Cairan and Tomaz chalking, Tom and I flipped a fifty pence coin and stepped to the line to cork at about 8:00 p.m. A green bull earned me the honors. 301. Best two out of three.
Maybe it was the excellent dinner. Maybe it was the idea, the incredible comfort, of throwing in a pub that was also a home. Or maybe it was just the damn Barbie doll. Whatever it was, I was HOT. I couldn't miss.
The first game ended in eight darts. I went on with 152. Tom struggled to hit the starting double. One for Dartoid.
The second game ended pretty much just as fast. Although I don't recall the marks I do remember that, again, Tom just couldn't find the double.
"How 'bout three out of five?" I offered as I pulled my final dart from the double top. The way I figured it and as the old Irish saying goes: "a pint in the hand is worth five in the pump." The match was mine. But hell, the big dude treated me to dinner and a few beers. What could another game matter?
Yep, in the words of Wilfred Brimley, in that old Quaker Oats commercial, givin' the big dude one last shot was the hospitable thing to do, the "right thing to do".
"Okie dokie," responded Tom as he ambled back to the line for one final game.
But again, for who knows what inexplicable reason, he just plain couldn't find the double.
And then, much like Cairan and Tomaz did earlier in the night, Tom himself graciously extended a large congratulatory hand. "Ah, nice shots, y'bollocks," he offered before promptly crushing my fingers.
From the Field,
Dartoid
The following two tabs change content below.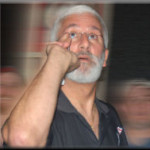 Author of the column that since 1995 has been featured by Bull's Eye News, the American Darts Organization's (ADO) Double Eagle and numerous other darts publications and websites around the globe.