Column #102 Charlotte, North Carolina
May 1, 2001
Column 102
Charlotte, North Carolina
If you missed the ADO Masters Finals and the Charlotte Open recently in North Carolina (which is a state somewhere in the south, near Lexington) then, let me tell you, you missed a LOT. You missed the nightly poker game in the Presidential Suite. You missed the mother of all pool parties. You missed the guy from Finland putting the moves on some of the Boyz from Jersey, in the sauna. And you missed a WHOLE LOTTA people peeling off their clothes, including, well… more on that in a moment.
Of course, you also missed a darts tournament. But if you think this column is about darts then either: 1) you are not a regular reader of this column, 2) your brain is the size of a gummy bear or 3) you're British. NOTE TO READER: #2 and #3 are NOT the same.
When my buddy Shane Meeks and I pulled out of Virginia Beach we figured our road trip would take about six hours, putting us in Charlotte at around midnight, just in time to check in, dump our bags, change clothes and head out for a vigorous ten mile jog. And, yep, if you believe THAT you should pick another number from the paragraph above. The truth is the topless bars were closed.
So we found our way to the Presidential Suite where, rumor had it, the Boyz from Jersey were holdin' a little game of cards. How these Bakalac Maniacs managed to talk their way into the comfort of the Presidential Suite remains one of the tournament's great mysteries. But they did, and seated around the formal dining room table, next to the cushy couch arrangement and the big screen television, adjacent to the glass shelves with the stereo equipment, and across from the bar were Luis Martinez, Chantel Webb, Davis Snider, Chris Erner, Howie Dirks, Scott Wollaston, Jerry McVeigh, Ed Komet and Tim Gorman. Sittin' on the couch eatin' chips were Laurette Meddis and Chris Launzinger.
Shane and I pulled up chairs, pulled out our wallets and, like everyone else, were quickly cleaned out by the one woman at the table, Chantel, who cleared something like three bills in two nights. She pocketed twice again this figure at the tournament, winning Ladies Singles Cricket (over Stacy Bromberg), finishing second in Ladies Singles 501 (to Doreen Berry), taking first with Dan Lauby in Mixed Doubles and Top Four in both Ladies Doubles – Cricket with Tracy Tibitts and 501 with Michelle Gaffney.
As neither Shane nor I qualified to shoot in the Masters, on Friday morning we wandered down to the hall a little late and did our best, like everyone else who wasn't shooting, to look just inconspicuous enough to not be collared into chalking. Of course, this never really works. So we went out to the lobby bar and watched the "other" Masters and Tiger Woods. Oh, I did chalk one match – for Doreen Berry – but she got mad at me, for breathing. Oh, yeah, I chalked a second one too – for John Straiton. But he asked for me to be replaced. I'm pretty sure this is because he thought I was responsible for all of the 41's HE threw.
While Tiger chased his second green jacket, sixteen women and twenty-nine men battled it out for the half-dozen spots on the US Masters Team which will travel to England later this year, and have to eat tasteless food. After slogging their way through tough brackets, Stacy Bromberg and Marilyn Popp emerged on top for the ladies and Luis Martinez, Dan Lauby, Ray Carver and Roger Carter captured spots on the team for the men. Along the way some brilliant shots accented relentless play. Ray Carver tossed in seventeen 180's. Scott Wollaston notched up a ten-darter. And Roger Carter took a 170 out in the third leg of the men's tie-breaker.
Why I couldn't manage to draw one of these shooters in the Luck of the Draw later that evening I just don't know. But that's always the way it is. My partner, an excellent shot from Detroit named Mike Love, and I went down in the first round to John Kuczynski and some girl whose name I didn't catch. Shane, on the other hand, drew my old friend Mike Kenny, Jr. from Cincinnati and came back to the room with his share of the $400 first place award.
Again it was too late for the topless bars. Even worse, if that's possible, it was too late to order a pizza. We peeked into the Presidential Suite. The ante was up to ten dollars. All the money was stacked up in front of Chantel. Wisely, we called it a night.
On Saturday Shane filled his wallet up a bit more with a win in the Mixed Triples with Ray Carver and Julie Nicoll and a Top Eight in Men's Singles Cricket, which was won by John Kramer. Shane and Ray, who'd teamed up for doubles at the tournament, saw their hopes for a first win in Men's Double's Cricket washed away by just a few too many bottles of aiming fluid. Scott Wollaston and John Kuczynski took home the $300 first place prize over Texans Daryl Montgomery and Davis Snider. Rounding out Saturday's play – except for the Luck of the Draw, which I skipped because it was PARTY TIME — Lou Boon and Daphne Leach topped Laurie Melton and Linda Hayes to take the Ladies Doubles 501.
As everybody else was winning money, in between losing my entry fees (and Cricket to Keith Wall) I spent Saturday sampling my own share of aiming fluids and enjoying the camaraderie that is so special to our sport.
I met Chuck Hood and his wife, Cindy, from Anchorage, Alaska. Chuck gave me a few games of Cricket, an Alaska darts pin and invited me to his home to shovel his driveway.
I spoke at length with Julie Nicoll about the history of darts and the evolution of the dart itself from wood to brass to tungsten. We talked about the days before mass produced flights, when the players carried special paper so they could craft new flights quickly to replace damaged ones during a match. Julie gave me her daughter's phone number.
Florida's Bill Snary talked to me about his days as a crooner in Las Vegas. Barbara Motin explained how she met her husband which, if I understood her correctly, was in the back of a cab somewhere in England. Mark Newnam shared an absolutely amazing story with a whole group of us about a weekend he spent with twelve Scandinavian girls in a bar called John Wayne's in Copenhagen. Massage therapist, Dean Summer, tried to give me a massage. Ellen Czipo asked me to give her one.
Okay, that last line is not exactly accurate. What really happened is a couple of years ago at the North American Open, this blond female person who just happened to be pretty well-endowed, if you know what I mean, and who was wearing a very little, bright orange bikini top, SAT ON MY LAP. Honest! This is absolutely true.
I was sitting in the hall, minding my own business, when this girl walks up and sits right in my lap. Just imagine what I was thinking. Then she leans over and puts her arms around my neck and whispers in my ear something to the effect that some guy had told her that if she sat on my lap and took off her top I was certain to write about her in this column. Anyway, we talked for a while. She told me her name. She didn't take off her top. So I never wrote her into a column.
So now I am in Charlotte (which, interestingly enough, was the name of Playboy's Playmate of the Year in 1982) and this remarkably familiar looking blond female person, who just happens to be pretty well endowed, if you know what I mean, comes wiggling up to me from behind and whispers in my ear something to the effect of "you don't remember who I am, do you?".
Just IMAGINE what I was thinking.
So, I spent some time talking to Ellen Czipo. I don't remember what we talked about, only that she gave me her address in Ossining, New York. I wish I could remember why.
Without any doubt though, the highlight of this tournament evolved gradually on Saturday night.
Howie Dircks and half dozen or so of the Charlotte crew (including Dan Duley and his wife (whose name I can't remember but whose form I can't forget) were havin' a few beers by the pool. Up strolls a dozen or so of the Boyz from Jersey along with Heather Farrell and Laurette Meddis. In due course, Scott Wollaston shows up. Mark Newnam, Danny Biddlcome, Tim Gorman and John Kuczynski. By midnight as many as a HUNDRED darters were gathered around, and in, the pool.
From somewhere appeared pizzas. From somewhere else appeared more, and more, beer. Somehow the pizza and beer found the ability to float. In the middle of the floating food and drink Scott Wollaston wrestled invisible alligators. Navy SEAL, Mark Newnam, paddled around barking like a baby harp seal.
A chant went up as Gorman and Kuczynski arrived and each, not to be done by the other – either at the line or by the pool – peeled down to their skivvies and flopped into the water. A chant went up when Meddis arrived and she did mock strip tease on deck – and then stole Gorman's clothes so he was forced to find his way up the elevator and down the hall to his room with nothing but his hands to cover what his soaked underwear exposed for all the world to see.
It was 2:00 a.m. when hotel security suggested it was time for the party to end. Gradually the shooters dispersed to their rooms. Most to pass out. Some, like the Boyz from Jersey, to watch the Return of the Sopranos on HBO. And, perhaps, a few – like Shane and myself – to order the box snack from room service and then use the apple for dart target practice. We placed it on the headboard and took it out. We placed it on the top of the television and took it out. Fortunately we sobered up before going completely over the edge – though I am CERTAIN I could have nailed the fruit from the top of Shane's head.
In my experience, tournament Sunday's are pretty much synonymous with hangovers. I shot doubles 501 with Phil "Slaughterhouse" Fried. If you're not familiar with Phil, he's the shooter from Brooklyn who sports the bagel-sized silver earrings. We didn't fare well. Possibly this was because Phil was off balance – he'd left his bagels in his room. More likely it was because neither of us could see.
As the day, and the tournament, wore to a conclusion, Ray Carver (who missed his incoming flight and had to take a bus to Charlotte) rushed off to the airport to catch his return flight, leaving Shane to finish single-handedly after fighting their way together to the Top Eight in Men's Doubles 501 (which was eventually won by Roger Carter and Bob Gargan over Craig Lehman and Jason Paine).
Ernest Comardelle knocked off Luis Martinez to take the Men's Singles 501 (though it took a brilliant 156 close earlier in the afternoon for Luis to get by Shane who was sitting on 40 with the first game already under his belt).
And as noted earlier, Doreen Berry (on the comeback trail) bested Chantel Webb to win the Ladies Singles 501. Angel Gaffney and Kathy Podraza rounded out the Top Four.
It was 6:00 p.m. when Shane and I finally said our good-byes – about the same time Tiger Woods was slipping into his second green jacket.
We pulled into traffic and made it forty minutes north before pulling into a small country market. We re-entered traffic with a couple of cokes and a large plastic bag of gummy bears. And one by one we bit off their heads – thinking this might imbue us with the accuracy we lacked over the weekend — and threw their little British bodies out the window.
From the Field,
Dartoid
The following two tabs change content below.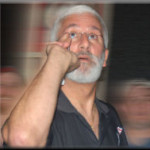 Author of the column that since 1995 has been featured by Bull's Eye News, the American Darts Organization's (ADO) Double Eagle and numerous other darts publications and websites around the globe.