Column #100 Thanks a Ton!
February 1, 2001
Column 100
Thanks a Ton!
Being as this is my 100th of these little ditties, there are several people to whom I owe a debt of gratitude — who have traveled at least a portion of the crazy path I've followed since picking up my first set of darts. Each in their own way –primarily through their tolerance — has played an important part in creating what has become Dartoid's World.
My parents, Saul and Beverly Seigel, have been there since the beginning. They bought me my first dartboard, an act for which today I have no doubt they are extremely sorry. They also shared in my first drinking experience after several of my buddies propped me up drunk against the door of our home in junior high school.
My daughter, Jami, bought me my second dartboard and my first legitimate set of darts. I shared in her first drinking experience when several of her girlfriends (at least they had better have been GIRLfriends) propped her up drunk against the door of our home in junior high school, an act for which today I am sure she is extremely sorry. Jami is the one person who's ass I can consistently kick at the line.
My wife, Marylou, bought me my next half-dozen dartboards and more sets of darts than I can now recall. She has been tolerant of my foreign travels, my late nights out, my taste for the barley and my fixation on bosoms. Marylou has painstakingly vetted for political correctness each and every one of my columns. Basically, it has been her role to ensure that words such as "peckerhead" do not find their way into print. The fact that I don't listen to her is not her fault. Marylou sleeps with me. I like this more than darts.
I must acknowledge my golden retrievers, Marbles and Colby, who faithfully, for their entire lives, welcomed me home after league — and then gobbled down a sack of Wendy's cheeseburgers. May they rest in peace in Cheeseburger Heaven.
It was my friend Tom Moliterno (a.k.a.: Tommy Molina) who was there the day my pen name, Dartoid, was conceived. We were selecting screen names back in the early days of America Online (when we should have been buying stock). It wasn't until years later that I learned the screen name Tom recommended for me was actually a medical term meaning "scrotum". I guess Tom thinks the joke's on me. That same day Tom chose the Greek name Aliquis for himself. Loosely translated this means peckerhead.
It was CyberDarts' creator and Rick's Darts and Games owner, Rick Osgood, and his wife, Loretta, who actually spawned the Dartoid's World column. I was in Beijing. Rick was in Houston. Ten thousand miles apart, we "met" in an Internet chat room. The subject turned to darts. Rick suggested I write a story — and promised to post it on his fledgling web site (http://www.cyberdarts.com). The column sucked but Rick remained true to his word.
Since that time Rick has posted all one hundred of my stories. They still suck, but Rick has no alternative but to continue to carry them. Otherwise I will tell Loretta the name of the chatroom in which Rick and I first met.
I owe a very special thank you to my friend David Barritt from Johannesburg. It was David's talented graphic artist, Malcolm Allen, who created the Dartoid's World logo — the whimsical little World War I flying ace steering a dart around the globe. And it was David who first took me into the wilds of Botswana's Okavango Delta. It wasn't so much the wildlife that impressed me as it was his wife, Leslie, and his daughter, Bernice, who wandered around topless for the better part of two weeks. The hell with darts!
Over the years Dartoid's World has evolved from a column into a business. There are now Dartoid's World hats and shirts, flights and related darts paraphernalia. Of course, every business needs a model. Enter Eve Horne (pardon the pun). It is Eve, a former Miss Hawaiian Tropic, Miss Venus Swimwear and soon-to-be Playboy centerfold, who will soon appear, wearing hardly a thing, in Dartoid's World product advertisements. Thanks for your help, Eve. I'll get back to you soon about that trip to the Okavango Delta.
Jay Tomlinson and Gary Jones of Bull's Eye News took a chance –risked their magazine's reputation — when they began to carry my column in 1996. They now also host the Official Dartoid's World web site at www.dartoidsworld.com. Thanks Jay and Gary. I'm really sorry about the lawsuits.
Sandi Cain and Katie Harris from the American Darts Organization also took a chance when they began to carry Dartoid's World in the Double Eagle. So did Risto Spora and Pirre Luikka in Finland (Darts), Jose Gutierrez in Spain (Zona de Dardos), Barry Thomas and Maureen Oakes in Australia (Points and Tips) and, occasionally, Tony Wood in England (Darts World). Thank you to all of you. I'm really sorry about the lawsuits.
To the many league operators across American and around the world who now run my column in their league newsletters — and who have actually asked for authorization to do so — thank you. To those of you out there who simply download my column from the Internet — you owe my wife a debt of gratitude for editing out of this sentence what I think of you. Peckerheads.
I have made so many friends during my years of involvement in the sport. I have only the fondest of memories of my first team on Cape Cod where, over a handful of years, Chris James, Bill Woods (a.k.a. Phil Hoods), Cheryl Collins, Brett Flag and I worked our way up the ladder from "C" division into the "A" division finals. I am especially grateful to Tammy Fisher and Thumper Galloway who introduced me to the darts scene in Virginia Beach when the real world intervened and my job dictated that I move away from my dart friends on the Cape.
Along the way, at the line, I have met and become friends — even if just for the duration of a game or for a few minutes' conversation about our shared love of the sport — with countless others. Recreational darters. Professionals. Promoters. Pub owners. In mentioning but some of the names here, a few that I have "met" only by e-mail, I am overlooking the majority of these very special people — the true spirits of our sport, so many of whom have become the subjects of my stories. For this, please accept my apologies. If we've crossed paths, you know who you are. Without all of you, Dartoid's World simply would not exist.
That said, I am so grateful for the good times spent with (not necessarily in perfect alphabetical order):
Abdul, Michael Abboud, Scott "The Terminator" Agnoli, Dick Allix, Mark Amirault, Animal, Marshall and Gordon Baker, Buddy Barlotetta, Luke Barritt, Andrew Barritt, Bob Bates, Mark Beckett, Chris and Linda Bender, Benedikt Benediktsson, Kevin Berlyn, Rudy Berrara, Darrell and Doreen Berry, CrissiBerry, Bob Bettis, Frank Bilotta, Keith Blackmer, Ang Bok, Sharon Borgeson, Brian Borgeson, Ron Boucher, Holly Boynton, Mike Brabhan, Ben Bressler,Stacy Bromberg, John Brown, Steve Brown, Michael Bundschu, Paula Burdelsky, Kevin Burdelsky, Lorenzo Capellini, Harry Carbraint, Dan Carroll, Jim Carsner, Roger Carter, Ray Carver, Roy Chad, Helen Chalson, MaryJo Chesney, Choi, Emma Clark, Paul Clawson, Michelle Clegg, Steve and Suzanne Cochrane, Hal Coleman, Nancy Coley, Florence Collins, Chris "Butterbean" Compton, Clifford Cook, Mary Cook, Scott Cook, Steve Corbitt, Mike and Nina Corcoran, Bruce "Brewsky" Cotrell, Kaem Coughlin, Tommy Cox, Tim "Crow" Cronian, Mike Cronlotac, Derek Culp, Mike and Patty Curran, Patrick Daley, all the guys at "Dartsteel" (including, especially, the BIG DUMMY DON), Don Davis, John DeHart, Paula Delp, Lisa DeNault, Steve Dennis, Tina DiGregorio, Angelo Dimalanta, Mike DiPietro, Howie "Big Dog" Dircks, Al Dorn, Brian Dougherty, David Dowling, Curtis Ducello, Rich Dumas, Sonny Durango, Robert Dysangco, Jimmy and Jacque Eagan, Brenda Easter, Ed Edwards, Joe Edwards, Jim Eisenhardt, Bob Elliot, Jason Ellis, Craig Ephraim, Butch and Moon Emerick, Chris Erner, Robbie Eshelman, Deb Eskin, Heather Farrell, Jerry Feather, James Ferguson, Russ Fill, Dorothy Filley, Al Fitzpatrick, Kay Flatten, Tom and Della Fleetwood, Sonny Flohr, Charlie Forrester, Ray and Rhonda Fournier, Charlie Forrester, Al Fredericks, Robert Frey, "Fried" Phil Fried from Brooklyn, Joe Futima, Bob Gargan, Amy Gartell, Bruce Gerber, Ken Gerber, Ron Godsky, John Grover, Dave Hall, Rich Hansberg, Bob "Big Daddy" Hanson, Joel "Bones" Hanson, Mike Harris, Ryan the Hawaiian, Catherine Haycock, Karl Heinz, Bob Hellemon, Hannu Helo, Robbie "Hood" Hickerson, Dale Hofstetter, Ashley Holgate, Robert Holmes, Randy Holmes, Jeremy Houghton, Kevin Hunt, St. Ledger and Dot Hunt, Osmo Huplis, Carl Indest, Jerry "Jay" Jackson, John Jarrard, Jason Jarvis, Jieb, Mervyn Johnson, Chad Johnson, Blaine Karst, Phil Kealaluhi, Dave Kelly, Danica Kelso, Jeff "Chedder" Kennedy, Mike Kenny, Gwen Kettler, Taleem Muhammed Khan, Kimmy, Ed Konstanty, Tom Kovach, Don "Kermit" Kreiner, Lee Min Kyu, Adriane Kufta, Ken Lacombe, Mark Lacombe, Larry Lambertson, Bob Lanctot, Jerry Lanuzza, Dan "Cujo" Lauby, Chris "Lawntracker" Launzinger, Richard Lawrence, Cliff Lazerenko, Brett Lenninger, Jaan Lepp, Don Leslie, Carlos Leute, Deb Lewis, George "Truman" Lewis, Fanta Lillian, Paul Lim, Bill Lindner, Chris Linkous, Frances Llanes, Laura Lobiando, Marcia Loche, Duane Loftus, Danilo and Astrid LoIancono, Joe "Mr. Darts" Lopes, John Lowe, Jennifer Luke, Tim Mace, Finn Madsen, Chris "The Lady" Magee, Jack Magullian, Larry Maleszewski, Alan Mandaville, Nilmini Manine, "New Wave" Dave Marienthal, Carolyn Mars, Bruce and Sandi Marshal, Tom Martens, Luis Martinez, "Bear" Masters, Gary Mawson, Brian McCabe, Billy McClish, Charlie McDivitt, John McGregor, Dot McLeod, Jerry McVeigh, Andy Mead, Laurett Meddis, David Medina, Shane Meeks, Finn Melchior, Charles Menezes, Gina Miller, Larry Miller, Stanley Mires, Patty Nicoll, Nopphawan, Johann North, Steve Oberti, Jeff Olsen, Keith (and Nicole) Olsen, Deb Parker, Ronnie Parsons, Jeff Pickup, Ville Pitkalahti, Jim Poliquin, Danny Polulak, Krista Polulak, Mr. Poopypants, Mr. Pootywinkle, Marylin and Marshall Popp, Susan Prince, Ben Puglisi, GrizQuiel, Bob Quigley, Quyuh, Bob "Racecar" Race, Amy Ramser, Kirk Reddell, Janet Redenius, Woody Reese, Steve Reid, Glenn Remick, Steve and Connie Repass, Dave and Karen Reynolds (and their well-endowed daughters), Cindy Roe, Tee Ruelman, Diane Rutkowski, Jacek Ryll, Rudy "Rude Dog" Sabastian, Phil Sagar, Ma Man-Yuk Sam, Ravi Sandiran, Lenny Sanger, Doug Scanlon, John and Sarah Scarth, Deiter Schutsch, Greg Schwarzbach, Scooter, Fred Sedore, Jak Severson, George Sharpe, John "Shep" Sheperd, Shotgun, Sven Silow, Roland Singer, Mike and Ginny Smith, Mike "Smoke" Smolka, Richard Sobol, Gabe Soler, Bob Soto, Malcolm Spicer, Spike and Libby, Kevin Spillan, Henry Standridge, Stacey Stanich, Tom Stewart, Nick Steenstra, Linda Stockman, Dayton Strawbridge, Daryl Sutherland, Crissi Sweeny, Takeshi, Tanika, Boyd Taylor, Brian Taylor, Marylin Taylor, John Terry, Wes Thomas, Billy G.Thompson, Philip Thompson, Scott "Lucky Bet" Thompson, Kevin Thorsteinson, Roger Tickner, Christina Tilly, Craig Tomlinson, Joe Tu, Jerome Turner, Jerry Umberger, Suzana Vaccaro, Ken Ver Duin, Gerald and Lori Verrier, Ricardo Vieira, Paul Villavicencio, Fred Walker, Keith Wall, Scott Wallaston, Chuck and Mary Walling, Watcharakiti, Aaron Watson, Jason and Chris Webb, Brad Wethington, Jim Whiting, Jim Widmayer, Wade Wilcox, M.J. Wilson, Charles Wing, Cecil Winstead, Ace Wong, Chun Sang Wong, Dennis "Guyser" Yeshimura and Bryan Zepp.
And finally (almost) my appreciation goes out to that handful of people who actually have taken the time to try to improve my game. Ian Collett (and his wife Carol), who taught me about dominant eye, and who destroyed my game. John Part who showed me that dropping my shoulder would pull my elbow into position, and who destroyed my game. Dave "Buddah" Fasnacht, who convinced me to switch from a three-finger to a four-finger grip, and who destroyed my game. And, last but not least, the inimitable late Bucky Bakalac, who coached me on the stress relieving qualities of aiming fluids, and who destroyed my liver.
I say "almost finally" because I truly do owe the greatest debt of all to my wife, Marylou. During our twenty-plus years of marriage she's put up with one hell of a lot from me, and much of it has related directly to my love of the sport of darts. So, Marylou, I love you to death and I would give it all up in a moment if only you were to ask me to do so.
At least for a night or two.
From the Field,
Dartoid
The following two tabs change content below.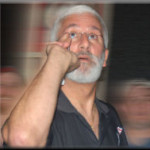 Author of the column that since 1995 has been featured by Bull's Eye News, the American Darts Organization's (ADO) Double Eagle and numerous other darts publications and websites around the globe.