Column #73 Durban, South Africa
June 1, 1999
Column 73
Durban, South Africa
If you're a hot enough shot to be representing one of the thirty or forty countries that will converge in the capital of KuaZula-Natal — Durban, South Africa — this October for the prestigious World Cup, then you're in luck. I've been there. I can help you pack. I can help you survive.
Preparing to throw darts in Africa is different than tossing a few t-shirts and all you can afford to feed the slot machines into a bag to hit the North American Open. The Vegas showgirls may carry around some pretty pointy objects but, unlike the natives in KwaZulu-Natal, they don't go grocery shopping with spears.
Okay, not really — or at least not lately — but, still, there are a handful of items that my friend, David Barritt, suggested I collect up the first time I was packing to step on African soil.
"First, of course," he advised, "you've absolutely gotta bring a couple of pints of blood — you might even be able to get it freeze dried." Then he told me a story about the time he was attacked in a hotel elevator by a lion, two rhinos and some girl with a bone in her nose.
"A snake bite kit is also a must. Black mombas are everywhere and they'll take you out in a millisecond if you're not vigilant about carrying a vile of anti-venom in your pocket." Then he told me a story about the time one of these deadliest of the world's vipers lept out of a toilet and tried to bite his wife Leslie on the butt. Another time one of these killer snakes chased her out of a jewelry story and across the entire concourse of a fancy shopping mall. "Actually, I owe that snake a debt of gratitude," David said. "There's no telling how much that woman might have spent."
"Last, and this is particularly important, forget the malaria pills — especially Larium. It'll make you hallucinate. What you must bring is an elephant gun. The mossies in Durbs (translation: the mosquitoes in Durban) are as big as buffalo. You're gonna need protection."
Once packed, the next task is getting to Durban. From where I live in Norfolk, Virginia the series of flights, layovers and connecting flights add up to approximately the same amount of time it takes to watch Air Bud sixteen times. The really bad news is that if you take South African Airlines you'll actually have the opportunity to do this. The good news is that when you finally make it to Durban you'll be able to toss darts with your nose.
In a phrase, KuaZula-Natal is a "world in a province". Game reserves containing the Big Five — elephant, rhino, lion, buffalo and leopard — are found in the north. The majestic Drakensberg Mountain Range, often compared in terms of scenic beauty to Switzerland and, according to Voortrekker lore, home to fire breathing dragons high up in the impenetrable crags, is just to the west. South of the city you'll find wild subtropical flora and some of the most pristine stretches of beach on the planet.
Poised in the center of this exotic wonderland, set aside the gently rolling waves of the Indian Ocean, is Durban. It's a city which merges perfectly with the rustic simplicity of Africa and the modern sophistication of an international business center. And in the heart of it all, along side Durban Bay, host to the busiest port in Africa, is the Durban Exhibition Center — site of World Cup XII.
The question I'm asked most frequently these days is whether travel to Africa is safe. Sandi Cain alone has raised the matter at least a half-dozen times. The answer is unequivocally "yes" and here are three reasons why:
A recent study commissioned by the Durban Metropolitan Council reconfirmed what has been well known in South Central Los Angeles for years and that is that it is "it virtually impossible to hit one's target if one uses a spear in a drive-by shooting".
According to the very respected KwaZula-Natal Medical Practitioners Board all hospitals in the province "should have transfusion equipment soon."
Even Steve Brown can run faster than most snakes.
Additionally, South Africa's head darts honcho and Chief Executive Officer of World Cup XII, Mervyn Johnson, told me he has "received the unconditional 'assurity' of the police and security agencies in Durban to support the event." Apparently he has also made special arrangements so Sandi can set up a booth outside of the tournament hall and offer anti-venom and elephant guns for a small charge.
After you get knocked out of the tournament and load yourself up with curios there is one stop you must make in Durban before repacking to watch Air Bud in reverse. Take at least one evening and check out Charlie Crofts Wharfside Diner (18 Boatman's Road) on Maydon Wharf. Set on the Bay of Natal, just a five minute taxi ride from the Exhibition Center, Crofts is literally the only darts pub in town. Conrad, the bartender there, claims the place has the best seafood in town. I wouldn't know (though the prego rolls were pretty tasty).
What I do know is that Crofts is the home of pub darts in Durban. There are four boards. The bar sponsors a Luck of the Draw on Monday evenings. A 180 will get you a bottle of wine. A win will earn you a case of Namibian Windhoek Lager. And, at just 5.50 Rand (about 90 cents) a pint, even a defeat is worth the visit. According to Conrad, Crofts is contemplating all sorts of special activities during the World Cup.
In all seriousness, Durban is one of the truly beautiful cities of the world. And it is safe. Some 300,000 tourists visited last year alone and all but my friends David and Leslie made it home unscathed. David, hopelessly hooked on Larium, now spins his stories to himself from a padded room in the Psychiatric Ward of Durban General Hospital. And Leslie, poor girl, has been afraid to take a pee for months.
From the Field,
Dartoid
The following two tabs change content below.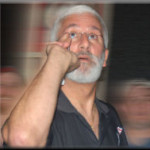 Author of the column that since 1995 has been featured by Bull's Eye News, the American Darts Organization's (ADO) Double Eagle and numerous other darts publications and websites around the globe.