Column #51 Los Angeles, California
June 1, 1998
Column 51
Los Angeles, California
If I had a dollar for every hour I've whiled away in airports –flipping through discarded issues of USA Today and ogling teenage girls as they jiggle their way through the terminal — I'd be only slightly richer than if I had a dollar for every third dart I've flipped into the number one or five (or two or three or seven) pie. In either event I'd have more than enough money to afford not to have to fly all over the world to make a buck. And I'd have saved more than enough time to afford the practice I so desperately need to get control over my arrows.
Today I am stranded in Los Angeles. LAX — the monster airport of the west coast. I've eaten a pizza. A chicken caesar salad. A burrito. I've downed three cokes. Two Budweisers. And I've flipped through USA Today at least a half-dozen times. Six hours ago, just moments before something went wrong with an obscure little valve on my plane, I was taxiing my way down the runway to Denver. It's now just past noon. I have to start thinking about lunch.
The good news is that my trip hasn't been a total disaster — and better yet, if you find yourself in a predicament such as I do now, your pass through Los Angeles needn't be a complete waste either.
As it happens, just a five minute taxi ride from the airport in Playa del Ray is a great little darts bar called the Prince o' Whales (335 Culver Blvd.). I helped close the place down last night. Odds are increasing that I'll repeat this exercise tonight.
Make no mistake about it, the Prince o' Whales is not a class joint. It's a dive. But it's my kind of dive. Six boards (including three which hang outside when the weather is right). Two bars. Thirteen televisions. And a shuffleboard set. All crammed into two rooms that, according to a frayed sign posted on the wall, hold a maximum capacity of 49 patrons. My guess is that the sign is just a relic from when the place first opened, sometime in the 1950's.
I wandered in during the middle of league play as the Prince o' Whales "Killer Whales" (formerly "Sperm Whales", but respectfully changed) were in the heat of battle against a team from Hollywood called "Kim's Shrimps" (or at least that's what one of the Whales called 'em). Both teams compete for the Southern California Darts Association (SCDA). For a while I watched. Sampled the beer. Read the menu. Ordered some steamed artichokes (only in California). Counted the trophies and plaques displayed around the perimeter. And waited. And waited some more. For more than two hours (the poet in me) waited to play in Playa del Ray.
It was just before midnight that I finally stepped to the line for some international do-or-die. And I was ready. Doubles 501. Myself and a Whale named Gordon for Team USA against two Filipinos called Butch and JoJo. JoJo was a veterinarian who eschewed traditional flights, preferring to gerry-rig his own from used x-ray film and staples. How could I lose to this?
Gordon and I win the cork. I throw up a fat six pack, not one dart even close to the triple. Butch pounds a 4T0. My partner Gordon matches my sixty. JoJo then pops another 4T0 with his staples and film. In six lightening fast darts and less then two minutes Team USA was looking down the barrel of a 160 point deficit. Jeez.
I manage a ton with my next three darts. Butch answers immediately with a sloppy, but effective 110 (triple 20, a slipped dart double bull and a bounceout), leaving just 111 for JoJo and his Philippine funny flights. At three and a half minutes into the game Gordon hits a 45 for Team USA. Not much help.
So JoJo ambles to the line, brushes back his hair, checks his staples. He bears down. Focuses. He sets. He strokes. And, damn, if he doesn't stick the triple 17 clean. JoJo fixes on the twenty. Set. Stroke. And again, right on target, JoJo's second dart slips in just a millimeter south of the bottom double-top wire.
The rest of course, is history. JoJo's final toss slid in just atop the spot he marked so perfectly with his second. In less than four minutes after winning the diddle, Gordon and I were seated back at the bar licking our wounds and sucking butter off of more artichoke leaves.
How can such a thing happen? I wait for hours to get a game. I play a guy who builds the tools of his trade out bits of trash. And I get toasted quicker than a fly in a microwave.
The truth is I just don't know how this happens. But it does. And it happens far too often — to me and to you. In fact, if I had a dollar for every time…
From the Field,
Dartoid
The following two tabs change content below.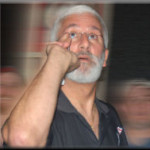 Author of the column that since 1995 has been featured by Bull's Eye News, the American Darts Organization's (ADO) Double Eagle and numerous other darts publications and websites around the globe.