Column #41 Cincinnati, Ohio
August 1, 1997
Column 41
Cincinnati, Ohio
Winston Churchill was absolutely right years ago when he described Cincinnati as the "most beautiful inland city in America". On the other hand, if any of the cities I've seen in England served as his frame of reference, this ain't saying much.
Nestled on the banks of the Ohio River, the Cincinnati skyline — particularly after dark — is about as sensational as it gets. At least this is how I found it (and its namesake, Skyline Chili) tonight as I wandered my way in and out of several of the city's better darts bars.
My first, and quickest, stop was at Fatcats Pub (2820 Vine). Here, good judgement prevailed, and I hopped back into my taxi about as quickly as I climbed out of it. The way I figure it, one of the owners of the half-dozen motorcycles prominently wedged between the street and the front door can someday write about what's to be found inside this joint. If there really are, as I was told, six boards and some serious competition to be found at Fatcats, you'll never be able to prove it by me. These guys can swig beer and stab each other just fine without my company.
I headed next to the safety of the Dog House Lounge (formerly Perky's) at 305 East Wyoming. I arrived too late for their Friday night Luck of the Draw (purported to be the best in town) but I arrived just in time to hook up with one of Cincinnati's better darters, touring pro Mike Kenny, Jr.
Mike introduced me around (to everybody but the blond playing pinball adjacent to the darts room). He filled me in on the history of the two major leagues in the area — the Darters of Cincinnati and the Southern Ohio Darters Association. In fact, Mike Kenny, Jr. was so thoroughly hospitable that my guess is it was a mere oversite that he forgot to explain why he has two first names.
We left Perky's together to check out the action, and to close out the night, at Murphy's Pub (2329 West Clifton) on the edge of the University of Cincinnati campus. Murphys is a friendly little college hangout. There's a busy bar up front with beer priced reasonably at two dollars a mug. Four boards and a couple of pool tables take up the rear. And mounted to the ceiling, above the two boards closest to the bar, is a television — which on this particular night was airing one the best examples I've seen yet of how thoroughly screwed up network sports programming is in America.
As Mike (with considerable precision) and a couple of his friends and I (with considerably less) moved our darts around the board, we were helpless to make sense of the exhilarated commentary which followed long-haired kids as they flung themselves from airplanes and then skateboarded their way through the clouds. England may have some ugly cities but at least the networks there understand the difference between what is sport and what is just plain stupid.
The only question that remains is when the suits in the American network boardrooms will figure this out. I have no doubt that they eventually will and when they do, I for one look forward to sitting back in my living room to watch pros like Mike Kenny, Jr. show them what they've been missing.
From the Field,
Dartoid
The following two tabs change content below.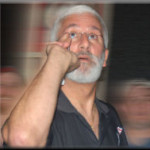 Author of the column that since 1995 has been featured by Bull's Eye News, the American Darts Organization's (ADO) Double Eagle and numerous other darts publications and websites around the globe.