Column #25 Chicago, Illinois
October 1, 1996
Column 25
Chicago, Illinois
I blew into the Windy City the other day, headed straight for what is arguably one of the best darts bars in the States, and got blown right back out… by a computer!
Now, I've probably whiled away more hours in more darts bars in more cities in more countries than most pros on the circuit. If you doubt this just give my wife a call.
From the Congo to Cleveland, I've literally spent years in search of the elusive Holy Grail — the perfect game in the perfect darts bar. And, of course, the perfect beer.
So I've got the credentials. And I can assure you that when it comes to standing at the line there ain't many places better to do it than Di's Den (5100 West Irving Park Road) in Chicago. It's without hesitation that I recommend this place to anyone who is looking for something better to do in Chicago than chomp a hotdog while the Cubs drop another game. In business ten years, Di's is a veritable darts Mecca!
The only thing more striking at Di's than its fifteen perfectly set up boards (apparently they didn't think they had enough so they bought the liquor store next door, smashed down the wall, and put up more) are the scores upon scores of plaques mounted all over the walls — testiment to the fact that when it comes to darts in Chicago, Di's teams are more than a force to be reckoned with. The place currently sponsors no less than thirty teams. League play runs straight through the week. There's a blind draw on Friday nights so out-of-towners can test the competition.
I dropped in on a Wednesday afternoon. Except for the bartender and some old drunk with a spectacular scar and one of those fancy pool cue cases (which was odd, since there's absolutely nothing but darts played in this place) the joint was empty. The smell of stale cigarette smoke still lingered from the night before. Several tables and a couple dozen plastic chairs haphazardly occupied the center of the room, remnants also of a long night of play just ended. It was quiet…
So my options were limited. I ordered a Budweiser and moved to one of the boards next to the bar. My competition today was to be a DartMaster III. Cricket. Professional level.
And what a mistake this was!
I pounded the twenties with my first three darts and punched in sixty points and one mark on the nineteens. DartMaster closed the twenties and the ninteens and chalked up fifty-seven. The rest is almost too humitiating to write about. DartMaster started hitting five and six marks a turn to my two or three. I was in a rumble with a piece of machinery and I was getting beaten up big time. Even the old guy at the bar had a laugh…
So again, my options were limited. I don't take crap from inanimate objects. Once when I was eight years old I kicked a Coke machine to death because the cardboard cup dropped down crooked. Coke squirted, ricocheted off the cup and spattered onto my pants.
So, really, what could I do? After all, I was in Chicago. If ever there was a town that ate creampuffs for lunch this is it. I just had no choice but to fight back…
I made an obscene gesture at the old man (kind of like the one Roseanne Barr made during the national anthem at Wrigley a few years ago) and started stabbing the DartMaster with my Hammerheads. I was stabbin' and jabbin' like a junkyard dog — even Leroy Brown would have been proud. DartMaster started to spark. My beer tumbled on the floor. The mug shattered. Time slowed. The old man stood up. He unzipped his leather case. He slipped out a machine gun. Capone!
Chicago. My kinda town.
Di's Den. My kinda darts bar.
From the Field,
Dartoid
The following two tabs change content below.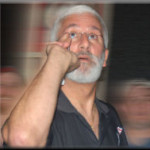 Author of the column that since 1995 has been featured by Bull's Eye News, the American Darts Organization's (ADO) Double Eagle and numerous other darts publications and websites around the globe.