Column #HR313 Scotland shocks Austria!  Austria shocks everyone!
Tuesday, September 14, 2021
Column HR313
Scotland shocks Austria!  Austria shocks everyone!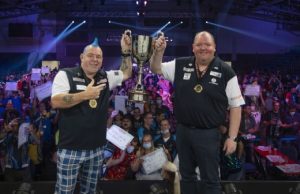 As the dawn breaks over the City of Entertainment the Old Dart Coach hopes that today's (well, actually, Sunday's) Cazoo World Dart Cup will enthuse the crowd.  To this point they have been as quiet as crowds at the Old Embassy where a church mouse's fart sounded like the canon in the 1812 Overture by Russian composer Pyotr Ilyich Tchaikovsky.
The ODC promised a buffet of glorious, delectable items for your consumptions.  Through Day Three it's been more like what's left for the last customer in the Golden Corral.  Sunday?  Tomahawk Steak, caviar and the finest of the brewery's art.
By the end of Day 3 what once was the choice 32 teams had been narrowed down to four.  The big darting fish, the seeded teams, devoured the small (save Austria).  It's the nature of things.  For 24-teams it'll be "wait until next year."  Four have a chance at glory.
"This is it," as Huey Lewis sang.   
Austria over #5 Northern Ireland – 2-1 
The first match out had more drama than even any Russian play could guarantee.  Austria, with Mensur Suljovic & Rowby-John Rodrigues, would take on #5 Northern Ireland.  Following the match, the announcing lady asked, "If you miss this match where were you?"  The Old Dart Coach answered, "in bed" as finals day kicked off at 4 a.m. Vegas time.  The singles split taking the match to the doubles.  Down 2-1, Austria came back to level at 2 and then 3 when Mensur Suljovic doubled.  In the decider Brendan Dolan missed 3 match darts.  Mensur Suljovic needed but 1 to erase 32 for the match then falling to his knees.
Singles One: Mensur Suljovic 3-4 over Brendan Dolan
Singles Two: Rowby-John Rodriguez 4-2 over Daryl Gurney
Doubles: Austria 4-3
#1England destroys #8 Germany – 2-0 
The crowd finally displayed a heartbeat rooting for the home guys.  In the first meeting between two ranked teams, England finally showed up.  Played brilliantly.  The England win sent Germany home which was probably a short bus ride.  Gabriel Clemens took the first leg off James Wade only to lose the next 4 on the trot, with a Wade 130- bull finish.  Dave Chisnall didn't yield a leg, whitewashing Max Hopp 4-0.
Singles One: James Wade 4-1 Gabriel Clemens
Singles Two: Dave Chisnall 4-0 Max Hopp
#2 Wales vs. #7Australia – 2-0 
There are times when despite the best efforts of the Dart God doesn't listen.  Simon Whitlock got blasted by Gerwyn Price 4-1 with a 123 finish.  The Dart God had given Simon more than a few signals of hope, which Simon ignored.  She, the Dart God, can be evil.  She stuck with the Aussies as Damon Heta faced Jonny Clayton.  She toyed with both as they entered the 7th leg tied a 3.  Heta got to a three-dart out when Clayton took out 144 – thank you.  A ferret (Jonny Clayton) can kill small animals, seems kangaroos too.
Singles One: Gerwyn Price 4-1 over Simon Whitlock
Singles Two: Jonny Clayton 4-3 over Damon Heta  
 #6 Scotland eliminated #3 Netherlands – 2-1
The shocker here was that Peter Wright sent John Henderson to play Michael van Gerwen in the opener.  The ODC agreed with Wayne Mardle that this strategy was stupid.  Wright is the best player in the world right now.  He'll play Dirk van Duijvenbode.  It appears that the idea was to hope for a singles spilt leading to the doubles.  Old saying: "Don't over think things."  Henderson had some memorable wins against MvG.  Not this time.  He was thrashed 4-1 with his only leg a Shanghai out (T20).  Wright was helped when, after taking the first leg, van Duijvenbode saw a dead center bull fall to the floor.  Peter Wright won the leg.  van Duijvenbode lost it.  Next trip to the oche, he tossed a T20 then went back to the bull.  The dart fell out again.  van Duijvenbode had a chance to put the Dutch guys up 2-nil but missed three.  That earned him a "Get your head out of your ass" from van Gerwen.  He never did as Michael van Gerwen played doubles on his own.  He lost 4-3.  John Henderson took out 64, waving bye-bye to Netherlands.  It's only the third time Netherlands hasn't reached the semifinals.  For Scotland it was the 4th time in 11 Cups.
Singles One: Michael van Gerwen 4-1 over John Henderson
Singles Two: Dirk van Duijvenbode 1-4 to Peter Wright
Doubles: Netherlands 3-4 to Scotland  
The semis
Austria ousts #1 England – 2-0
This was the first time that the pair of Mensur Suljovic and Rowby-John Rodriguez had gotten past the quarter finals in five previous partnerships.  There was nothing that could spoil their run.  Nothing could upstage Mensur Suljovic's performance in his match against James Wade (with the possible exception of "constant mindless yakking" of the Sky Sports' addition to the announcing team – Adam Smith, previously called a Jackass in this space).  Mensur Suljovic averaged 109.66 in the 4-1 romp.  Over the five legs Suljovic had 3-T80s and T-40s.
Rowby-John Rodriguez plays with a wry smile, as he should.  It's said that Dave Chisnall (by Wayne Mardle), plays up to his opponent.  Not this time.  Rowby-John lost the first leg, then rolled to 4 in a row for the win.  Rodriguez's 102+ average was built on outs of 109 and 128.
Singles One:  Mensur Suljovic 4-1 James Wade
Singles Two:  Rowby-John Rodriguez 4-1 Dave Chisnall
#6 Scotland skinned #2 Wales – 2-1
By many, Peter Wright is currently thought of as the best player on the planet.  While that's debatable his strategy of putting John Henderson first proved brilliant.  Henderson was a late addition to the team when Gary Anderson declined to travel.  The big fellow faced off against World Champion Dave Chisnall in Scotland's try to reach the finals for the second time in three years.  Henderson did his part in smart fashion 4-1.  A funny thing happened to Scotland on the way to the finals – Peter Wright up 2-1 against Jonny Clayton suddenly lost the "throwing darts thing" as his darts suddenly began to everywhere but where they should.  Down 3-2, Wright had a chance to level with 94 and failed.  Clayton didn't, winning 4-2.
The day started with a match going to finals just prophetic that it would end before the finals with doubles the decider.  It came down to one leg for the advancement.  Scotland took the first two thanks to "Hondo" John Henderson.  He collected 137 leaving 4 in leg 1 and a T80 in the second.  Then for no discernable reason Scotland got moved off the "boil" as Wales took three in a row which included an 11-dart leg for the third.  Scotland gathered their forces allowing Henderson to take out 36 as Wales waited on 40.
Singles One: Gerwyn Price 2-4 John Henderson
Singles Two: Jonny Clayton 4-2 Peter Wright
Doubles: Wales 3-4 to Scotland.  
The final
To quote Frank Sinatra, "and now the end is near" as Tears sings "Everybody Rules Wants to Rule the World."
The Final was played two best-of-seven leg 501 Singles matches, followed by a best-of-seven leg 501 Doubles match and then Reverse Singles matches, if needed.  First team to 3 to be declared the winner.
#6 Scotland squeezes by Austria – 3-1! 
The two stars of their teams, Mensur Suljovic and John Henderson, met in the first singles.  The pair traded legs with the darts to level at 1 – Henderson drawing level with an 11-darter).  Suljovic got the 2-1 lead when he took 160 out.  The Gentle Giant then rolled to a 4-1 win.  The second singles was about the same with a different result.  Peter Wright and Rowby-John Rodriguez were level at 1, when Wright took control.  Along the way Wright had 8-T40s and a T80.
Austria strolled to a 3-nil lead in the doubles when they faced a total collapse with Rowby-John Rodriguez wielding the wrecking ball.  He quiet simply ran out of gas with no filling station in the area.  Wright & Henderson didn't do anything spectacular except finish which is what always counts.   Austria missed 5 match darts.  With Scotland up 2-1 it was up to the Reverse Singles with Peter Wright against a bespectacled Mensur Suljovic.
Tension hung in the hall like the fog that comes over San Francisco every summer afternoon.  Both players were as nervous as a service girl in church.  Peter Wright held a 2-nil lead when Suljovic showed some life to gain a leg.  That was a wake-up call for Wright as he made 156 (60-60-2 x 18) go away, moving just one leg from the win and the World Cup Crown.
As the late Sid Waddell used to say of darts, "It's a funny old game.
Next leg up, Snake Bite missed 5-match darts.  This allowed Suljovic to steal a leg, forcing a 6th.   Wright didn't muck about – taking the leg and the World Cup.
Singles One: Mensur Suljovic 4-1 over John Henderson
Singles Two: Rowby-John Rodriguez 1-4 to Peter Wright
Doubles: Austria 3-4
Singles Three: Mensur Suljovic 2-4 to Peter Wright
The dawn has come and gone.  It's a new day as the Old Dart Coach relives the past 4 days.  He reflects on the memories of a PDC non-ranking event that wasn't about money (although the winning Scots will happily spilt £70,000 with Austria sharing £40,000).  Throughout this was about competing for your country.  Not once did a player use an opportunity to be anything but supportive and proud to represent their county.  All 64 players showed respect for their country and the event.
How proud darters players everywhere should be of those who represented them.  This was sport in the purest fashion which in today's culture is as an 8-dart 501.
Stay thirsty my friends.
The following two tabs change content below.

The one and only Howie Reed (the Old Dart Coach) goes back decades with the legends of our sport - he knows where the skeletons are buried. Just ask any of the ADO and WDF old-timers! His widely popular column, Toeing the Oche, is a must-read.

Latest posts by Howie Reed (see all)