Column #HR308 Colorful hair, pants, shoes, "Old Mo" and Snakebite GIT 'ER DONE!
Monday, July 26, 2021
Column HR308
Colorful hair, pants, shoes, "Old Mo" and Snakebite GIT 'ER DONE!
The Old Dart Coach could dine on crow, fava beans and a nice Chianti (not Pierazzuoli Chianti Montalbano Riserva 2015 – but on the brown bag stuff).  But still, his Matchplay predictions were right more than wrong.  He did pick the winner, Peter Wright, as did Wayne and Julia Miller.  Before the Matchplay started Wright said, "I'm going to win."  But then they all say that.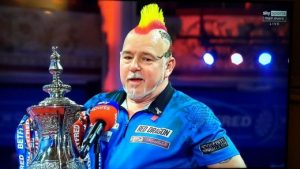 He did win, adding £150,000 to his bank account and lifting the Phil Taylor Trophy.  Overall, the play for all was subpar, except for Wright, for the most part.  This could be attributed to playing before a live and sometimes boisterous crowd for the first time in eons.
The ODC would be remiss if he didn't describe the crowd.  Here's a story that Dutch Darter Roland Scholten loves to hear from the ODC…
A man arrives for a holiday in the woods.  It's bear season.  Not a hunter, the man gets advice and a gun from an expert.  Once out, he sees and shoots.  The bear falls.  The man rushes up.  Not dead, the bear grabs the hunter, bends him over, pulls down his pants and has his way.
So, he hunter gets a bigger gun – and the next day it's the same.  He shoots, the bear falls and – and has his way.  The same thing happens again and again for five days…
The bear is shot and gets up and says, "You don't come here for the hunting, do you?"
Like the novice bear hunter, darts crowds don't always come for the darts.  A pint or three, funny costumes, singing and signs for the telly.  Best sign?  The one held up by a lady: "Bobby I won't be to work tomorrow."  In the other hand a pint of lager.
The ODC can't resist a little "Na, na" to the English.  Entering the semifinals there was nary an English player.  The ODC is obliged to repeat the totally gratuitous statement: "The English are great at inventing games, but they seem to have trouble playing them."
Rookie Callan Rydz's walk-on was more like a death walk.  His eyes were as big as the ODC's when he sees a Popeye's Chicken sandwich.  Rydz, a Jordy BMX rider, needed training wheels as the Polish Eagle, Krzysztof Ratajski, soared to an easy 16-8 win.
Gerwyn Price whined about the fans, calling for them to "respect (his) achievements."  The crowd yawned as Price and Van den Bergh were in sleep mode until leg 9.  Price took the leg, acting like a pratt, yet behind 6-3.  Energized by the boo's Price go to 8-7.  But he was discombobulated with 190 – he threw 180, the lost the leg.
The ODC was shocked – shocked I tell you that neither the commentators nor the crowd went bananas with the 180 to leave 10.  Van den Bergh ignored Price's antics and took the 16-9 win.
When Peter Wright did his little "dicky-do" dance across the stage he also did it to Michael Smith's hopes to move on.  Snakebite was sailing along 11-4 after a run of 7 but lost focus and dropped 3 in a row.  Smith's problems were with doubles – with numerous chances in double digit zone, with 3 he couldn't close.  At 13-7, after a break Wright added 3 more and it was "Hello, semi-finals."   
Can Michael van Gerwen vs. Nathan Aspinall be described in one word?  Yes, UGLY.
If doubles were the Pacific Ocean and these guys wer in Malibu with beach balls, they couldn't hit the water.  The pair combined for 25 doubles from 79 attempts.  MVG at 13-9 won legs of 12, 13 and 11 Darts for the 16-9 win.
Defending champion Dimitri Van den Bergh faced off against Krzysztof Ratajski and fell behind 4-1.  But still, Ratajski was under a lot of pressure on him.  The late Tommy Lasorda once said, "Pressure is when you try to do something that you've never done before."
In the 9th leg when Ratajski missed two to go up 7-2, losing the leg "Old Mo" deserted him for good.  Van den Berge went from 6-3 down to the 17-9 win.  Was van Den Bergh brilliant?  Hardly.  The Polish Eagle from 6-3, missed 18 darts at a doubles yielding 11 legs to Van den Bergh.  Van den Bergh advanced again to the finals – and should have thanked Ratajski.
Against Michael van Gerwen, Peter Wright started like a house on fire jumping to a 4-1 advantage.  van Gerwen maintained his ordinary performance.  Then it was Wright ahead 6-3 although van Gerwen had a chance to make it 5-4, but faltered.  The lead grew to 10-5 although MVG played his best of the week.  That showed.  MVG took 4 to narrow to 11-9.
With a break after every 5 Wright, during the break, changed his darts.   John Part joked, "That's his doubles shafts like a putter."  From there Wright went 6-1 including a 149-check and a 121 on the bull to win 17-9.
The ODC was shocked, yet again, that anyone would think Dimitri Van den Bergh could win his second Matchplay, joining Rod Harrington and Phil Taylor…
Wright had a record of 54-15 while Van den Bergh was 54-31.  The Belgium was in the final because Ratajski missed 18 doubles giving Van den Bergh 11 legs.
Wayne Mardle predicted a "great final."  It wasn't.  Only one finish over 100.  That came from van den Bergh when down (17-9) for 105.  It was workman like.  For this week, Peter was the Dartwright completely dominating a classic field.
Wright took the final 18-9 leading from the first dart 4-1, 10-5, 12-8, 17-9 and 18-9.  Van den Bergh scored well, a 100 average, but wasted 17 darts at doubles, yielding 4 legs.  Wright averaged 105.9.
For his efforts Van Den Bergh, soon to be a father, takes home £70,000 which bumps his Matchplay earnings in two trips to £220,000.
Wright had predicted his victory – an opinion that was countered by both Gary Anderson and Michael van Gerwen when they said, "He won't win."
Anderson was correct when he said, "I won't win."  He didn't.  van Gerwen had a chance to derail the Wright train but failed miserably.
Not enough is made of "Old Mo," aka "Old Momentum," in darts.  Wright had it from the get-go.  Whether it was the hair, the pants or the special shoes "Old Mo" and Wright got the job done.
Say thirsty my friends.
The following two tabs change content below.

The one and only Howie Reed (the Old Dart Coach) goes back decades with the legends of our sport - he knows where the skeletons are buried. Just ask any of the ADO and WDF old-timers! His widely popular column, Toeing the Oche, is a must-read.

Latest posts by Howie Reed (see all)