Column #HR278 Coronavirus and a Great White attack!
Wednesday, March 18, 2020
Column HR278
http://dartoidsworld.net/?p=5943&preview=trueCoronavirus and a Great White attack!
The edict came down from on high (translation: from the Most Honorable Editor) that the Old Dart Coach must prepare a darting column this week.  But the Most Honorable One had a ground rule…
"You may not mention the coronavirus or any boring stories about standing in line at your local market to stock up on Miller Genuine."
So, speaking of the coronavirus…
In 2017, Peter Wright captured the UK Open.  His critics didn't get "jiggy with it" as they claimed, "it was a weak field."  One would think those critics would have zipped it after Wright won the 2020 PDC World Championship earlier this year. Not a chance.
Now they are at it again as he's had a "supposedly" subpar Premier League.
After 6 weeks, Wright is tied with Michael Smith and Nathan Aspinall – each with 3-1 records. The league is topped by Glenn Durrant who was to face Wright this week in Newcastle.  Wright defeated Durrant at this year's UK Open.
The real question is: will the PDC fall into line and cancel Premier League play due to the coronavirus?
The answer is "yes," at least for this week.
The virus, now called a pandemic, has been masturbated by governments and the public to hysterical heights.  Already delayed is the March 25-26 Premier League twin in Rotterdarn. That postponement had no effect on the Netherlands' "wacky tobacky" coffee shops – they have been closed.
The PDC's European Tour visits to Leverkusen, Sindelfingen and Munich have been cancelled as has the opening 3 weekends of the PDC Asian Tour. The odds are better than even that the next two Asian events in Seoul and Kobe will also be cancelled.  To fill the gaps the PDC has added some Players Championships although the event scheduled for March 28-29 has been placed in File 13.
In the Colonies many states are limiting gatherings to less than 50 people which mean that only Joe Biden for President rallies qualify to be held.
Virginia Beach has been delayed from March 26-29 to October 15-18.
With the ADO still holding out hope that the Cleveland Extravaganza will run as scheduled on May 1-3 there is also hope that the ADO World Masters National Finals and ADO National Youth Championships will still be held in conjunction with "the mistake on the lake."
The WDF Americas Cup has been postponed from July.
Before the bans went into place the "Shark" storm warning flag was flying in Southern California as the players toed the oche in the 2nd Dart Players of Los Angeles event of the year.
Chris "The Great" White emerged victorious making it two wins on the trot and 4 in toto. (Editor's note: "in toto" refers to the number 2, not the musical group Toto which had hits with "Rosanna" and "Africa".)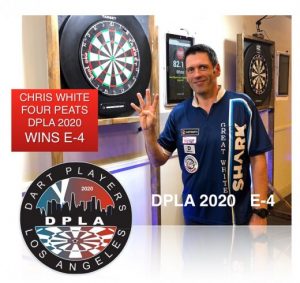 The UK Open had 159 players with 32 seeded who didn't step up until the 4th round. Of the total purse of £450,000 a whopping £100,000 went to the winner.
The ODC called this the first major of the year. He can do that. Two ladies were in the field, both losing early on – Lisa Ashton 2-6 to Mike De Decker and Fallon "The PDC Queen" Sherrock 6-1 to Kyle McKinstry.
Just as critics had clambered on about Peter Wright they also began to chant "van Gerwen is finished" as the Marvelous One hadn't won a tournament in 3 months.  The win came in a Players Championship against Gerwyn Price where he hit another 9-darter.
Critics seem to all be those of little knowledge, large egos and loud mouths many times exasperated by the Golden Elixir known as lager.
Michael van Gerwen opened a can of "whip ass" at the UK Open as he fled the field like an Englishman does the dentist.
Included with the can was a dose of 9-dart oil which he used like a beginner does the score of 26.  At the round of 32 van Gerwen took out the reigning UK Open Champion Nathan Aspinall 10-8, averaging 105.5 with the best yet to come.  (Aspinall would get a slight measure of revenge when he dusted van Gerwen 6-1 at the next Players Championship.  Aspinall would go on to win by dispatching Brendan Dolan 8-4.)
van Gerwen overcame his biggest challenge when he squeaked by Jason Lowe 10-9.  Following this win James Wade went quietly 10-4.  In the quarter finals van Gerwen sailed to a 10-4 win over Rob Cross averaging a sub-natural 111.
The semifinal was a romp in the park for van Gerwen when his can of "whip ass" was working perfectly – he laid an 11-3 spanking on Daryl Gurney.  During that match van Gerwen threw his second 9-darter of the UK Open.
The final didn't start out too well for van Gerwen as he fell behind Gerwyn Price 5-1. After opening with a T80-fueled 13-darter van Gerwen fell victim to Price's owning double tops with checks that included 105 and 97.
But when Price stalled on doubles van Gerwen would edge closer to 4-6.  van Gerwen followed a Price 13-darter by capitalizing on Price's misses to narrow the gap to one game at 6-7.
Price missed 6 doubles in the next two legs which gave van Gerwen the opportunity to lead for only the second time since opening 1-0.  At 8-7 van Gerwen used checks of 136 and 97 to move one leg from victory.
Down but not out, Price cashed in checks of 94 and 80 to level.
In the decider Price missed the bull for the win as van Gerwen "Houdinied" 66 for the win.
van Gerwen got off the 4-month "Snyder" by beating Price who was his title victim then. Heck of a deal.
For Price it was his second UK Open loss in 4 years. His other was in 2017 against the much-maligned Peter Wright.
Price, like many dart players, sometimes appears clueless. "Sometimes you win and sometimes you lose, but I'll move onto the next one. I think Michael would agree that I probably lost that game."  No, Gerwyn everyone agrees you lost. 
"I bombed numerous opportunities – my scoring game was there but in three or four legs I bombed doubles.  I could have been 9-6 up.  If I hit my doubles, I think possibly I am the best player in the world." 
"If my Aunt had cojones, I'd have another uncle," says the ODC.
Stay thirsty my friends.
The following two tabs change content below.

The one and only Howie Reed (the Old Dart Coach) goes back decades with the legends of our sport - he knows where the skeletons are buried. Just ask any of the ADO and WDF old-timers! His widely popular column, Toeing the Oche, is a must-read.

Latest posts by Howie Reed (see all)