Column #HR252 To all the ladies: Happy Valentine's Day!
Tuesday, February 12, 2019
Column HR252
To all the ladies: Happy Valentine's Day!
"Only a publicity stunt," said former darting great Dr. Linda Batten.  Whatever could she be talking about?  Was it the PDC's grand announcement that all Golden Elixir (aka "aiming fluid" – as if the folks in the silly costumes were aiming for an excuse for wearing same) during the World Championship would be served in recyclable cups thereby keeping fish from eating plastic?  Nay, nay.  "WB" was speaking of the PDC's decision to invite two women to compete in their 2018-2019 World Championships.
Of course, it was a publicity stunt.
So what?
It had the PC whack jobs doing the Snoopy Dance similar to what the Old Dart Coach does on Popeye's Tuesday or when receiving a two-for-the-price-of-one Burger King Whopper coupon.
Dr. Batten elaborated, "It is unfair when women must play against men."  The good professor continued, "There is an empirically underpinned conviction that there are physical reasons why women will never be as good as men in this sport."  It's hard to argue with the good doctor.  Truth be told it's darn near impossible, as the ODC knowns.  He has been stupid enough to try.  He was younger then.
One darts writer rather snarkily discounted Dr. Batten's claims.  Her theory makes less sense then "an ant climbing up a elephant's behind with sex on his mind." She wrote, "Completely unimpressed by Duffy's statements, many of the top female players (7) saw the offer by the PDC as a chance and took part in the qualifiers."  How does the writer know that Dr. Batten's statements were discounted? Maybe the ladies just happened to have £450 siting around and decided to test their mettle.
Of the seven ladies only one was able to advance through the 247 entries into the round of 16.  Lisa Ashton did it twice, losing both times 5-3.  The first loss came with a very respectable 93.5 average.  Her second 5-3 loss came with a woeful 79.1 average.  Does this prove that the ladies can't compete and win at the highest level against men?  The empirical evidence says "yes."
There was a time in the USA when tournaments had both an Open Singles and a Ladies Singles.  Sandy Reitan, Kathy Karpowich and Kathy Maloney routinely entered Open Singles and did fine.  Did they win? No, but they did cash.
One can argue that it was only a "publicity stunt" the day a Budweiser Super Bowl commercial suggests the reason to drink Bud is that it is wind brewed.
There's at least one darts writer who thinks that Gary Anderson's pulling out of the UK British Master was a "stunt."  One of the great "haters" writes, "The PDC Masters started tonight, and what a shock that Gary Anderson withdrew with a 'back injury'. Sure is some coincidence that every time Ando gets a fine or warning from the DRA he gets an injury."
Anderson continued his "publicity stunt" by pulling out of the Premier League with a "bad back" this year.
Anderson's UK slot was filled by Stephen "Family Guy" Bunting who advanced to the quarter-finals with a 10-9 victory over Darren Webster.  That match will never appear in any guide to "quality darts" (although it would be a good argument for the inclusion of the ladies).  The pair combined for 19 doubles from 81 opportunities which is less than 20%.  Too bad to be terrible.
"Magnificent" Michael van Gerwen went through the UK Masters field like a scythe does a field of wheat.  The commentators asked prior to his first match, "This is his first competition since the World Championships… will he be rusty?"  The answer was "no."  His first handfuls at the oche were T40, T80.  He started his next leg with two T80s.
MVG seemed as well- oiled as most of the crowd.  He would win his 5th UK Masters on the trot 11-5 over a resurgent James Wade.
Headlines for Toeing the Oche are written by most honorable editor.  The ODC almost never argues with the Most Honored One.  The last column headlined: "Miracle" Mikuru Suzuki (nearly) shocks Paul Lim!"  While that's true it's also probably true that when Suzuki-san wanted 56 with three darts in her hand to eliminate him she had his undivided attention.  Then when she got the 16 and wired the double tops and double 10 you can bet that Lim's eyes looked like those of New York Congressperson Alexandria "Occasionally Conscious."
Jackie DeShannon wrote and recorded Bette Davis Eyes in 1974.  It became a big hit in 1981 with Kim Carnes.  Carnes hasn't had a hit since.  Rumors abound (always watch out for bounding rumors) she has a new song in the works, a tribute to the Congressperson from New York.  It's called AOC Eyes.  The first verse goes…
Her hair's not Harlow gold
Her lips no sweet surprise
Her heart always cold
She's got Olive Oil's eyes.
The Premier League (Publicity Stunt or Paid Exhibition League) kicked off in Newcastle with local favorite Chris Dobey doing a one-off, replacing Gary Anderson.  Dobey had the locals hooting and hollering as he built a 5-1 lead against Mensur Suljovic including a 113-check in leg 1.  The dream of a home town victory ended with Suljovic winning 5 on the trot.  Suljovic was denied the clear victory when Dobby's last dart hit a D16 for the draw.  So, one could say, "Dobby defeats Suljovic 6-6. There are moral victories. Other scores were 7-5,7-4,7-4 and 6-6."
It's not a publicity stunt when the ODC celebrates a holiday…
To the Chinese here's 新年快乐 / 新年快樂.  The year 4716 of the "Brown Earth Pig."  He writes, "Gong Xi Fa Cai" (Mandarin) and "Gong Hey Fat Choy."
To Kiwis everywhere: Happy Waitangi Day.
To all the ladies of darts: a very happy Valentine's Day.  You stole the ODC's heart those many years ago.  A couple also stole his darts.
In the USA we awaited breathlessly for Punxsutawney Phil – he's a groundhog – to emerge from his hole on Gobbler's Knob.  If Phil doesn't see his shadow that means an early spring.  He didn't see his shadow but DID freeze his bottom off.
Stay thirsty my friends.
The following two tabs change content below.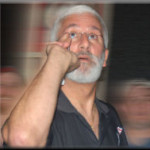 Author of the column that since 1995 has been featured by Bull's Eye News, the American Darts Organization's (ADO) Double Eagle and numerous other darts publications and websites around the globe.