Column #HR 371 "The Thrill of Victory… and the Agony of Defeat"
Wednesday, September 28, 2022
Column HR371
"The THrill of Victory… and the Agony of Defeat"
For any male in the 1960s, now as old as glass milk bottles, Saturday afternoons meant ABC's Wide World of Sports…
"Spanning the globe to bring you the constant variety of sports… the thrill of victory and the agony of defeat…" pronounced the late Jim McKay.
But NO darts!
"Toeing the Oche" spans the globe to bring the thrill of victory and the agony of defeat of darts…
…the Saltwater Classic in Myrtle Beach for fish, Belgium for pommes frites and beer and then Japan for sushi.  All in less than 1,200 words.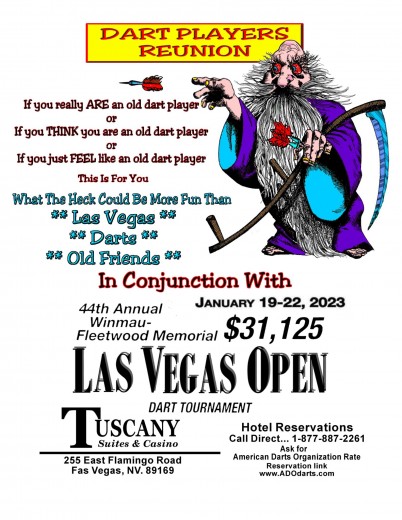 How do he do it?  Simply magic.
Speaking of being as "old as glass milk bottles" (and, for some geezers, the agony of "de feet") don't forget to spread the word about the Golden Age of Darters Reunion in Las Vegas in January…
The USSDA's National 501 Finals opened their Saltwater Classic.  Administrator Chuck Hudson is quoted as saying, 'We promote Cricket as it's an American game." (The ODC has pointed out that in other locations in the world – like Thailand – Cricket is referred to as Mickey Mouse.)
Alex Spellman went through the field like a woman with a credit card on Black Friday.  In the USA, Black Friday is the day after Thanksgiving – the busiest shopping day of the year.  Not all call it Black Friday.  An ODC female friend, a women of color, informed him, "We just call it 'Friday'".
Spellman took the title with a 6-3 win over Douglas Wade.  Spellman raced into a 4-nil lead but then Wade answered in 3.  At that point, Wade fell under the "Kotch" as Spellman used 18 and 15 darts for the "W".  Spellman's a 2-time winner joining Joe Efter, John Liggett and Leonard Gates as USSDA '01 champs.
For the 4th time Sandy Hudson will reign as USSDA '01 Champ.  Why not 5?  In 2019, she lost to eventual champion Paul Murphy in the semifinals.  That was directly after Hudson had knee surgery.  Hudson won 6-4 over Camilla Bunnel.
What follows a fish dinner in Myrtle Beach?  Pommes frites in Belgium where they were invented.  Why not "Belgium" fries?   WWI solders discovered this epicurean delight in Southern Belgium where people parlez-vous français.
The Belgian Darts Open is the last stop before the pros are reduced to "linguini spined sniveling hackers" as they face the double start of the World Grand Prix.  Poor babies.
It was apparent that Belgium Open fans were serious about darts, costumes, pommes frites and pints bought 6 at a time in a handy carry container.  There's a good chance that beer and pommes frites finish #1 and #2 in the rankings.
Local Kim Huybrechts made it to the third round, including a sinking of MvG 6-4, before losing to Adrian "Big Baby" Lewis 6-1.  Lewis, apparently in Witness Protection lately, showed up for a win.
Andrew Gilding reached the first round dispatching Simon Whitlock 6-5.  Dimitri Van den Bergh would leave the arena in the first round, losing to Andrew "Who?" Gilding 6-5.  Van den Bergh had been battling a medical problem common to many darters everywhere – rapid heartbeat and panic.  The panic attack struck during his 8-6 loss to Peter Wright in the German Open.  Missed doubles and triples will do that.
The 51-year-old Gilding never won a PDC event – a semi appearance in the UK Open (2015) his only finish of note.  He lost his tour card but won it back in 2021 on his third try.  Following Gilding's win over VdB, he then eliminated Martin Schindler 6-2 finding himself in his second semifinal against Jonny Clayton.  Clayton would lead 2-0 but Gilding moved ahead 4-3 and won 7-5.
His opponent in the finals would be "Paralysis by analysis" Dave Chisnall.  Chinsall's road to the finals included a 6-2 win over Jelle Klaasen, Nathan Aspinall 6-4, Jose de Sousa 6-2 and semifinal win over Danny Noppert 7-4.  Oh, by the way, the first leg against Noppert was in 9 darts (T80, T80 and 141 (t20, t19, d12).
With 8 on down all played in one setting there was a long pause between the semis and the final – therefore, more "watching fluid" for spectators.  Darters know enough "watching fluid" sometimes turns into "amour toujours," (aka Tonight for Sure).
Break music?  Phil Collins singing: 

I can feel it coming in the air tonight, oh Lord

I've been waiting for this moment for all my life, oh Lord

Can you feel it coming in the air tonight?  Oh Lord, oh Lord
Hope springs eternal.
Chisnall trailed Gilding 2-1.  Chizzy would take the lead for good at 3-2, at times 5-3 and 7-4, and the 8-6 win in 15 darts.
Some might think Gilding suffered the agony of defeat.  Others not so sure as £10,000 is good medicine.
One last note on the Belgium Open.  The PDC does a great job but for some reason their crew forgot to pack the "Kotch" and "Boil" as neither was mentioned.
And now.  How about some sushi (aka bait left after fishing)?
Japan hosted the PDC Asian Championships.  The prize was 4 semifinalists earning a trip to the World Championships – with the winner getting $15,000.
"The Living Legend", Paul Lim, won't be at the Ally Pally.  He lost in the round of 16 to Japan's Toru Suzuki 5-4 when his comeback fell short.  Lim came back from 3-nil down and 4-1 to level with a 12-darter and a T70 check.  In the decider Lim missed 3 from 52 and could only watch as Suzuki took out 74.
Suzuki would lose to Filipino Paolo Nebrida 6-3, who would join countryman Christian Perez in the final after Perez took the measure of another Filipino, Lourence Ilagan.  Perez trailed 5-3 after being level at 1, 2 and 3.  Perez shook off the "whips and jingles" taking three to move one from victory.  In the decider Perez used 12 darts to get to 48.  The "Ws & Js" returned as it took 12 darts to close for the win.
A note from PDC Asia Qualifier.  The first round-robin played on a steel tip automatic scoring machine with a Winmau PDC board but with the BDO logo.  On the second day the BDO logo was gone.  The third day: machine gone.
Sunday is the Celebration of Life for Craig Dusenberry (Dusie) from 2-4 pm at the Sandpiper Lounge in Laguna Beach.
Finally…
ABC's Wide World of Sports ran from 1961 to 1998.  When Jim McKay said "thrill of victory" the accompanying video was changed from time to time.  However, "The agony of defeat" always showed ski jumper Vinko Bogataj of Yugoslavia as he spectacularly crashed and survived.
Stay thirsty my friends.
The following two tabs change content below.

The one and only Howie Reed (the Old Dart Coach) goes back decades with the legends of our sport - he knows where the skeletons are buried. Just ask any of the ADO and WDF old-timers! His widely popular column, Toeing the Oche, is a must-read.

Latest posts by Howie Reed (see all)