Column # HR350 WORLD CUP SHOCKER!
Monday, June 20, 2022
Column HR350
WORLD CUP SHOCKER!
All teams but one have now been sent packing.  Men at Work sing "Down Under" as Australia's Damon Heta and Simon Whitlock receive their gold medals as PDC 2022 World Cup champion.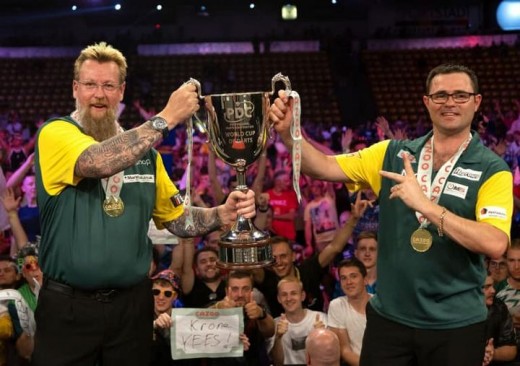 But first…
WHATS IN A NAME?
Good question!
People that live in Frankfurt, Germany, are called frankfurters.  In the USA they'd be called hot dogs.  World Cup winners – in any sport, any country – are called champions.  All hail the Aussies!
The wining team is splitting £70,000 – chump change for today's top professional dart players.  A suspicion is that at least one darter (Gary Anderson) couldn't be bothered to drop his fishing pole for that piddling amount.  Scotland went out without a fight.  Thanks Gary.
The ODC's choice was first on stage.  #3 Netherlands 2-1 over #6 Northern Ireland.  The betting public had them 4-1 favorites.  Betting folks are giving away money.  Daryl Gurney (NI) lost 2-4 to Danny Noppert (N).  Noppert broke in leg 5 after Gurney missed 3 from 16, then held in 15 darts for the win using a bull, 16 and d8 for the 4-2 victory.  A discombobulated Dirk van Duijvenbode (N) somehow beat "Roly Poly" Brendan Dolan (NI) 4-3 in a goofy match.  Down 1-3, van Duijvenbode missed 14 doubles despite arriving there first.  Twice he wanted T70.  The first time he tried and missed.  The second time he passed it up and lost.  Go figure.  After missing he finished T53 while Dolan was on 8, to level at 3.  Then, he pegged 94 for the win.
 #2 Wales 2-0 over #7 Germany.  You could write, should one like, that Wales put relish on the frankfurters.  During the "Hey baby" walk on, Gerwyn Price (W) wasn't smiling.  Then, he too took Martin Schindler (G) to the woodshed in just 7 minutes – 4-0.   It was spectacular in 15, 10, 12 and 14 darts.  Finishes of 120 and the Big Fish, T70.  Price averaged 117.88.  No drama with Jonny Clayton's (W) 4-2 win over Gabriel Clemens (G).
#5 Australia 2-1 over #5 Belgium.   The kangaroo's changed their singles order putting in Damon Heta (A) to face Dimitri Van den Bergh (B).  Heta had never lost to him (3-0).  He has now.  Van den Bergh broke in the 6th leg for the 4-2 win.  Simon Whitlock (A) started strong, and Kim Huybrechts (B) wilted like a flower in spring "Tra La".  With Huybrechts siting on 56 for the match Whitlock snatched victory from the hands of "De Feet" with a T70 out.  Whitlock would win 4-3 in 14 – taking 56 in 2.  Australia had not broken Belgium in 13 singles – but they broke in leg 1 of the doubles for a 4-0 win.  The "Wizard" was magic.  As Australia averaged 107.
#1 England 2-0 over #8 Scotland.  The champs went out winning just one singles leg.  Michael Smith (E) went 4-0 through "Rockin'" John Henderson (S) quicker than gas through trousers after a preacher's "Let's pray."  Smith averaged 91.09 as Henderson never reached a finish.  James Wade (E) looked to lose the first leg, then Peter Wright (S) missed 8 at a double.  This set the tone as Wade finally took out 40 in a mercy killing of a dreadful match for both. Wade 4-1.
The Semi-Finals:
#2 Wales 2-0 over #3 Netherlands to become the team into the finals.  Gerwyn Price (W) rook out UK Open winner Danny Noppert (N) 4-1.  It wasn't high scoring – Price, with 88.75.  But a higher average wasn't necessary – Noppert missed 7 to take the opening leg.  The Fat Lady sang.  Johnny Clayton (W) won 4-2 over Dirk van Duijvenbode (N).  Clayton, going first, held and then broke van Duijvenbode in the 6th leg for the win.  van Duijvenbode had no trouble holding in 11, 12 but lost in 18, 11, 16 and 16.   
#1 England lost 0-2 to #5 Australia.  On paper this should have been an easy win for England.  But matches aren't played on paper.  Aussie international Wayne Weening, who son, Let's Go Brandon, just scored a win in Australia, said "Simon Whitlock plays with passion."  Boy, did he!  He sent England packing with a 4-0 Snyder of James Wade – this after Michael Smith was on his way to a 4-1 win over Damon Heta with 72 left.  He busted giving Heta a chance for 3-2 which he took.  Smith went into a funk as Heta used 14 for 3-3, then used 16 darts for the 4-3 win – and Australia's place in the finals. 
Finals:  

#5 Australia 3-1 over #2 Wales.
Damon Heta (A) led off with a 4-0 win over Gerwyn Price (W) in less than 10 minutes.  Heta had some great approach shots.  T42 = 25, 109 = 32 and 74 = 32.  Simon Whitlock (A) stole the 5th leg break when he nailed the Shanghai (T20) to go up 3-2.  He took the decider as Clayton (W) allowed him 7 at tops. Whitlock missed 6.  Whitlock 4-2 over Johnny Clayton.
Australia was sailing along in the doubles 2-nil when Price changed course with three T18s and 162 followed by Clayton's 127, leaving 16 which Price hit putting them back in the match.  At 3-3, Whitlock missed d18 for the World Cup (as he did in 2012).
Clayton took d8.  Wales 4-3.
The first reverse had Heta cruising 3-1 against Johnny Clayton.  While Hera couldn't close 80 with 3, Clayton used 5 from 16 to edge back to 3-2 down.  Heta took control of what would be the final leg when T80, T30 left him on 71 which he took in 3 for the win, 4-2.
In 2012, Whitlock had darts to win the Cup.  He missed as Adrian Taylor hit double 4 for the Cup.  This World Cup Whitlock was magnificent – the entire week.
All Hail the Victors!
Stay thirsty my friends.
The following two tabs change content below.

The one and only Howie Reed (the Old Dart Coach) goes back decades with the legends of our sport - he knows where the skeletons are buried. Just ask any of the ADO and WDF old-timers! His widely popular column, Toeing the Oche, is a must-read.

Latest posts by Howie Reed (see all)