Column #HR327 Welcome back, geezers!
Tuesday, February 8, 2022
Column HR327
Welcome back, geezers!
In 1940, Thomas Wolfe's novel, You Can't Go Home Again, was published.   That premise was tested twice last week in the UK. The Old Dart Coach investigates.
Night one of the Premier League arrived in Cardiff, Wales, with locals Gerwyn Price and Jonny Clayton.
Clayton gave the home fans something to cheer about with a 6-2 skinning of Joe Cullen.  Cullen, newly crowned Master's champion, got buried by Clayton – having no answer for his 103+ average.  Cullen assisted, collecting only 2 finishes from 19 chances.
Price lost to James Wade 6-3.  Both would like to forget it as Wade took the opening leg in 24 darts, including 5 missed doubles.  Wade also won legs in 18, 18 and 16.  Ugly.
Clayton would reach the finals against Peter Wright.  Wright had dispatched Gary Anderson 6-5 then steamrolled Clayton with a 113 average and a 6-1 win.
Wolfe was half right.
The first ever World Senior's Championship returned home to the Circus Tavern.  It was a homecoming for players Mr. John Lowe, Bob Anderson, Phil Taylor, Peter Evison, Keith Deller, Alan Warriner-Little and Larry "The American Eagle" Butler.  They had all played in the first PDC World Championships in 1994 at the Circus.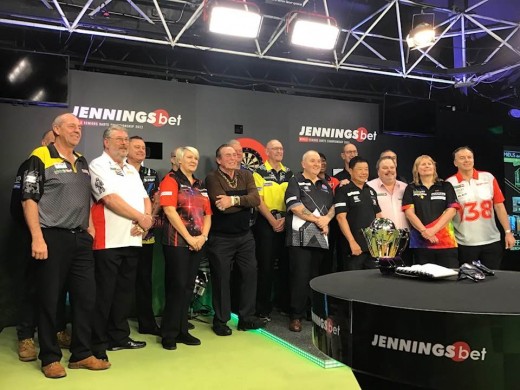 In that inaugural event Dennis Priestly defeated Phil Taylor 6-1, winning £16,000.  This would be Priestley's second World title having defeated Eric Barstow 6-nil in 1991.  Some time ago, when asked if he missed darts, Priestly, a man of few words, said "No."  He was a spectator when the crew reconvened.
The last PDC World Championship match held at the Circus Tavern was in 2007.  Raymond van Barneveld came from 0–3 down in sets defeating Phil Taylor, 7–6 after a sudden death leg.  Many people (weasel words) consider this match to be the greatest in the history of darts.  
In this instance Thomas Wolfe was full of beans – as not only did the seniors return home, so did the crowds.  In a shock to some (more weasel words) the crowd actually watched the darts as they cheered on their heroes.  This, as opposed to getting stupid drunk, dressing like clowns and singing off key.
Some dude on YouTube predicted that Tina Gulliver and Lisa Ashton would both do well as they were "tournament fit."  Gulliver lost 3 sets to nil, Ashton lost 3-1 and "The Queen" Deta Hedman lost to "One Dart" Peter Manley 3-1. To quote Sergeant Frank Drebin from Police Squad, "How about that Queen?"
Being a Colonist the Old Dart Coach was most interested in Paul Lim and Larry "The American Eagle" Butler…
Dave Prins would defeat Lim 3-1 in a quality match.  The first set was won in 15, 13 and 14 darts.  Lim would fall behind 0-2 but come back to gain a set (3-2).  Lim had a chance to extend but Prins would nail a 15-darter for the 3-1 win.  Prins would then advance to the round of 8 with a 3-0 Snyder of Mr. John Lowe.  Mr. Lowe never missed a double.  He never got to one.  Prins would succumb to finalist Robert Thorton 3-0.
Larry Butler would see some success after he took out Alan Warriner-Little 3-0 in 9 legs.  Against Keith Deller, Butler fell behind 0-1 only to move ahead 2-1 in a second set win that was ugly.  Ugly wins count.  Deller would level in 21, 23 and 18 darts.  They split the first 4 legs in the race to 4 when Butter moved within one of the win in 29 darts, averaging 51.83, with 15 darts needed for a double. The win would go to Butler when he built on a T80, T29 – taking out 25 with an average of 100.
Butler's match against Martin Adams in the quarters started off with the "American Eagle" soaring – taking the first set 3-0.  In set 2 Butler was up 2-1 when the wings fell off.  Adams put together legs of 14 and 15 to draw level.  Adams converted the next set as Butler would get only one shot at a double.  Adams would prevail 3-1 with the last leg being a 12-darter worth an average of 125.5.
Adams' 4-2 win over Terry Jenkins led to the finals.  He took 6 of the last 9 legs.
Scotland's Robert Thorton went through the field like "locus through a wheat field." He got to the final with nary a lost a set going 9-0.
Against Adams, Thorton opened a can of "WA" winning the first 12 of 15 legs for a 4-nil lead. Was Adams that bad?  No.  Thorton was that good.   After going 1-10 in legs, Adams took a leg in 10-darts.  That was only because Thorton missed double tops.
As is par for the course, everyone had an opinion of this first Senior's World Championship.  Most were negative, which is also par.
The Circus was chockablock full.  They came to see Phil Taylor, Mr. John Lowe and Bob Anderson.  Of the three, Taylor had the best result beating Peter Manley 3-1.  Taylor would lose in the quarter finals 3-0 to Kevin Painter who ended a string of 31 defeats against Taylor. Losing 31 in a row is "serving revenge really cold."   
Got to feel sorry for some of the past great darts players really struggling.  There's always "sorry" when a friend or idol struggles with a double.
But the thrill of seeing our friends back on the oche has little to do with scoring or doubles.  It's memories.  As Sally Kelly said when seeing the group photo, "Memories of the North American."
No doubt some tinkering will have to be done with the format.  The two gentlemen in the finals were still active in competitive darts, giving them an advantage.  They alone wouldn't have filled a phone booth.
Maybe change the age to 65 as todays 50 is yesterday's 35.  A really smart tournament in the USA would add an open senior's event as all us geezers still have the urge to at some point again be toeing the oche.
Thomas Wolfe is full of it.
You can go home again to be welcomed with open arms.  Maybe you are a little longer in the tooth, with a little less hair and an extra roll around the middle. We don't care.
In North America you made darts fun with your playing and friendship.  To quote John Sebastian, "Welcome back!"
Look forward to your next visit.
Stray thirsty my friends.
The following two tabs change content below.

The one and only Howie Reed (the Old Dart Coach) goes back decades with the legends of our sport - he knows where the skeletons are buried. Just ask any of the ADO and WDF old-timers! His widely popular column, Toeing the Oche, is a must-read.

Latest posts by Howie Reed (see all)