Column #497 There's some crazy shit goin' on in the world of darts!
Saturday, August 1, 2015
Column 497
There's some crazy shit goin' on in the world of darts!  
At the top of the list has to be the writings of British journalist Rebecca Tyrrel, who not long ago quoted yours truly in a story for The Independent: "Lady Gaga says she went trouser-less to help her gran make her out on TV". Even crazier than the fact she quoted a fool like me (or the knowledge that someone in the UK actually reads my drivel) is that the Dartoid's World column (Lady Gaga Column) she took her information from and believed was an April Fool's joke. I have never met Lady Gaga (although I have heard from many people she is dying to meet me).
Here are Tyrrel's words…
Who knew that Lady Gaga is mad for darts? The singer, songwriter, producer, dancer, actress, humanitarian activist, perfumier and Eric Bristow manquée is not one of those celeb bandwagon-jumpers who shows up at televised events because 'arrows' is the "new rock'n'roll". Stefani Germanotta is a keen player who recently joined the Californian darts league of her model-actor boyfriend, Taylor Kinney. Or Phil 'The Power' Taylor Kinney as he perhaps should be known.
Gaga is a lifelong player, she told a white, moustachioed, sixtysomething American blogger who calls himself Dartoid, during a trouser-less interview in which Gaga also explained that she appears like this in public because it helps "my grandmother, who is almost blind … make out the lighter parts of me when I'm on television. I'll continue to wear no pants so that my grandma can see me. Also, I think no pants is sexy. Don't you?"
Dartoid agreed, and after granting his request to touch his leg ("Holy frickin' crap!"), Gaga returned to the matter in hand. "I had a board in my room when I was a little girl. It wasn't a real board. The darts," she added over Jameson Irish whiskies in the Prince of Whales (sic) bar near Los Angeles airport, "were those plastic rubber thingies. I used to throw them when I was supposed to be doing homework." The two then unpacked their darts – "She had a nice set… 34Bs," observed Dartoid, confirming that the game still lags a little way behind mainstream neo-feminist thinking – and took to the oche.
With opening scores of 45 and 41, to Dartoid's 85 and 140, Gaga seemed not to be on the edge (the edge, the edge, the edge, the edge, the edge, the edge) of darting glory. However, eye-witness accounts from the darts league insist that "she took half of them down" – the other players, presumably, not her shorts – while Dartoid concluded that, "She's a decent shot, and a good sport".
Whatever is next for renaissance Gaga? Her controversial bra fashioned from two assault rifles, especially meaningful as Obama tackles gun control, could fire plastic rubber thingies when she takes on the three-times World Champion, Anastasia Dobromyslova. Failing that, there'll always be a place for a glamorous young woman who refuses to wear trousers as a darts walk-on girl beside the more conventional, obese brand of player. Grandma would be thrilled.
What could be crazier than this? I'll tell you what, Rebecca. Check out my column "Prince Charles to change his name to Caitlyn."
Here's something else crazy. I mean no disrespect to the leaders of governing body of steel-tip darts in America, but to send a team to the World Cup in Turkey is downright stupid. Although it took Stacy Bromberg's leadership in withdrawing her own name weeks before a final decision was made, the United States made the safe and smart decision not to send a team to the World Cup in Malaysia in 2001, following 911. The world is no less volatile today. Canada and the Philippines have already made the safe and smart decision not to send teams into a hotbed of terrorism this fall. The US should follow suit immediately. Yesterday.
Should wise minds prevail, the question then arises: How might the funds collected (reportedly some $12,000) to support the American team be utilized instead? Some have proposed a special North American competition between the American and Canadian World Cup Teams. Others have suggested using the funds to support youth darts. It seems reasonable to consider donating the funds to the Championship Darts Corporation – these guys are doing phenomenal things for darts in North America.
Sadly, I don't expect wise minds to prevail. I expect the American team will travel into harm's way. I hope not. But if they do, perhaps some of the funds might be used to supply each team member with a Kalashnikov.
There is one more crazy thing. Rain.
No doubt, you have heard about the recent Florida weather. During the past few days, the weather station in my back yard has recorded more than fourteen inches, and it's still pouring.
My home backs up to a preserve and a swamp. Just fifteen yards beyond where the grass meets the vegetation are alligators and snakes. Neighbors have been surprised to find alligators under their cars in their driveways in the morning. In nice weather I occasionally set up a board in the back to practice.
So a day or so ago, I said to my wife, "I'm thinking of throwing a few – how about you go out back and check for scary things." "Not a chance," she replied. "I'm smarter than to listen to you. You check it out. Do whatever you want. I won't expect to see you for dinner."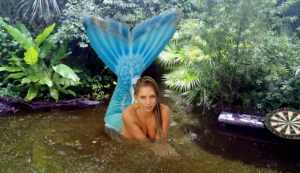 So I did…
I grabbed a board and headed out back.
I encountered no critters.
But, well, I haven't been back for dinner and…
…the hell with Lady Gaga.
From the Field, Dartoid
The following two tabs change content below.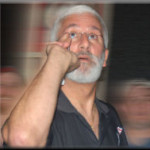 Author of the column that since 1995 has been featured by Bull's Eye News, the American Darts Organization's (ADO) Double Eagle and numerous other darts publications and websites around the globe.