Column #CM126 Thirty Years of World Matchplay – the Players from Great Britain
Sunday, July 22, 2023
Column CM126
Thirty Years of World Matchplay – the Players from Great Britain
When one looks at the World Matchplay winner's list the name Phil Taylor immediately catches the eye – it appears so often. Taylor won the event sixteen times, as often as he won the World Championship. It is unlikely that there will ever be another player who is so dominant for so many years.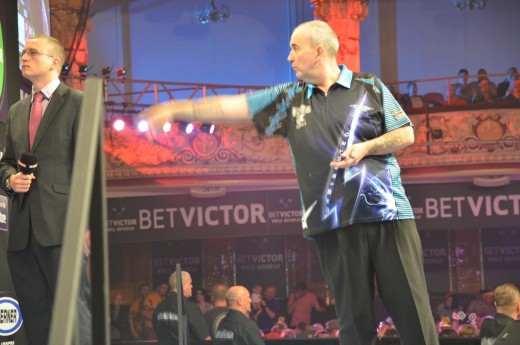 In the first year of the World Matchplay, Taylor was an unseeded player and lost in the second round to Bob Anderson. In both his matches he averaged under 100. He won the second World Matchplay – against Dennis Priestley with a 90.72 average in the final and had one average of 100.38 throughout the event. The following year it was Peter Evison who won the tournament. He eliminated Taylor in the second round. Evison played a good final and Priestley once again was left with nothing.
By 1997 Taylor had improved. In his first match he averaged of 113.43 and in the final – which he won against Alan Warriner – he played an average of 106.36. Nevertheless he couldn't defend his title in the following year and in 1998 Rod Harrington won the title against Ronnie Baxter who defeated Taylor in the semi-finals. The final was not a bad one – both players averaged close to 100.
Harrington managed to defend the title in 1999.  In the final he met Peter Manley in the who had defeated Taylor in the semis. It was far from a highlevel final but in some way reflected the level of most players of the time – both players had an average of just below 90.
In the following year, we saw a repeat of the 1997 final – Taylor again faced Alan Wartriner. Taylor averaged 100.32 (en route to the final he won matches with averahes of 101 and 102.  In this year there were the first 170 finishes as well – one from Alex Roy and one from American Steve Brown.
In 2002, Taylor improved even more – in addition to the final where he defeated Ritchie Burnett, averaging 100.32 to 97.14, Taylor averaged over 100 in three earlier matches. All in all, Taylor was unquestionably better than all other participants – he was the only one who managed to play consistently to averages of around 100.
The same thing happened in 2002 when Taylor defeated John Part in the final – Taylor impressed with averages of 100.86, 104.01, 112.17, 95.91 and 98.76. In this year, the first nine-darter in the history of the event was thrown – of course, by Taylor.  Keith Deller delighted the fans with an 170 finish.
The next two years Taylor won again – once against Wayne Mardle and once against Mark Dudbridge.
In 2005, Taylor lost in the quarterfinals to John Part who reached the final only to lose to Colin Lloyd.  Lloyd was in this year the strongest player. His average in the final was 102.57 and in one of his matches he threw a 170 finish as well.
In 2006, Taylor was defeated James Wade in the final.  Taylor again averaged over 100 while Wade was way back at 90.28. Besides Taylor, Andy Hamilton played the event at an over 100 average (but Hamilton planyed only a few years at that level).
Once again, in 2007 Taylor couldn't defend his title, losing to Terry Jenkins in the semi-finals. Jenkins met James Wade in the final and this time Wade prevailed. The number of players who were able to throw averages over 100 was increasing.  In 2007, Taylor was joined by Wade, Adrian Lewis and Raymond van Barneveld.
In 2008, Wade reached the final the third time but couldn't defend his title against Phil Taylor who had averages of 103.35, 109.70, 96.78, 105.59 and 109.46. Wade averaged over 100 in the semi-finals and the final. The only other over 100 average that year came from Mark Walsh in his first round match.
Taylor was similarly strong in 2009. He defended his title against Terry Jenkins and only averaged below 100 (with 97.19) once, in his first round match.  Only two players besides Taylor averaged more than 100 (and in only one match) – Mervyn King in the quarterfinals and Kevin Painter in first round.
In 2010, Taylor had improved even more.  He defended his title in the final against Raymond van Barneveld – it was a high-class final in which both players had averages of over 100.  Taylor's averaged 105.16 to van Barneveld's 100.11.  On his way into the final, in not a single match did Taylor average below 100.  He scored 114.99, 104.60, 103.31 and 103.46 – a performance which would be hard to exceed even now-a-days.  Raymond van Barneveld threw the second World Matchplay nine-darter.
In 2011, Taylor continued to compete on a high level – he averaged above 100 in all of his matches.  He defended his title in the final against James Wade again.  And we saw a third nine-darter – this time from John Part.
In 2012, we saw another Taylor vs. Wade final followed with the same results as the previous year – but Taylor was not on the same level.  This was the first year that Michael van Gerwen won two of his matches with averages of over 100.  While Taylor shone with two 170 finishes, Michael van Gerwen impressed with a nine-darter.  And Taylor was not the only one with a 170 finish – both Dave Chisnall and Joe Cullen threw one as well.  And besides Michael van Gerwen, Wes Newton produced a nine-darter too.
In 2013, Taylor defended his title against Adrian Lewis – and with Lewis and van Gerwen two more players capable of consistently producing 100-plus were now in the mix. In the final Taylor needed an 111.23 average to prevail.
In 2014, Michael van Gerwen reached the World Matchplay final for the first time, but Taylor was still able to deny him the win. We now also had Michael Smith and Gary Anderson in the tournament as well, both who were capable of regularly throwing averages of more than 100. Taylor threw his second World Matchplay nine-darter this year but one could already sense that his dominance was was waning.
In 2015, Taylor lost in the semi-finals to James Wade who was defeated in the final by Michael van Gerwen.  One year later Taylor and van Gerwen met for a second time in the final. Both had played a good tournament and for both a 98.72 average had been so far the lowest. van Gerwen managed to defend the title and many proclaimed the end of an era.
But Taylor had other plans – though he started to talk about his age, the strains of all the travelling, the long tournaments and about retirement.  He didn't intend to end his career with defeat…
…and was back in Blackpool in 2017. In the quarterfinals he eliminated Michael van Gerwen. In the semifianls he defeated Adrian Lewis and in the final he was just too much for Scotsman Peter Wright, the first Scotsman to ever reach the final of the tournament.
And to be sure, Taylor had the last laugh once again and won his 16th World Matchplay title.
Besides Taylor, James Wade was until 2015 the most successfull English player in the tournament. Although he only won it once he reached five more finals. After 2015, Wade never lived up to his earlier success.
Other winners from England included Rod Harrington in 1998 and 1999, Colin Lloyd in 2005 and Rob Cross in 2019. Cross has taken part in every World Matchplay since 2017 but his win in 2017 is, so far, his only success. In all other years he advanced no further than the second round.
Colin Lloyd's World Matchplay experience was quite similar.  Lloyd took part in the event for the first time in 2001.  Besides his win he only once reached the semi-finals (in 2002) – though he took part in the tournament until 2011.
Rod Harrington was among the participants at the first World Matchplay – where he reached the semi-finals.  Two years later, he stood in the quarterfinals before he left Blackpool, two years in row, as the champion.  In 2000, he once again reached the quarterfinal before he subsequently lost twice in the first round.  These were his last World Matchplay appearances.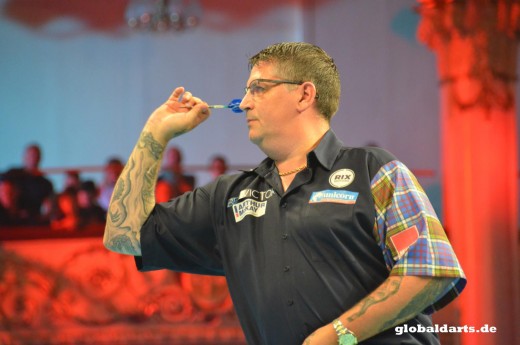 In 2018 – the first year following Phil Taylor's retirement – Gary Anderson became the first Scotsman to win the title. With the exception of the years 2006, 2007 and 2009 in each World Matchplay at least one Scotsman was among the participants. In the first year of the tournament (1994), two Scotsmen (Jamie Harvey and Jocky Wilson) stood at the oche and both reached the quarterfinals – and both returned the following year.  After that, it was only Harvey for many years – the last time he took part was in 2005. Only once in those years did another Scotsman join him – in 1997 Drew O'Neill qualified as well. Havey lost most of the times in the first or second round but in 2004 he stood in the quarterfinals.
Since 2009, Gary Anderson and Peter Wright have represented Scotland. They were joined over the years by Robert Thornton and later by John Henderson. Both Anderson (2018) and Wright (2021) won the tournament once. Anderson also reached the semi-finals in 2014 and 2016 and the final in 2020.  Besides reaching the final in 2017 (which he lost to Taylor) Wright played into the semi-finals in 2015 and 2018.
So far, we haven't seen a Welsh winner in the World Matchplay but since the first event in almost every year one or more Welshmen have been among the participants.  Most successful so far have been Richie Burnett and Gerwyn Price who both once reached the final.
Burnett was in 1997 the first Welshman to qualify for the tournament (together with Anthony Ridler) and in his first year reached the semi-finals.  In 2000, he reached his second semi-final and lost to Phil Taylor.  In 2001, he reached the final and again lost to Taylor.  In 2004, he took part again and was eliminated first round.
In 2005, it was Kelvin Painter who qualified for Wales, but he lost first round.  Painter was followed Barrie Bates who couldn't win a match either.  In 2010, Mark Webster qualified for the first time and reached the quarterfinals one year later.  In 2012 and 2014 Richie Burnett returned.  In 2015, besides the returning Webster, Gerwyn Price qualified for the first time and reached the quarterfinals.  Since then, Price has regularly been in Blackpool – and he was joined in 2018 by Jonny Clayton.  While Price lost in the 2020 final to Michael van Gerwen, Clayton so far has not been successful.
In the first World Matchplay in 1994, Tom Kirby was a participant from the Republic of Ireland – and he remained until 1996. To date, the only other player from the Republic of Ireland has been Steve Lennon who only qualified once in 2018.
There have been only two players from Northern Ireland in the tournament (util 2022) as well – Brendan Dolan and Daryl Gurney. Dolan qualified every year from 2012 to 2016 but never got further than the second round. He returned in 2020 – with similar results. Gurney qualified 2019 for the first time and has returned every year – in 2016 and this year he reached the quarterfinals.  Josh Rock, an up and coming player from Northern Ireland,  qualified in 2023 as well – but he lost first round.
One still can't predict who will win World Matchplay 2023 – this year's tournament has been full of upsets and surprises.  But what one can say for certain is that the winner will hail from Great Britain – as only three Englishman and one Welsh player have reached the semi-finals.
The following two tabs change content below.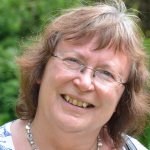 The founder of Global Darts, darts journalist Charis Mutschler hails from Marbach, near Stuttgart, Germany. A regular at most major PDC tournaments, a lover of literature, dance and music and cats, Charis' popular writings about darts and its players often transcend the usual. She brings something unique to the chroniclers of the sport we all love.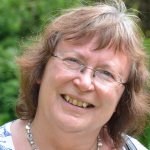 Latest posts by Charis Mutschler (see all)