Column #HR314 FALLON SURE ROCKS!
Thursday, September 23, 2021
Column HR314
FALLON SURE ROCKS!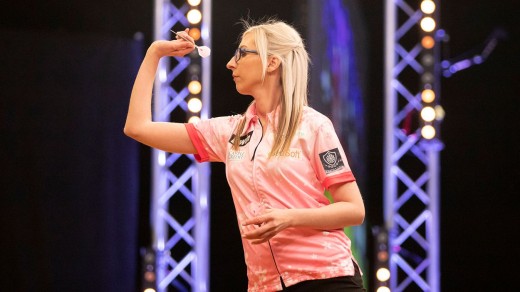 The Old Dart Coach's late mother, Irene Maud Reed, was want to say, "My God the Bridge!" when emotions flared, or the train went off the tracks.  Why she favored this saying has never been clarified.  She was born in London (England) and raised in Idaho.  (Idaho is the state that cancelled its Black beauty contest – as no one entered.  Apparently, no lady wanted to claim the title of "Ms. I da Ho.")
Today, the word that best describes the ODC's mother's exclamation would be "kerfuffle."
Presently, a kerfuffle is shaking the darting world to its very core.  It pits mother against son, wife against husband and steel against machine.  The furor is palpitating.  There hasn't been this much division since the length of the oche was changed.
The PDC presented one of its TV events meant to reward "selected" players with "some coin of the realm" and give the locals a chance to play against the pros.  The Viaplay Nordic Darts Masters was the "Oh, by the way" event that followed the World Cup.  The people of Copenhagen played host on Friday.
Fallon Sherrock enjoyed a winning return to PDC action on day one of the Viaplay Nordic Darts Masters, the only international World Series event prior to Jack's World Series of Darts in Amsterdam on October 29-31.  We now know where Jack is.
Eight pros faced 8 amateurs.  The wildcard pro invite went to Ms. Sherrock.  She took the measure of Denmark's Niels Heinsøe 6-1 in round 1.  Her large winning margin was assisted by Heinsøe's 11 missed doubles (11 from 12) with an average of 75.56, the lowest average of any match played in the event.  Just saying…
In the next round, Ms. Sherrock was to meet World Champion Gerwyn Price, but he withdrew, allegedly due to a "sore elbow." (The ODC suffered similar injuries during his long and illustrious career.  Many occurred after doing numerous 12 oz. curls at various watering holes.)
In the semis Ms. Sherrock faced Dimitri Van den Bergh who somehow beat Gary Anderson 10-8 to advance – both had 88+ averages.  This is the same "Dancing" Dimitri Van den Bergh who faded in recent World Cup play.
The ODC had the telly on but turned it off when Van den Bergh went up 8-2.  The ODC was "God Smacked" when he later read that Ms. Sherrock Fallon won 11-10.  She accomplished this with checks of 106 and 101 to force a 21st leg.  Sherrock opened a can of "WA" with a T80 finishing with 100.  Van den Bergh out averaged Sherrock with a magnificent 89.88 to 88.39.  In doubles he hit only 10 of 38.
Fallon Sherrock vs. Michael van Gerwen set up a marque final.  van Gerwen started fast, opening a 2-0 lead.  Sherrock took the next 6 of 8 building a nice 6-3 advantage, using only 13 or 14 darts.  That lead was narrowed to 6-5.  It was expanded to 7-5 when van Gerwen drew level in 13 & 24, after which he then rolled – winning 11-7.  This was van Gerwen's first win in almost a year.
As one might imagine, the match lit a Facebook and newspaper FIRE, described here as a "kerfuffle."
The tabloid press published, "When asked back in 2017 whether there will ever be a woman player who could compete with the top men players, van Gerwen simply replied: 'No.'  He was made to regret a 2017 tweet."  MvG did shed tears – but it was for a win that had been elusive this year.
"To win this means a lot to me and I'm very proud.  I've been through a really tough period, there was so much pressure on my shoulders.  I've had to wait a long time to win a trophy.  I can only give credit to Fallon for how she played.  She played a phenomenal tournament and I think she played one of the best games of her life in the final, and I had to find another gear."
Predictable "blah, blah, blah" from a Dutch gentleman saying the expected, much the same as race drivers mention their sponsors after a win.)
Now the rest…
"I'm all for equality but a lot of people praising Fallon to the hilt are sexist – if a man got to the final of a PDC event with an 88 average he would be slated."  That drew, "I have to disagree, on the basis that if anyone slates a FINALIST, due to their average, then they are just simply a bit of a numpty!"
Another asked the following, "What did she win to qualify for this event?  A tour card?  She got an invite."  Then, "Why not Lisa Ashton… who is actually a tour card holder?  Good for Fallon, but ya know."
Some words of reason were posted…
"If people want equality, she is not a man or woman she is a darts player."
"It's two great players playing against each other and the winner, yes, it might happen to be a woman, but it's not seen as 'a woman,' it's seen as a really good player."
Here, here.
This is much to do about nothing!
Ms. Sherrock got to the finals.  Period.  Full stop.  There are those who have downgraded MvG's performance saying, "Well, he beat a girl."
Stop it!
You can only beat those put in front of you which means averages are for the player that finishes second.  No one ever gave up a win because they played bad.
Tom and Bill went out bear hunting.  Tom was asked, "If there's a bear chasing you can outrun him?"  Tom's response, "Don't have to – just have to outrun Bill."
Michael van Gerwen told Live Darts, "Fallon, I think, is good for darts.  Of course, she still has got a lot to learn, but as long as she keeps listening to me, she will be great."  (Just a little Dutch humor which some will take as a slight at Ms. Fallon.  Shame on you.)
Sherrock is quoted as saying, "There are many other women.  You've got Lorraine [Winstanley], Ana (Anastasia Dobromyslova), Beau Greaves – all of them people.  Even Mikuru [Suzuki].  We can all beat the men."  (Yes, and an ant can have sex with an elephant – not often but maybe a one off.)
The ladies will have the chance to show their stuff when the 6-event, 2-day 2021 PDC Women's Series plays September 25-26 in Milton Keys, whose brother is still missing – he's called Lost Keys.
Seventy women have entered and two will win a trip to the William Hill World Championships.  The usual European suspects are listed: Lisa Ashton, Anastasia Dobromyslova, Trina Gulliver, Corrine Hammond, "The Queen" Deta Hedman, Vicky Pruim, Fallon Sherrock, Mikuru Suzuki and Lorraine Winstanley.  Missing are any North American players of note and there is no WDF #5 – the young Brit phenom Beau Greaves.
The WOK PDC will play this event like Eric Clapton does the guitar.
Stay thirsty my friends.
The following two tabs change content below.

The one and only Howie Reed (the Old Dart Coach) goes back decades with the legends of our sport - he knows where the skeletons are buried. Just ask any of the ADO and WDF old-timers! His widely popular column, Toeing the Oche, is a must-read.

Latest posts by Howie Reed (see all)