Column #HR295 Baggish Bags Big Baby!
Wednesday, December 23, 2020
Column HR295
Baggish Bags Big Baby
"I'll Be Home for Christmas" and "Chestnuts Roasting on an Open Fire" are the Old Dart Coach's two favorite Christmas songs – the latter written in the heat of a July day in Los Angeles by Mel Tormé.  The ODC sings it in the key of UGLY.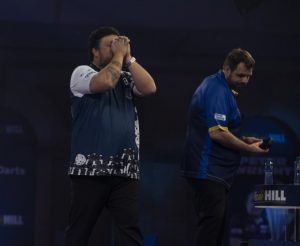 Danny Baggish won't be home for Christmas in Winter Haven, Florida after his stunning spanking of two-time world champion, the fading Adrian "Big Baby" Lewis, in the PDC World Championships.  It was a Christmas present for all those that toe the oche in North America.
The ODC resisted picking a winner in The William Hill World Darts Championship where the winner will pocket £500,000 with the runner-up garnering £200,000.  Not too "Chablis."  The total prize fund is £2,500,000.
But TV commentators, Wayne Mardle and John Part, boldly stepped forward.  That's their job.  Part favored Peter Wright while Mardle opted for Michael van Gerwen.  It should be noted here that all darts fans got a stocking stuffer when the PDC wisely paired these two for commentary.  They are the very best.
When Baggish took the stage against Lewis, London was in Tier 3 lockdown – meaning no fans.  Fake crowd noises exempt.  In Baggish's first win against Damon Heta (3-2) he needed nerves of steel coming from 0-2 down in the first set which he ended with 113-check.  If that wasn't drama, he held it together to survive 6 match darts.
There were 29 countries represented which caused some distress to a Eurocentric "darts writer."  His theory?  Euro is the world.  "Sorry Pal, that ship sailed."
First up, Brazilian Diogo Portela beat Steve Beaten (who was making his 30th appearance) 3-0.  Portela broke out in tears after the win.  Unfortunately, he lost next round to Glenn Durrant who came under fire from one of the ODC's biggest and most loyal fans.  Glenn Durrant sucking on his darts and then leaving them in the board when he went on break!  WOW, what a Douche Canal. 
Canadian Jeff Smith was convincing in his 3-1 win over Keane Berry.  Then Smith broke into an early 2-0 lead against #22 Chris Dobey.   As the ex often accused the ODC, Smith couldn't finish losing 3-2.  Notre Americano Danny Lauby played well enough to win but didn't falling 3-2 to Ryan Searle.  At one point Lauby wanted d7.  When a dart was embedded on the wire of the d7 the fake crowd went wild.  Some claim that "eruption" so discombobulated Lauby that he lost.  Chainsaw Joe disagrees.  I kinda disagree about the crowd noise.  Only because the crowd gets it wrong just as much.  They boo and cheer randomly.   
Before Baggish there was Singapore's gift to the world of darts, Paul Lim.  The official PDC scribe called his 3-2 win over Luke Humphries "astonishing."  Silly.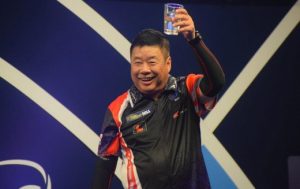 Nothing Paul Lim has done in the last 40 years should surprise those who know him.  In this 35th appearance Lim gave the young whippersnapper a dart lesson.  Humphries rapid throw is reminiscent of "Rocket" Ronnie Baxter.  Three darts faster than a serpent's tongue.  The throw works when everything is going well, not so when off.
Lim is a precision, deliberate and steady player.  Humphries got off to a 2-0 start in sets although
Lim's doubles were "wanting" in the first set.  In typical Lim fashion he had a talk with himself.  I kept telling myself to pressure him [Humphries] after losing the first set.  I dug deep and it paid off. 
The 7-T80's by Humphries were wasted when he missed doubles galore.  Those who know Lim, which is anyone whose played darts anywhere in the world, is aware of his sneaky humor.  Lim said, This is one for the old guys.  Looking down at the someone who laughed, Lim answered with a sparkle in his eyes, Not funny!  It was a win for "Old Timers" everywhere.
It was unfortunate that the PDC didn't see fit to have two of Lim's contemporary's, Part and Mardle, call the match.  Part, for instance, had paired with Lim on many occasions.  Instead, fans heard Stuart Pyke and Laura Turner who had nothing to add but, he's 66 years old and he's the Singapore Slinger.  He's more than that…
Part in a social media post wrote, As Dart Maple I have to say that Paul is my Yoda, now having played a World Championship match in five different decades.  My friend, my hero and inspiration.   
In Lim's next round match, he ran into the buzzsaw that was #9 in world, Dimitri Van den Bergh.  While many have had a bad year, Van den Berg had a good year with a Matchplay win over Gary Anderson.  Against Lim he was nearly perfect with an average of 105.61, doubling with 9 of 17.  Lim was perfect with 2 for 2 but his scoring lacked.
The headline blared: Adrian Lewis was sent crashing out of the William Hill World Championship.
To be accurate, Lewis has crashed lately more than Evel Knievel…
The cause of this crash was Yank Danny Baggish as he advanced 3-1 to the next round.  Baggish took it to the former champ winning the first two sets assisted by Lewis missing 15 doubles.  Lewis would gain a leg to narrow Baggish's lead to 2-1.  The fourth set was a glittering triumph for Baggish.  He tossed the first T70 out then followed it up with a 91 using the bull.  Lewis proved that you score for show but finish for dough as he was 6 for 28.
Baggish got it done.  People have written me off before both games, but I will keep showing it. 
Another world champion bit the dust on the same day.  2018 champion and 5th seed Rob Cross was taken out in dramatic fashion.  Matchplay runner-up, Netherlands' Dirk van Duijvenbode, did the deed 3-2.  They went to a deciding leg with Cross on a one dart finish.  van Duijvenbode needed 91 and took it out for a 12-darter.  Afterwards he said: No, I never practice but still play good.   That's a Christmas present every darter could use.
Whether at home or roasting chestnuts by an open fire the Old Dart Coash would like to wish one and all a Merry Christmas and Happy New Year.  Please take a moment to remember the darting fellows that left us this year: Terri Marcello, Katy Hopkins, Alan Glazier, Roger Crystal and DK (Dave Kelly) and those they left behind, Hoppy, Sally and Lori.  We miss you and thank you for what you gave to the game and us.
We'll not be thirsty as we look forward to seeing you next year.
The following two tabs change content below.

The one and only Howie Reed (the Old Dart Coach) goes back decades with the legends of our sport - he knows where the skeletons are buried. Just ask any of the ADO and WDF old-timers! His widely popular column, Toeing the Oche, is a must-read.

Latest posts by Howie Reed (see all)