Column #HR286 World Matchplay wrap-up – and more BLM!
Wednesday, July 27, 2020
Column HR286
World Matchplay wrap-up – and more BLM!
The Old Dart Coach fell off the soapbox last week.  Battered and bruised he's rejoining the fray…
Of course, darts has always required skill, predominantly hand-eye coordination, and stamina – when prodigious amounts of "aiming fluid" and "group tighter" are involved.
But nowadays in many quarters not as much skill is needed (certainly in the machine darts game) – the boards are friendlier; the doubles and triples are larger and the bullseye is the size of an elephant's rear.  Bristle boards have a thinner spider and no longer have staples.  Bounce outs are virtually nil.
World Matchplay Quarters
By quarter finals time most of the £700,000 Betfred World Matchplay tournament seeds had bid adieu to the Marshall Arena.  Six of the top eight had gone down "like the girl at Garfield's in Angeles City, Philippines."  Only Michael Smith (#5) and Gary Anderson (#8) remained.
The quarter finals meant the difference between £50,000 and £25,000 for the winner.  Ratajski, Whitlock, "Big Baby" Lewis, Durrant, van den Bergh and van der Voort all had slim pickens lately.
The methodical Krzysztof Ratajski from Poland dug himself a hole and was unable to take advantage of Michael Smith as Smith faltered, as he has want to do in crucial situations.  It was a contrast of styles.  Smith's delivery is smooth as pouring hot maple syrup.  Ratajski's is more akin to cold maple syrup.  With the same averages, Ratajski's 39.39% check rate just couldn't get the job done.  Smith got his head back into the game for the 16-13 win and a place in the finals.
Simon Whitlock was still basking in the spotlight after his hit job on Michael van Gerwen.  He got a cold dash of reality losing to Gary Anderson 16-12.  Anderson led all the way.  Whitlock got the "walk arounds" which Anderson took advantage of.  Off the oche Whitlock made news.  His knurled points tore up the board like puppies do to furniture when Mom and Dad are out of the house without permission.
Whitlock took to social media (which is often very unsociable).  "Getting bored about my points damaging boards.  The problem is the boards are too inconsistent – 'hard/soft/hard'.  Give me decent boards and I'll adopt my points to suit."
The ODC must agree with Wayne Mardle.  "No board would survive those barbed battering rams."  Note to Simone Whitlock: You arrogant Aussie jackass.  NODOR is a sponsor and you bad mouth them to feed your surely deflated ego.  Grow up.
Adrian Lewis showed up for his game sporting the grunge-ola look.  In early rounds it looked like maybe the two-time world champion might emerge from hibernation.  But Dimitri van den Bergh quickly built a 10-3 advantage.  After two breaks and maybe a good chat with himself, Lewis would grind the match to 12-8 before they split the next 8 giving van den Bergh the 16-12 win.
After Glenn Durrant beat Vincent van der Voort 18-16 (must win by 2 legs) Durrant said, "The better players lost tonight.  I was a beaten man.  I don't know how I won."  No truer words were ever spoken.  The comeback from 9-5 down was aided by some of the best choking seen on TV since the rerun of the Boston Strangler.  Van der Voort lost his bottle and acted like a horse's ass.
The Dutchman began to unravel when Durrant pulled 3 darts out of the board minus one of the points.  Caller/referee Kirk Bevin called for a change of boards (as he should have).
Then came the 22nd leg…
The unraveled Dutchman needed d18.  His first dart was high and his second inside, leaving 9.  In a fit of childish behavior, he tossed his third dart under-handed.
Referee Bevin called it a "no throw" (as he should have) causing van der Voort to reach the boiling point. He was still alive at 15-15 when his collapse was complete.
Walking off stage he pointed at Bevin as if he didn't play like a wally.  One comment found on the internet said of the Dutch: "They even make the French appear almost normal."
Semi-finals
The bookies called the Gary Anderson vs. Michael Smith semi match dead even.  It looked that way as Anderson led by 5 legs (8-3 and 14-9) on the way to 17.
In the race to 17 (must win by 2) Anderson held for 3-2 lead at the first break.  When Anderson was up 8-4, he missed checks of 161, 126 and tops which turned a possible 11-4 lead into 8-7.  Smith drew level at 9 and then at 14, 15 and 16.  Anderson then got on track with 2 on the trot for an 18-16 win.  The pair played 34 legs in 1 hour and 10 minutes.  This sent Anderson to his second Matchplay finals.  His last took him OT to beat Mensur Suljovic 21-19.
In the 2nd semi Dimitri van den Bergh built a 9-5 lead before Glen Durrant grabbed 3 on the trot to narrow to 9-8.  When Durrant missed d18 to level the young Belgian added 3 to take the match to 12-8.  Never out, Durrant won 5 of the next 6 to draw even, then led 14-13.  Shared legs put Durrant in the driver's seat at 15-14.  But making like Belgian bicycle great Eddie Merchx, van den Bergh sprinted out for the 17-15 win.
The final
Then on Sunday and for the first time since 2006 a player making his debut captured the Matchplay title.  Dimitri "the Dream Maker'" van den Bergh became two-time world champion Gary Anderson's nightmare – sending him down to defeat 18-10.  The win secured the Phil Taylor trophy and a £150,000 bank account boost for the gentleman from Antwerp.
The first "pause for the cause" break had Van den Bergh ahead 3-2.  Anderson seemed uncomfortable being unable to find a triple.  In an unusable move Anderson changed darts – something that only Peter Wright does during a match.  It might have helped as they were 5-5 at the next break.
Leg's 11-14 changed the course of the match.  First, Anderson pegged T30 for a 6-5 lead.  van den Burgh answered with a T70 to even it at 6.  They tied again at 7 in the 14th leg when the Belgium then took off.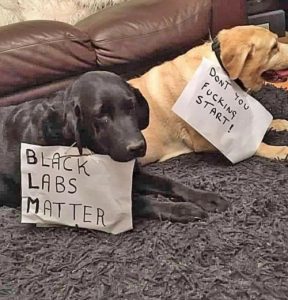 He would get to 10-7, then win 8 of the next 11 for the victory.  Anderson, usually known for scoring, couldn't and only once found a maximum.
Could this have been more than a replay of the 1990 Embassy World Championship when Phil Taylor unseated Eric Bristow for his first major win?  For Taylor, the rest is history.  Bristow would make the Embassy finals 4 of the next 5 years – but never win again.  Could it be a premonition?
Finally, the ODC was pleased to see the Sky Sports personalities wearing BLM pins.  It's about time.  For far too long black labs have been relegated as poor relatives of chocolate and yellow labs.
Stay thirsty my friends!
The following two tabs change content below.

The one and only Howie Reed (the Old Dart Coach) goes back decades with the legends of our sport - he knows where the skeletons are buried. Just ask any of the ADO and WDF old-timers! His widely popular column, Toeing the Oche, is a must-read.

Latest posts by Howie Reed (see all)