Column #HR234 Larry Butler – on the road to recovery and continued domination
Friday, June 29, 2018
Column HR234
Larry Butler – on the road to recovery and continued domination
North America has a history of world class dart players. The names Umberger, Kramer, Ney, Virachkul, Verrier (G), Payne, Holyoake, Part, Sinnaeve, Gopar, Lim (P), Ennis, Puccello, Daniels, McGinnis, Fischer, Heard, Kelly, Miller and Valleto are just a few on the male side of the ledger. Can't leave the ladies out with Maloney, Karpowich, Ferrell, Reitan, Verrier (L) and of course the late Stacy Bromberg.
On any list of great North American players the name of Larry Butler must be included. His accomplishments on the oche and longevity mark his talent as something special. He's unquestionably the most decorated dart player in North American history.
He secures a place in history for his relentless battles on the oche winning more than he lost. He never gave up. Now, a new more serious challenge awaits him. He must fight back from a devastating heart attack. On June 5th after returning from Germany where he represented the USA in the PDC World Cup XIII he went to the Soin Medical ER not feeling well. While there, luckily with a cardiologist in attendance, he suffered a massive heart attack. A stint was placed in one of two a blocked blood vessels. Moved to the Kettering Medical Center, a second stint was inserted via angioplasty into the other blocked blood vessel.
The right blocked blood vessel has kind of healed itself as the blood diverted around the blockage. Larry is currently in short term physical rehab for 5 to 15 days at the Kettering Medical Center. He asked for and got a dart board to assist in his recovery. In was in rehab for an injury that John Kramer, another North American great, was introduced to darts.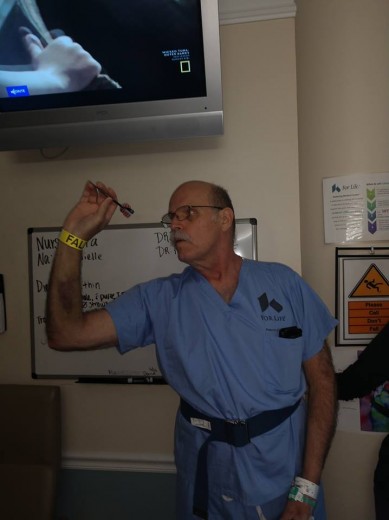 Down the road, possibly 6 months, Larry will require another stint. The doctors have indicated that "his heart is strong." Hell, anyone that played against him could attest to that. The road to recovery will be long and hard – the "American Bald Eagle's" greatest challenge. The late Jimmy Valvano once said, "Don't give up don't… never give up." Larry won't. He'll soar again to the heights over the North American world of darts.
Many on any future list of North America greats will gather in Las Vegas July 3-5 for the PDC North American Dart Championship and US Darts Masters. Back to defend his North American title will be Willard "The Chief" Bruguier who, to coin a phrase, was on the "warpath" last year. He'll be out to capture as many scalps as possible during the four qualifiers that lead up to the July 5th finals.
(Editor's note: The preceding came from what's left of the "golden elixir/aiming fluid" effected mind of the Old Dart Coach. Dartoid's World accepts no responsibility for his words or actions.)
The PDC has made some adjustments to the entry rules for this year's event. The cost remains at about $100 but players may enter each qualifier individually with no requirement to stay at the host hotel. Should a player wish to stay at the Mandalay Bay the cost for a room July 1-4 is $83 ($99 on July 5th). That cost does not include a $35 per day "resort fee" (for which you get "Sweet Fanny Adams"), $15 per day if you have a car and city tax of 13.38% per day which is a way to get el and la turista to pay for the stadium that will house the soon to be Las Vegas Raiders. Kind of gives you a warm feeling.
The winners of the four qualifiers and the top 4 in a "Table of Merit" will play for the North American Championships July 5th. There's no public viewing of the North American qualifiers. Anyone that does get in to watch had better be quiet or they'll be 86ed. The ODC, innocent for once, got tossed out for fraternizing with a very lovely English (maybe a little too loudly) lass last year. "You're bothering the players," they were told. Out in the hallway they got "dagger stares" from the "officials."
This year Toeing the Oche has enlisted the services of former USA International Russ Lopez to assist in bringing daily reports on the qualifiers. Tickets for the US Darts Masters, July 5-7, are available on an individual basis or via a season ticket. A season bleacher seat will cost $164.76 while a table seat is $199.50.
The PDC is sending a stellar field with the top 5 in the Order of Merit in attendance. They're led by #1 "Marvelous" Michael van Gerwen, then #2 Peter Wright, current world champion #3 Rob Cross, #4 Gary "Gary, Gary, Gary" Anderson and #5 Northern Ireland's Daryl "The Chin" Gurney. Rounding out the field are Gerwyn Price, Michael Smith and James Wade. A PDC all-star field up against North America's finest.
Chances of a North American player seeing day two? Slim and none and Slim's out of town.
As mentioned probably waaay too often the PDC is not afraid to try new approaches to darts. They tried a couple of approaches in North America with limited success. They have instituted various tours. The latest, begun in 2018, is the Asia Tour that invaded what was previously thought to be "soft point country" Japan. Two hundred players showed up in two events with each event paying $10,060 in prize money or a total of $20,120.
Now the PDC arrives in North America with 4 qualifiers for locals each paying $16,300 (it's the ODCs math which is sometimes sketchy at best) or $65,200 with an additional $25,000 up for the North American Champion. Every dart player knows that adds up to bull and double tops. Well kinda. The US Dart Masters has an additional $60,000.
The money made available by the PDC should entice every steel point player that whines, "We need to play a better format for better money." Here 'tiz. They'll either step up in significant numbers or the PDC will put the "release hold' on North America for good. In all honesty, the PDC does not need the North American players. The PDC could rename the US Dart Masters, bring 8 players to Las Vegas and sell out the house. A majority of their tickets go to overseas visitors anyway. North American players: it's put up or shut up time.
On the lighter side at a recent dart tournament the following conversation took place…
"What you got there?"
"A new set of "special" John Lowe World Champion Golden Signature darts. Got 'em for my wife."
"Great trade."
Stay thirsty my friends.
The following two tabs change content below.

The one and only Howie Reed (the Old Dart Coach) goes back decades with the legends of our sport - he knows where the skeletons are buried. Just ask any of the ADO and WDF old-timers! His widely popular column, Toeing the Oche, is a must-read.

Latest posts by Howie Reed (see all)