Column #416 The 2011 Soft Tip World Championship, Hong Kong
Thursday, July 14, 2011
Column 416
The 2011 Soft Tip World Championship, Hong Kong
For years Dartoid's World has made the case that the center of the darts universe has been shifting.
Now it has.
I have written that the Professional Darts Corporation (PDC) should wake up and smell the noodles, that it should take its act to Asia. It hasn't.
It's difficult to figure. There's good business to be had. Barry Hearn is a great businessman (and he has really nice hair).
Sure, there was a formal "event" a few years back – the Global Cup in 2004. A few of the PDC players traveled to China and stomped the best the Chinese had to offer pretty much back to the Ming Dynasty. But that's it. When China hosted the Shanghai International Darts Open in 2009 the only PDC players to make the trip were three-time world champion John Part and Gary Mawson. Perhaps that's when they began to see the light…
…that Paul Lim saw years ago and Ray Carver, John Kuczynski, Rob Heckman, Chris White, Scotty Burnett, Scott Kirchner and a few others have all seen clear as day and dollar signs.
I've bounced in and out of darts bars all over Asia for more than two decades. Unicorn has been selling product in the region for even longer. John Lowe, Eric Bristow and even Phil Taylor have made the rounds.
What is it that the PDC can't see?
A few years back I was introduced to a British guy by a friend of mine, Noel Li (once one of the top female players in the region). Go figure – I fly all the way to Hong Kong and the first player I have to face is from the Mother Country. I just can't shake these blokes.
Scott Mackenzie was actually born in Brazil – his mother is Japanese and his father is Scottish. For several years he lived in Essex. Then one day he began a trip around the world with his girlfriend, landed in Hong Kong and stayed. "It happens to a lot of expats," he told me. "I think it has to do with the warm weather, low taxes and thin girls… not necessarily in that order."
I lost track of Mackenzie until the 2011 PDC World Championship where I was not surprised to see him representing Hong Kong. After defeating Alex "Too Tall" Hon to win the world championship trip he drew Jyhan Artut from Germany in the preliminary rounds. Mackenzie missed two shots at double to win the match and lost 3-4.
As news recently began to spread about the 2011 Soft Tip World Championship and as my mailbox began to fill up with suggestions that I write about it, I noticed one of the messages was from Mackenzie – offering to write something for me. How great a deal is that! I don't have to do shit.
The good news is that besides knowing his darts Mackenzie used to work for Macmillan publishers and was then Chief Editor for a science and technology magazine. For a time he even wrote for a New Age-type magazine about crop circles and structures on the moon. A wise man, unlike me, he figured out that there was a much better living to be made working for a hedge fund which means, I guess, he heads a charity that raises money to protect hedgehogs.
So join me in welcoming Scott Mackenzie to Dartoid's World today and let him welcome you to the world of big time electronic darts in Asia and the soft tip world championship that is attracting so much attention including, it is rumored, even Phil Taylor's.
Yes, the center of the darts universe has shifted to Asia.
The 2011 Soft Tip World Championships, Hong Kong
by Scott Mackenzie
No, this isn't one of those annoying advertisements for Viagra. "Soft tips" are a modern high-tech version of the game of darts that's currently sweeping Hong Kong and the rest of Asia.
Apart from the obvious difference in the point of the dart (darts with plastic points are used instead of steel tipped darts) there are some other differences that many people aren't aware of, include the throwing distance – in soft tips it is a little longer (8 feet compared with 7 feet, 9.25 inches for steel tip matches).
So you may ask: Does size matter? Well, I remember Bobby George once saying after playing on a longer 8 foot oche, "Go ask your wife if three more inches make a difference!"
The target sections such as the treble and double are also a little larger, especially the bulls-eye, so usually people throw at the bull for scoring rather than triple 20. Scoring a 'hat trick' which is 3 darts at the bulls-eye, scores 150 points, no matter where on the bull you hit (as usually the outer and inner bull count the same in soft tips). A good analogy can be found in snooker versus pool (or billiards). If you're good at potting balls in snooker you will be good at potting balls in pool. And so it is with steel tip and soft tip, if you're good at steel you will likely be very good at soft. "Point in fact," pardon the pun, is three-time steel tip world champion John Part is now regarded as the "best soft tip player in the world." Previous to John, Paul Lim (famous for hitting the first televised 9-dart finish during a world championship, the then Embassy World Championship in 1990) was widely regarded as the best with the plastic tip.
Probably the biggest difference between the games is the noise. Soft tips are played on an electronic machine with a large flat screen TV. With modern technology players can have their own background themes, flashing lights and music – it's disco darts. The speakers are huge and personalized photos and images can be added to a player's background screens.
Comments can also be programmed to play at certain times during the match – Paul Lim has "That's Muscle Memory" announced every time he hits a hat trick. The best part of the technology (and maybe the reason over one million soft tip players are registered in Japan) is that via a personalized card inserted into the machine all data is recorded. Points per dart, three dart average, cricket average, high scores and win/ loss ratio actually only scratch the surface of what the machines can do. Since they can be connected via the Internet, not only can you play players in different bars and pubs down the road but you can play them internationally. I can be playing in Hong Kong versus someone in Japan or the USA and with the internal and external camera on the machine we can watch each other throwing. (This also negates cheating.)
I recently played in Stage 3 of the 2011 Soft Tip World Championships held in Hong Kong. Luckily for me, John Part (winner of Stage 2) wasn't playing this time, or in fact many of the other big name international players, as the date clashed with the PDC's UK Open.
But there were still high caliber shooters including Lourence Ilagan of the Philippines (2011 Philippine Cup Champion and well known on the soft tip circuit, he won the Stage 1 event), Paul Lim from California by way of Singapore (no introduction necessary), Ronald Briones of the Philippines (2011 Philippine Masters Champion), Thanawat Gaweenuntavong from Thailand (previous Singapore Open and Hong Kong Open Champion) and local favorite Royden Lam (winner of the prestigious 2011 MJ Grand Master Soft tip Tournament in Japan). I guess I can also include myself in the list having recently represented Hong Kong at last year's PDC World Championships, as well as being current Hong Kong Open champion.
The prize up for grabs was HK$200,000 (just over US$25,000) with the winner taking half the purse, a sizeable pay packet – but this wasn't what was on everyone's mind. The real prize comes later in the year in the Grand Final where the money (for the winner) goes up to a cool ONE MILLION DOLLARS, that's Hong Kong dollars but it is still around US$130,000. The stage events (8 in total) are just the qualifying rounds for the Grand Final. So the total purse for the whole event is nearly HK$3M (over US$350,000) making it the 2nd biggest darts event in the world (only the PDC World Championships are bigger).
The tournament stages are seeded and the seedings are calculated by playing one game of "shootout" the day before the event. A mixture of skill and luck, the game is a little like playing "around the clock." Players have 8 sets of darts (24 darts in total) to try and get the highest score possible but the tricky part is there's a multiplier: the 1st dart score is multiplied by 1, the 2nd dart score is multiplied by 2 and so on (and each number only counts once). If you don't miss then you get a bonus round where you have 3 darts at bull and at that point the multiplier is 20. Scotty Burnett hit one of the highest scores ever recorded (during Stage 2): 10,800 points.
In the Stage 3 event I was seeded first (partly due to the fact that John Part and Scotty Burnett were away, so my mediocre score of 9,750 was enough to make me the top seed for that stage). Being seeded also makes the first few rounds a lot easier. But read on – a "quirk" in the soft tip game (another important difference between steel tips and soft tips) actually helped me win.
In the last 8 of the tournament I met a relatively unknown player from Hong Kong, called Chun Nam Leung, but strangely I was beaten by him in an exhibition match the night before, so I was a little nervous, but it was nothing that a beer (or three) couldn't fix. With the match level at 2-2, we shoot for bull and I'm slightly nearer which means I can either go first or choose the game (701 or cricket). I choose to go first and my opponent chooses cricket. The game is then poised – 1 bad dart could cost the game – but it was that 'bad' dart that actually helped me out.
I'm on 625 points with all the numbers closed…
My opponent is on 624 and hits a hat-trick, which means I needed to hit a hat-trick to win…
I hit bull, bull, BOUNCEOUT! But luckily in soft tips as long as the machine registers the score it counts, my bounce out hit the bull before ricocheting off the board, a common event in soft tips. I advance to the final four!
Stage 3 is eventually won by Royden Lam (Hong Kong) and Lourence Ilagan (Philippines) is runner-up. I share joint 3rd with Jaypee Detablan (Philippines).
The World Soft Tip Championships are currently being held at the i-Darts Club in Tsim Sha Tsui in Hong Kong. Stage 4 is on July 24th with 4 stages left and Grand Final remaining after that. All events are televised, and with the popularity of the event growing, organizers hope to hold the tournament annually.
24th July, Stage 4
11th Sept, Stage 5
8th Oct, Stage 6
30th Oct, Stage 7
13th Nov, Stage 8
17th Dec – Grand Final
The reason the payout is so high is due to another of the differences between steel tip and soft tip darts – with soft tip you "pay to play." One game in Japan is ¥100 (a little over US$1) and in Hong Kong it is HK$5 a game which is about 65 cents. It may not sound like much but I often have a jarful of HK$5 coins that go in less than an hour. A busy bar with 4 or 5 machines can make thousands of dollars each week. This enables the machine manufacturer, The Dartslive Group – a Japan incorporated company with links to Sega – to generate a lot of income, and gladly they are recycling this back to the players.
The event is open to both men and women of any age. A match is best of 5 – 701, Cricket, 701, Cricket, Choice.
Full details as well as an online entry form can be found at: Soft Tip World Championship.
Hope to see you there!
Scott Mackenzie, July 14, 2011
The following two tabs change content below.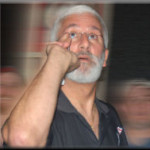 Author of the column that since 1995 has been featured by Bull's Eye News, the American Darts Organization's (ADO) Double Eagle and numerous other darts publications and websites around the globe.