Column #316 What's up with the Uniboffin?
April 1, 2008
Column 316
What's up with the Uniboffin?
For almost ten years I had an office in England – Crowborough, East Sussex to be exact, just down the long and winding road from Royal Tunbridge Wells, Kent. So I know a little bit about conkers, tea, tiki masala and all other things British.
My knowledge of such matters established, it was a bit of a surprise a couple of months back to learn that some bloke at Unicorn (http://www.unicorn-darts.com) was boffing himself. I kid you not. Some fellow at the Big Name in Darts was, and still is, calling himself the Uniboffin.
Blimey!
Picture this scene. It actually happened much as I relate, about ten years ago. I was sittin' in a pub called the Cross on the main drag in Crowborough, just before the Winston Manor Hotel burned down, havin' an ale and talkin' to my friend Tommy Molina. "So Tommy," I say, "How'd it go with that girl your were chattin' up the other night?" "Ah," says Tommy with a wink, "Nice bird – boffed her good I did."
See my point?
Why would anyone want to boff himself?
And why would Unicorn announce such a thing to the world?
It turns out that there is a completely logical answer. In British-speak, boffin can be used as both a noun and a verb. A boffin is a kind of mad scientist. However, if a boffin – spectacles, white coat and all – were to go into the Cross and get lucky, well, the boffin might boff…
But I digress…
In this instance what Unicorn's boffin – the Uniboffin – did was invent a couple of sets of darts. Called the Sigma Pro and the Sigma One, they are advertised as the most aerodynamically perfect darts ever made. Naturally, I understand this to mean that they land exactly where you throw them…
So, now that I have practiced for a couple of months with the set Unicorn's Managing Director, Ed Lowy, kindly sent me, I know that apparently all these years I have been aiming alternately at the number twelve and eighteen and occasionally even the wall. I never knew.
Actually the dart part of the dart (in technical terms: the pointy part and the barrel thing) is the same for both of the Sigmas. It's the shafts and flights that are different.
If you're really, really good it's the Sigma Pros that are for you. With these all you have to do is screw on the nice black shafts and side load the small black flights and its maximums to you all day long.
If you're really, really not so good you're better off with the Sigma Ones. With these all you have to do is screw on the cool clear transparent shafts with the little bubbles inside and add the larger white flights and its maximums to you all day long.
Like many darts players without a firm grasp on reality I figure my skill level is closer to the really, really good than the really, really not so good, so when my Sigmas arrived I experimented first by letting them sit in their package for two months. They'd come all the way from England so I felt it wise to quarantine them – to be sure they were free of Mad Cow and Bird Flu germs.
Seriously, I did not open the package for a couple of months and I didn't begin to try them out until a couple weeks after that. I'm not sure why really, except that I've never been one to experiment with different sets of darts or other paraphernalia, including that big bong water pipe my friend Carl Ringleberg used to bring to parties in college.
Also, sometimes I lie.
For almost fifteen years I've used a custom set Montreal's Jeff Pickup made for me. Call me loyal. Or call me skeptical – I just have never embraced the concept that anything besides another beer could really help my game.
When I finally pulled the new darts out and stepped to the line for a few throws I gave the Sigma Pros a go first. I figured that if the Sigmas Ones could improve my game then the Sigma Pros were certain to improve it even more. It made sense, right?
Well, I don't actually know if it makes sense because after about five minutes one of my darts bounced out, my dog grabbed it and ran off and kind of chomped and gooed the shaft. Since only three shafts came with the set, time was up for testing the Sigma Pros.
But the Sigma Ones felt good. I couldn't miss.
I practiced with them pretty much non-stop for a week or so and then made the biggie decision to take them on the road with me instead of my trusty personal set. Feeling just a bit guilty, I headed to San Francisco and had a great couple of nights on the board.
The darts felt perfect in my hand. They seemed to land where I aimed and when they missed they seemed to miss by much less than my set of so many years. For instance, sometimes when I threw at the twenty I would actually hit the one or the five instead of the twelve or the eighteen. I was getting closer even if I was scoring fewer points…
So I was jazzed when I returned home. I made the ultimate decision and switched darts. With a couple of big challenge matches for charity approaching in Portland I packed away my old set and recommitted to my practice regimen.
I contacted the guys at Madondarts (http://www.madondarts.co.uk) and ordered a bunch of sets of extra shafts and flights, which arrived promptly (but are still in quarantine) and got down to work. I even wrote Lowy at Unicorn to tell him how impressed I was and to learn more about the Uniboffin, the darts he invented and what he does when he's alone at night.
Always generous, Lowy let me know that just a couple hundred sets of the Sigmas had been manufactured and that all had sold out in less than a week (more will be available soon). He offered to arrange for me to interview the Uniboffin, which I still may take him up on if Lowy's unable to get me an interview with the Professional Darts Corporation's (PDC) Premier League walk on girl, Nicola Moriarty. Go here if you have any doubt why I would prefer this interview: www.nicolamoriarty.com.
Talk about boffin!
But I digress again. Sorry.
It happened about a week after my return from San Francisco…
It began slowly at first but in a matter of hours my game went to rubbish. No matter what I did, what small corrections I tried, I just couldn't get the Sigma Ones to find their mark.
So I messed with the shafts. I messed with the flights. In the coming days I took aboard advice from others who loved their new Sigmas and learned that in changing the design I was only altering the finely tuned aerodynamics crafted by the Uniboffin.
I began to wonder if all the complicated mathematics behind the Sigmas had less to do with how the darts had initially performed for me then, perhaps, my own mentality – the sense, the confidence, that I had been gifted something truly special, a set of darts so scientifically pure that they alone could turn me from a plonker into a Power.
In the end and feeling no less guilty than when I packed away my trusty set of so many years, I did the same with the Sigmas.
I pulled out my old darts and all is back to normal now.
Of course there is a moral to this little story (and it's kind of creepy): While some may enjoy playing with the Uniboffin's dart others may prefer to stroke their own.
From the Field,
Dartoid
The following two tabs change content below.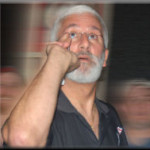 Author of the column that since 1995 has been featured by Bull's Eye News, the American Darts Organization's (ADO) Double Eagle and numerous other darts publications and websites around the globe.