Column #309 There's a SUPER new website in town!
December 5, 2007
Column 309
There's a SUPER new website in town!
Some years back, after months of dedicated research and a lot of drinking, I published a column called the Top Ten Darts Websites in the World. It came as no surprise to darts enthusiasts everywhere that the list was topped by http://www.Hooters.com.
Of course, it still is…
One of the sites included in my listing was that of darts historian Patrick Chaplin (created by Sheila Handley). Here are some of the lines I wrote at the time:
Nowhere is there a darts-related website more unique than the one created by Chaplin. Where there are similarities between other sites, this venue is in a league of its own. Here's a bloke who is actually, formally (really!) writing his doctoral dissertation about the social history of darts in Britain. What this means, in real terms, I honestly don't know. I think it might be a long paper about beer.
Whatever it is or will be when it's completed, Chaplin's process of getting there (revealing the real history of darts) has produced some incredible revelations and "exploded some myths" – and a boatload of this information is to be found at his site.
Perhaps you've heard the story about how dartboards used to be made out of pig's hair? Well, according to Chaplin this is just not so. They were made out of hedgehog hair. Then there's the old tale about how the Pilgrims threw darts on the Mayflower. It's just another falsehood, according to Chaplin. What the Pilgrims played was conkers.
Want to know why the numbers are arranged as they are on the board, why the oche's called the oche or how fast the average dart flies? Check out Chaplin's website at http://www.patrickchaplin.com. The man's a genius.
Much has transpired since I wrote these alcohol-induced words. Chaplin has sent me two hedgehog hair boards which I cherish, a dog-eared old photo of John Alden and Myles Standish playing with their nuts which I can appreciate because the 66-day journey to Plymouth was mighty long, and a summons to appear in a British courtroom to defend myself in a libel suit for writing untrue crap like you have just read.
Chaplin also completed his doctorate. Last December he was awarded his PhD by the Anglia Ruskin University, Cambridge. His dissertation, entitled Darts in England 1900-1939 – a Social History, will be published by Manchester University Press in 2009. So Chaplin is now more than just a renowned darts historian; he is the world's only certified Dr. of Darts.
In the months that followed this new notoriety good things seemed to fall into Chaplin's lap. The first to fall there, to dive actually, was Melanie Brown – but seeing no humor in the overture, Chaplin's wife Maureen banished the buxom Spice Girl to America to ballroom dance with some Russian guy in tight pants.
Next, famous darts players like John Lowe and Trina Gulliver came calling for Chaplin to help them write books. Gulliver's story, The Golden Girl – The Autobiography of the World's Greatest Ever Ladies' Darts Player, will be on the stands in January. Watch this space for a review and lots of sexy photographs.
Finally, just this past October, Chaplin hit the BIG TIME when Chariots of Fire director Hugh Hudson stopped by for tea.
The rest is history or will be soon…
Chaplin's dissertation will be made into a major motion picture starring Dave "Boy" Green and will be shown exclusively in Tuskegee, Alabama. With the huge six-figure US dollar advance (worth about 50 quid) Chaplin was able to sign-up Bury-based webmaster David King to upgrade his website. King of course is known for his own popular website at http://www.darts501.com.
So now – after thirteen paragraphs, fifty-eight lines, and 581 words – we have finally arrived at the point of this column:
Chaplin has a new website and you must go check it out.
Currently sponsored by Winmau, Red Dragon Darts and Nodor, it will go live on December 10. The URL is unchanged: http://www.patrickchaplin.com.
But that is all that is unchanged.
The new website is framed in vivid red and black, fancied up with just the right dose of flash and photographs and can be automatically translated into a dozen languages. It's a breeze to navigate and crammed with even more darts history, trivia and one-of-a-kind articles and book reviews than the original website. The section of links to other darts-related websites is possibly the most comprehensive to be found anywhere.
I laughed out loud again when I re-read Chaplin's classic offering from April 1, 2002 (found in the site's humor section) entitled Is this the Oldest Oche? If you have not previously read this witty bit of writing – in my humble opinion the best handful of tongue-in-cheek paragraphs ever published about our sport – I can't encourage you strongly enough to do so.
Without a doubt the most revealing new addition to the Doctor's site is found in his new section dedicated to ladies darts. As Chaplin puts it, "Always and forever the 'poor relation' to men's darts, the ladies game has suffered greatly from lack of… exposure." He then does his part to correct the slight by including a series of articles about the ladies game including one (with photographs!) featuring the famous new 2008 Hull Darts Calendar Girls. You must see this!
Take a back seat, Hooters girls!
I could go on but if I were to do so this column would have no end…
There is so much to be found at this revamped website…
The Chaplin-King partnership has raised the excellent work of Sheila Handley to a new level. In doing so they have underscored the reason why Dr. of Darts Patrick Chaplin's name is now included with darts ambassadors Eric Bristow, John Lowe, Barry Twomlow, Bobby George and Phil Taylor as one of those who has done more than all others to bring their love of our sport to the world.
From the Field,
Dartoid
The following two tabs change content below.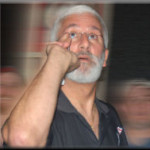 Author of the column that since 1995 has been featured by Bull's Eye News, the American Darts Organization's (ADO) Double Eagle and numerous other darts publications and websites around the globe.